Category Archives:
Philip's Music Reflections
Showing 10 posts of 13 posts found.
Merging+ seem to have the lion's share of the Classical recording scene—talking about Tilsson Thomas' recent Beethoven cycle, the Concertgebouw, LSO Live and Marinsky recordings. Mastering engineer supremo Bob Ludwig at Gateway Mastering in Portland, Maine is a huge proponent of Merging's tools. In the past decade alone, he has won a dozen Grammys for Best Engineered Album, Non-Classical including:
Daft Punk – Random Access Memories (2014), Beck – Morning Phase (2015), and Alabama Shakes – Sound & Color (2016).
He also won Grammys for Best Surround Sound Album:
Dire Straits – Brothers In Arms (2006), Derek & the Dominos – Layla & Assorted, Love Songs (2012) and Beyoncé – Beyoncé (2015).
Philip's Musings on Bob Ludwig Albums (NEW)
And below are a couple older musings that you may have missed that are also albums mastered by Leonard Cohen.
One of the best Rock albums in years, Alabama Shakes – Sound & Color
More info about Bob Ludwig's use of Merging+ tools at http://www.merging.com/news/use-cases/bob-ludwig.
It's summer here in southern California and a good time to have a look at what interesting new albums have come down the pike in past few months.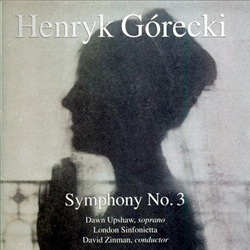 22 January — Gorecki: Symphony No. 3
Featuring the London Sinfonetta and soprano Dawn Upshaw, this recording of the Polish composer's 1976 work proved spellbinding to a diverse international audience. TIME called it "a transcendental meditation on mortality and redemption." One of the most important recent classical compositions.  The CD is great but the LP of this seminal recording is a pure delight.
Listen on Tidal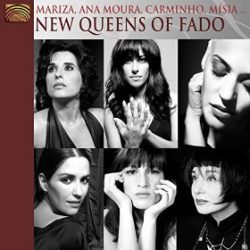 26 February — New Queens Of Fado
A lovely selection of songs from the top female fadistas representing Fado today. From the up-and-coming Katia Guerreiro, the powerful, seductively romantic voice of Cristina Branco, to Maria Ane Bobone, Malfalda Arnauth & Joana Amendoeira. The only major fadista singer missing is Mariza. Otherwise, exquisite guitar accompaniment with plaintive laments sung in Portuguese.
Listen on Tidal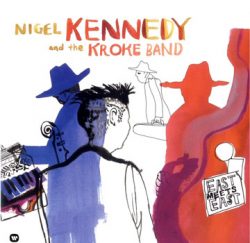 18 March — Nigel Kennedy East Meets East
Nigel Kennedy and the Kroke Band are classically trained musicians who explore Eastern European folk through the eyes of klezmer music. It's a pretty heady blend of melodies like "Ajde Jano," "Dafino," "Jovano, Jovanke," and "Ederlezi." The latter I first heard on a Goran Bregovich album. Beautiful haunting music, expertly well played. Gorgeous. Bought this originally on CD, now available on LP also.
Listen on Tidal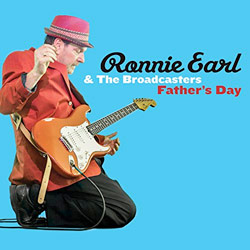 25 March — Ronnie Earl – Father's Day
Ronnie Earl is a veteran blues rock proponent with a sizzling hot guitar; he really excels on the slow blues tracks and it is easy to just get lost in his playing. This album has more variety than most others he has recorded with the addition of horns and vocals. Really well implemented blues, a mixture of covers and original tunes. Excellent sound quality.
Listen on Tidal
1 April — Eva Cassidy – Simply Eva
The album kicks off with Christine McVie's composition "Songbird", the first song that most Cassidy fans heard. But that session was from 1991 and here we are five years later with no overdubs or supporting musicians. Another Cassidy standard is "Over The Rainbow" but this is quite a different version—a simple delicate acoustic guitar accompaniment highlights this exquisite voice. Truly precious.
Listen on Tidal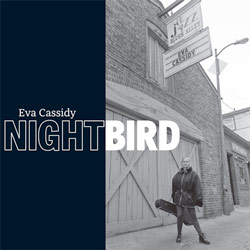 Eva Cassidy – Nightbird
My favorite Eva Cassidy album was the 1997 Live At Blues Alley. Sound quality was superb, performance sublime. However, recently released is the complete concert—all 33 tracks on a double CD or double CD & DVD (PAL) in Europe and four LPs for approx. $50. Her version of "Bridge Over Troubled Waters" is riveting. If you like Eva Cassidy, this is a MUST OWN.
Listen on Tidal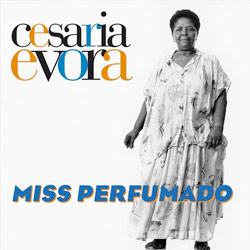 8 April — Cesaria Evora – Miss Perfumado
Here is a monster of an album, originally released on CD in 1992. I LOVED this album twenty years ago and am eagerly awaited its release on LP. Cesaria Evora sings in Portuguese, a musical style called Morna from Cape Verde. Such beautiful bittersweet music that will melt your heart.
Listen on Tidal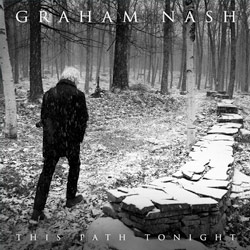 15 April — Graham Nash – This Path Tonight
I was fortunate enough to first hear this album during CES, when Graham Nash visited us and allowed us to play select cuts from his notebook computer. This is his first solo album in fourteen years. Jon Iverson was kind enough to give me a signed  copy of the LP for my birthday, I have the high rez download from HD Tracks also.
Listen on Tidal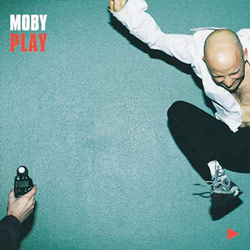 13 May — Moby Play
This is a reissue, the original LP in mint condition is fetching approximately $300. I used the gospel song "Run On" (featuring the Blind boys Of Alabama) in Demo XVIII. Bought this originally on CD—lots of fun music and well recorded, so you can imagine my delight on picking this up on vinyl. It's just fun music, enjoy!
Listen on Tidal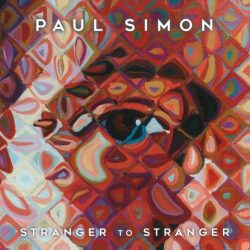 3 June – Paul Simon Stranger to Stranger
A new album from Paul Simon is always a welcome occasion—as welcome as any old friend who crosses the portal after an absence of a few or many years. So you can imagine my delight to receive Paul Simon's 13th album in the mail. I had forgotten that I had ordered it. At the ripe age of 74, Simon has produced another album that defies expectations and pushes the boundaries of his compositional style. He is still in fine voice, as sweet as in his last superb album So Beautiful Or So What. Stranger to Stranger leans on Harry Partch the 20th Century American composer and theorist who created custom-made instruments in microtonal tunings. Besides recording sounds from various Partch instruments, one of the key realizations Simon gathered from Partch was the observation that singing in music is akin to human speech, and Simon started to shape vocal lines on the album that way.
Check out a couple of tunes: "Proof Of Love"—Simon in fine form as gorgeous a melody as you could ask for. Looking for a tune that's a little more inventive? "Wristband" fits the bill perfectly. Listen to this a couple of times and it becomes abundantly clear that time has not eroded Simon's musical prowess one bit. Sonically, it's hard for me to recommend this album to an audiophile because someone mucked up the sound in the upper midrange – it's hard and harsh.
Listen on Tidal
This year at CES, we had two incredible musicians put our system to the test. Graham Nash stopped by to play some tracks off his upcoming album. And Lori Lieberman stopped in at our penthouse suite at the Mirage for an unplugged performance, which we recorded and played back over our system. John Atkinson wrote on Facebook that the highlight of CES 2016 for him was hearing Lori Lieberman's acoustic performance. It really was a remarkable experience.
Jason Serinus from Stereophile was in our room before Lori's acoustic rehearsal before the actual concerts. Jason and I retired to an adjacent room so that we could discuss the equipment list. I remember quite clearly that while I was listing out each product in the system along with its retail price, Jason was frantically taking notes. Even though Lori was behind us, as soon as she started singing we immediately stopped talking and were both transfixed.
The purity of her voice and the emotion she was able to convey was incredible. On certain songs, she gives me goosebumps. Pandora and I were fortunate enough to hear her perform at the Grammys concert hall in Los Angeles just before Christmas. It was a wonderfully intimate concert. But to rank the sound quality, I would have to say that the live acoustic performance is a good Irish mile ahead of the best electronic recording possible today.
The acoustic performance (non-amplified) is really the "ne plus ultra" and as you can imagine—very difficult to execute because the artist can only perform for so long. And by its very nature, an intimate room cannot accommodate many listeners. However, with all the caveats aside, if you ever get the opportunity—leap and run to assure yourself of a seat. It really is that impressive.
While I prefer the recording played back on a high end system to the sonic performance at a live amplified concert (usually played through a PA system) the live acoustic performance is an exception. It is so rich and tonally colorful—capable of conveying emotion at a level that we only partially emulate on a really good high end system.
Interestingly enough, all of the close mic recordings that the audiophiles love are not representative of what the artist will sound like, when you sit even 10 – 12' away from her. Joe Cali recorded Lori singing "The Last Thing On My Mind" on both the Thursday and the Friday in 24-192 and it really sounds stunning. It's a wonderful souvenir of an unforgettable performance.
As only 15 of the 20 songs were available on Tidal, I took the liberty of topping up. None of these songs will ever be featured on a traditional greatest hits compilation, but they are well worth a listen.
"Loving The Alien" reminds me of Roxy Music, but with a different vocalist. I am sure Bryan Ferry would agree with me. And "Real Cool World" is just another wonderful David Bowie song that you never hear anywhere.
The title track from his latest album Blackstar is worth listening to on repeat because it really captures what Mr Bowie was about. It's a song that unravels slowly and shares something new with the listener each time it's played.
Finally, what better way to finish up this tribute of lesser known Bowie gems than with his work on the 1978 adaptation of Prokofiev's "Peter & The Wolf" with the Philadelphia Orchestra, where he used his marvelous voice as narrator.
God bless you, David Bowie. May you rest in peace—you will not be forgotten.
IMO, there are only a handful of songs that truly resonate across generations:
Beatles – "Eleanor Rigby"
Doors – "Riders On The Storm"
Jimi Hendrix – "Voodoo Chile"
Led Zeppelins – "Stairway To Heaven"
Thin Lizzy – "Whiskey In The Jar"
But while in Berkeley, California a little over a week ago for the launch of Vivid Audio's stunning new B1 Decade, I bought a recent reissue, a 12″ single of Queen's iconic "Bohemian Rhapsody". What a masterpiece of a song!
It was originally released in 1975… It begins with an introduction, then a piano ballad, guitar solo, operatic interlude, hard rock & concludes with a coda. The suite musical format was uncommon in both pop or rock music at the time but widely practiced by the English progressive rock bands of the day (Emerson, Lake & Palmer, Genesis, Gentle Giant, Yes). Indeed, Bohemian Rhapsody was arguably the zenith of progressive rock before it was overtaken by the tsunami of Punk which arrived the following year in 1976.
At almost six minutes long, it was considered too long for normal radio air play, so a "pop promo" was shot and widely distributed for free to the television stations, generating huge demand for the single. This was before MTV and was considered ground breaking in its day.
Queen's Bohemian Rhapsody reinterpreted for its 40th anniversary was a stunning version, juxtaposing a string quartet against a young choir, underpinned by a piano foundation (originally played by Freddy Mercury on a Beckstein). It breathes new life into a justifiably revered pop song.
We played a lot of music at RMAF. A big thank you to Lori Lieberman, Joe Cali and Dominque Brulhart for making multi-channel recordings from Lori's upcoming album, Ready for the Storm available to us to showcase. The recordings were given to us by Joe as six individual WAV files and then Dominque (Merging Technologies) used Pyramix software (and some expertise) to mix the six channels into a single multi-channel file.
Musical highlights on the Multi-channel Merging NADAC running 4.0 with a phantom center channel: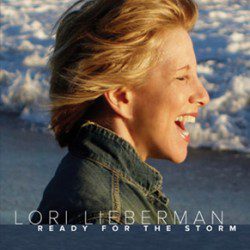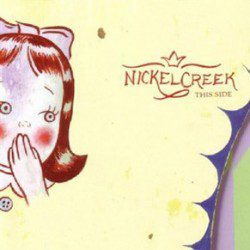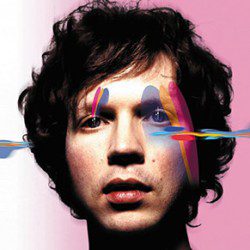 Musical highlights on the Mola Mola internal DAC (name TBA):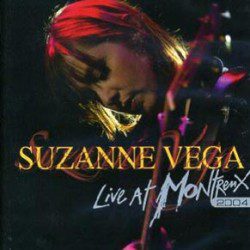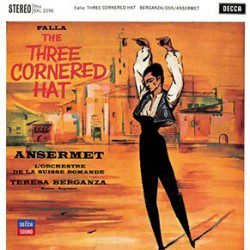 Musical Highlights on the Luxman PD-171 turntable: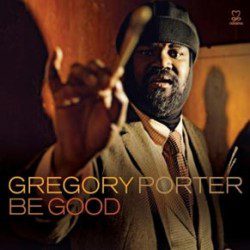 Any favorites I didn't mention?
"We never tried to accommodate the mass market. We worked for ourselves and still do."
Read the full article by Marc Meyers on wsj.com
If you like the piano music in the background of our video interview with Laurence Dickie for Vivid Audio's B1D loudspeakers, you should look up two things (a) Fiona Joy Hawkins, a talented pianist, composer and artist from Australia, and (b) her piano of choice, Stuart & Sons, which has 103 keys as opposed to 88 keys in a normal Steinway 9′ Grand Piano. The result of this combo is the heavenly music and high quality recordings produced.
We have been fans of Fiona for a long time and had a chance to sit with her at the Newport Show this year (stay tuned for our scheduled article on this encounter in our next issue). We heard her new album fresh off the press with her for the first time. It was so beautiful, except, it needs to be released.
Fiona has been very generous in sharing her work. Her YouTube channel is full of her music she shared. I for one would like to see great artists continue to put out high quality music in high quality recordings.
If you enjoy her songs, please help her get her new album out to the world by participating in her crowd funding campaign that ends in six days: Indiegogo crowd funding campaign.
As an aside, our favorite is her cover on her own song, Grace, and you can hear it on the campaign page by clicking the video. Enjoy and let's help her reach her goal. A heart-felt thank you for your help.
Christmas came early for me this year; what a wonderful surprise! What a unique opportunity to sit in on Trio Céleste while they recorded an upcoming album at Soka's Performing Arts Center, here in So California.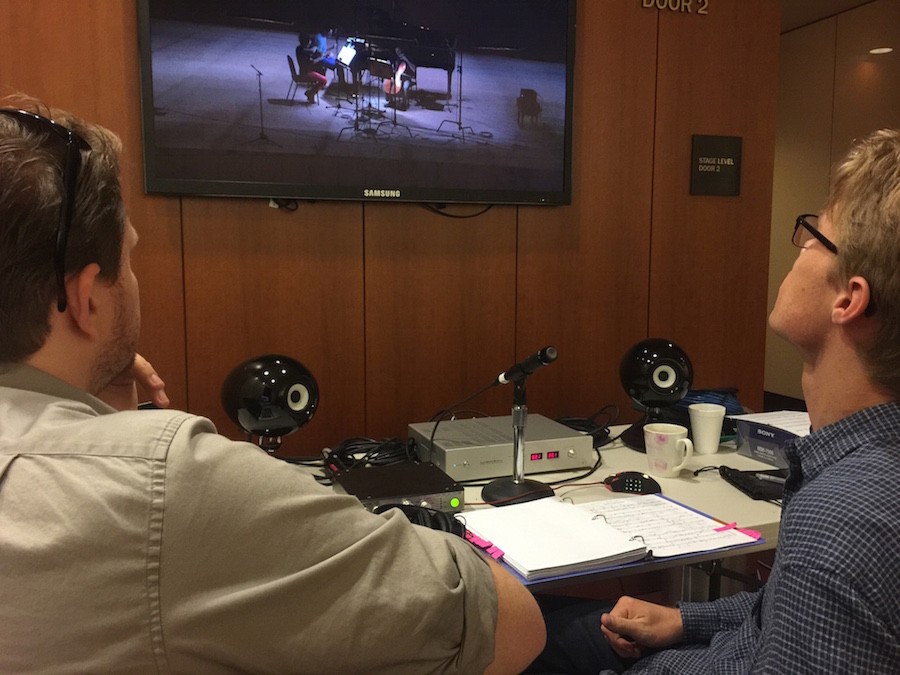 Thursday
I was asked by Kyle Pyke, the recording engineer of Trio Céleste, to lend monitoring equipment for an upcoming recording session at Soka's Performing Arts Center in Orange County, California. Soka is the first, and only, university in the United States to receive a maximum ten-year accreditation in its fourth year of existence, simultaneous with its initial graduating class. Soka has quickly become a highly-acclaimed academic institution, ranking first nationally in its support for faculty research: ahead of Stanford, Harvard, Yale, Princeton and MIT. It is an extremely well endowed non-sectarian liberal arts college and graduate school founded upon Buddhist principles of peace, human rights and the sanctity of life (sincere apologies for our mistaken designation of the university as a "Buddhist University" in the previous version of this post). Soka's 1,000 seat concert hall was designed by renowned acoustic engineer YASU TOYOTA. His performing arts hall in Osaka, Japan, along with Soka's, have been celebrated by cellist-extraordinaire YO YO MA as among the greatest acoustic spaces he's performed in, quite possibly the two best in the world. Trio Céleste performed a Beethoven Piano Trio in G major, Op. 1, No 2 & Dvorak Piano Trio in E minor " Dumky" and a Beethoven Variation that they had commissioned by 10 leading modern composers. Trio Céleste was formed in 2012 by Kevin Kwan Loucks (pianist), his wife, Iryna Krechlovsky (violinist) and Ross Gasworth (cellist), I enjoyed the great privilege of being the only layman in the audience who witnessed their recording session on Thursday morning in the control room and later on Thursday afternoon in the concert hall as they ran through a Beethoven Piano Trio movement as well as part of the Dvorak piano trio.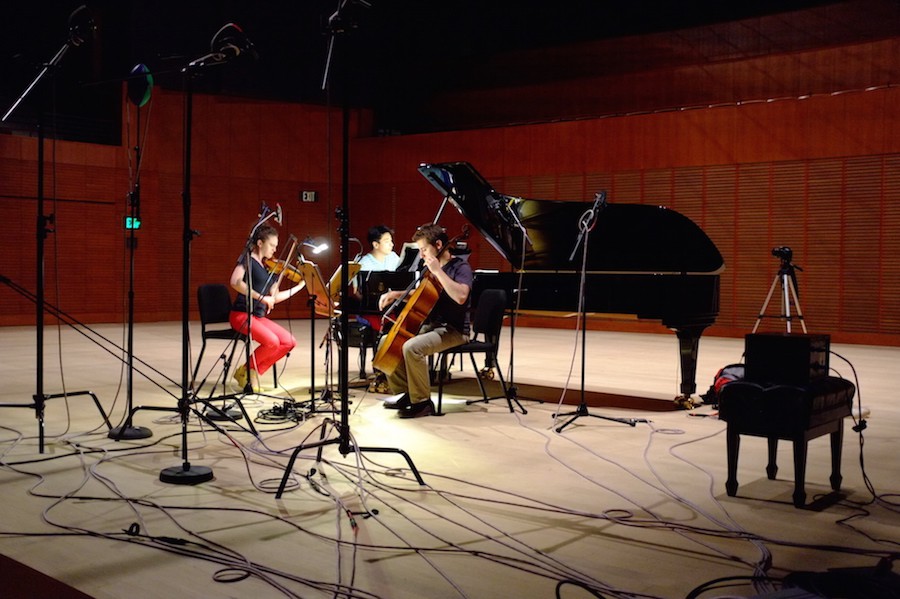 Here is a young trio of great energy and vibrancy playing with gusto & élan assisted in the recording process by the talented producer Jesse Lewis. It was fascinating to watch Jesse at work, after each take Jesse would ask one of the performers to play again, " this time with a little more warmth from the cello". Jesse not only wrote down each take that he preferred for subsequent editing but clearly had a great rapport with the performers and knew how to address them and coax the best performance that otherwise might not be achieved in a live event. Jesse & Kyle recorded the performances with a Merging Technology "Horus" digital audio workstation in double DSD, using approx. twenty microphones, but primarily using a five mic tree for a multi-channel set-up that could be mixed down & mastered later on in both stereo and multi-channel mixes. Grammy award-winning classical music recording engineer Tom Caulfield was effusive in his praise for Jesse Lewis' work while they worked together at Mechanics Hall in MA.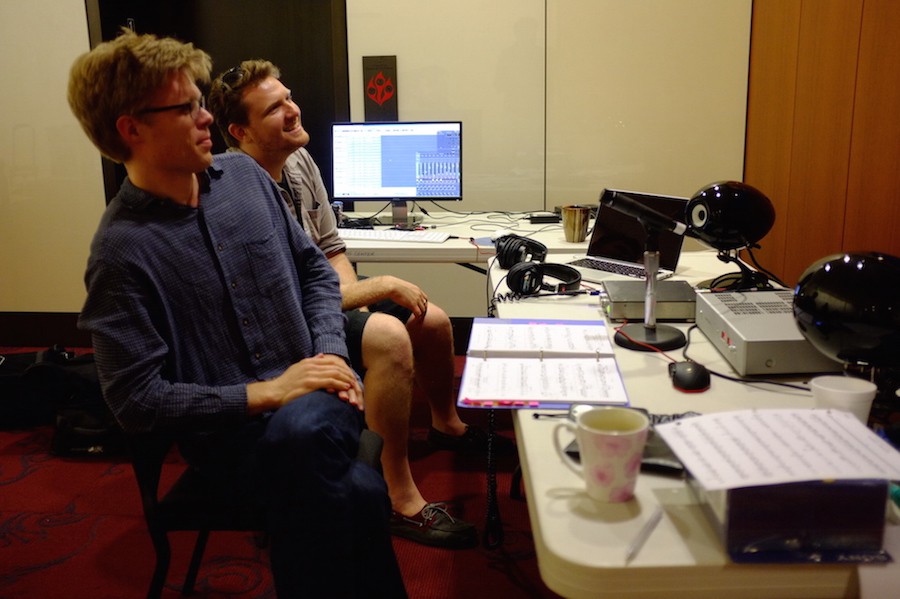 Our small contribution to the recording session was the loan of a pair of Eclipse TD 508's nearfield monitors along with a Luxman M-200 stereo amplifier that were used in the control room to monitor the recoding process. It was interesting to note how different the sound was, sitting 24' away from the Celeste Trio and listening to the same performance in the Control room. As the multi-channel microphone tree was only 8' away from the performers it picked up way more detail than what I heard in the closest listening chair in the audience.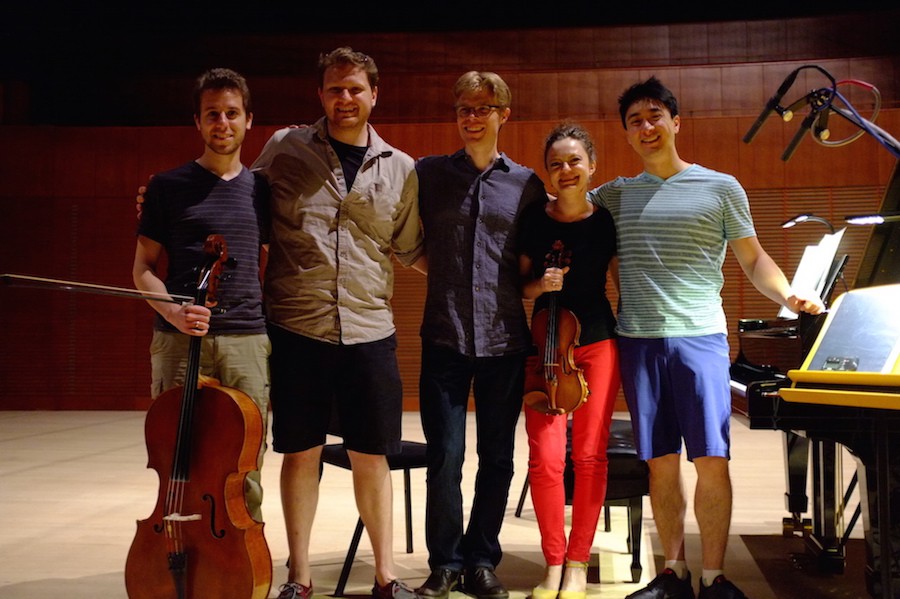 Friday
Jesse Lewis (Producer) and Ross Gasworth (Cellist) swung by in the afternoon and we listened to a few raw recordings, just complete takes, no edits, of the multi-channel recording processed to stereo. The Adagio movement from the Beethoven Piano Trio in G major, Op. 1, No 2 (the early Beethoven chamber music is so melodic and a joy to listen to, please be adventurous and explore this wonderful chamber music and the opening movement from Dvorak's Dumky; this is interesting as it starts with a cello solo,with an absolutely gorgeous melody. It was so real, it sounded just like the concert hall that I sat in the previous afternoon, I was the only member of the audience in a thousand seat auditorium. You could clearly hear the hall and how super quiet it was, with just the right amount of reverberation . The microphones were placed approx. 8' from the performers, whereas I was seated 24′ away from them, the recording picked up away more detail than I heard in the hall. Two completely different experiences, both equally valid.
Jesse promised to send me the finished product in a few months time, after the editing & mastering are complete , though I must say I love the sound of the raw takes, really immediate & you get the sense that you in the hall, (on stage) listening to these talented musicians pour their soul into this performance. The album is not due to be released until next April, but we will be sure to return to Trio Céleste with a review next year. In the meantime, check out Trio Céleste at http://www.trioceleste.com/ or on Facebook at https://www.facebook.com/trioceleste I for one, look forward to heading out to hear Trio Céleste when they play in Southern California next.
Growing up on the other side of the pond, we were not exposed to Jazz and unfortunately never really came across such greats as Miles Davis, Ella Fitzgerald & Louis Armstrong. In the mid nineties, I was working in the movie industry when Erik Henry, a visual effects supervisor (we met on one of the Aliens movies), brought Ella Fitzgerald & Louis Armstrong's first collaboration on LP to listen to – I was floored. I immediately set out to buy as much Ella Fitzgerald & Louis Armstrong individual albums as I could lay my hands on. In Satchmo's own words: "The sweetest music this side of Heaven…" 
On May 9, 1964 Louis Armstrong went No. 1 on the US singles chart with his tune Hello Dolly. Being No. 1 on the charts made him the oldest artist to achieve this feat (he was 62). That record was not beat until 2011, when 85-year-old Tony Bennett broke this record when his duets album topped the US album chart.
I have always found Louis Armstrong's enthusiasm to be infectious, though I had only heard snippets in various live performances. So you can imagine my delight on discovering that the BBC had a 30 minute 1968 interview, as part of the Desert Island Discs. Here is a performer who was supremely comfortable with himself, he includes five of his own albums in the eight album collection. His book choice was his own autobiography and not surprisingly his choice of luxury was a trumpet.