Category Archives:
The Good Life
Showing 4 posts of 4 posts found.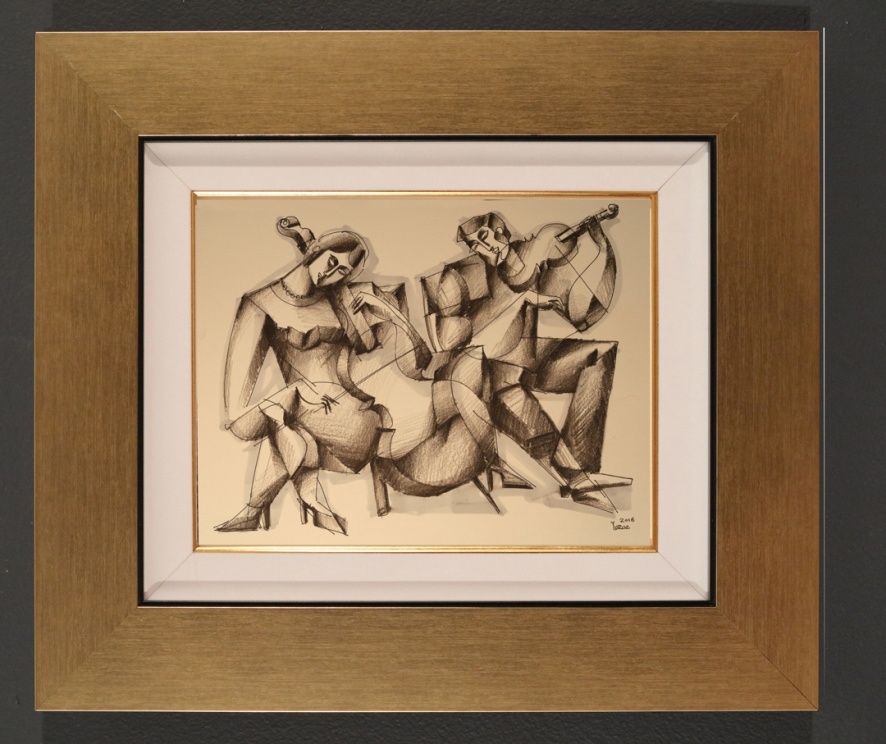 The value of music art is beyond measure and is extremely important to our psyche.  When the world is challenged, music speaks and art echoes.
Our sponsorship of Yarlang Records with a series of DSD 256 recordings was our way of giving back.   Supporting the arts has been a constant in our lives.  A master visual artist / painter / sculptor we have had the pleasure to collect from during the last two decades and recently have the pleasure to work with is Yuroz.  Yuroz comes with many accolades and is no stranger to the music industry as he was the official artist for the 35th Annual Grammy Awards for National Academy of Recording Arts and Science,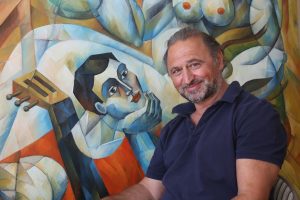 An internationally celebrated narrative painter / sculptor of Armenian descent, Yuroz has been a Los Angeles resident during the past 30 years. He uses symbols to tell his stories musical instruments are prominent throughout his work as a symbol of creativity.
A music lover and a flautist, Yuroz uses musical instruments in his paintings to symbolize the expression of ours dreams and a manner in which we serenade our loved one. He always paints with music on and recently we have had the pleasure to introduce Yuroz to high fidelity sound.
Equipped with a pair of Eclipse TD-M1's, Yuroz discovered that high fidelity speaker system allows him to disconnect from the world, hearing each whisper, each breathe and each echo from the musicians' instruments. "Discovering details I did not know exist in my albums makes each record a new adventure for me. It's like it wakes up a part of my brain that was asleep, channeling so much excitement and energy when I do my design work on my desktop".
As a tribute to the musicians and composers, he released a series of drawings, "The Musicians", to express his gratitude to the musical professionals for sharing the voice of their souls.
Yuroz communicates in silence but viewers can definitely feel the vibration from each line, each curve, and each brush stroke he puts down. "When one art form inspires another, it sparks creativity and gives meaning to what we do as artists," says Yuroz.  In this series, the contrast between each sharp line and each sensual curve, and the harmony between the multiple shades of charcoal grey to create three-dimensionality draws a parallel to the rhythm of the music created by all the masters with work that touches him every day.
For more information about this series, contact Yuroz's representative here or call 1-888-886-6762.
View more paintings in different genres with music themes here.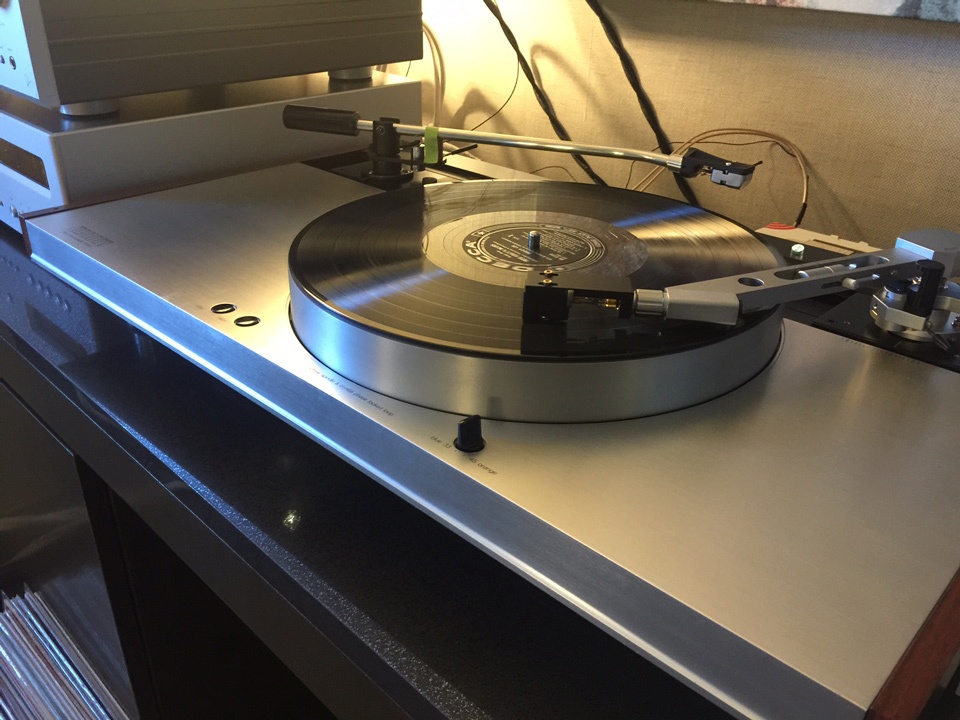 Originally announced at the Tokyo Show in October of 1976, the PD-444 was Luxman's flagship direct drive turntable—massively expensive and ambitious. The family-owned Luxman out of Osaka created it in conjunction with Micro Seiki of Tokyo—by then the uncontested champions of Japanese turntable consultancy and invention. While Luxman's aesthetic signature is strongly evident (swathes of thick, brushed aluminium, elegant rosewood cheeks, the refined palette and typography), the clever steel plinth sandwich and the drive mechanism is Micro Seiki all the way…
The direct drive motor (custom built for Luxman by Mitsubishi) is one of the best ever—in any deck. The MDS152C, a "load free" spindle system—in which integral, opposing magnets effectively relieve the motor of around 80% of the platter's considerable weight—offers notchless, seamless, silent and peerlessly regulated drive. Correspondingly, pitch is absolutely rock-stable.
Although slim in profile, the plinth is massively dense; beneath the handsome alloy plate lie sandwiched layers of timber board and thick iron, which bring the whole deck's weight to approximately 55 pounds.  Suspension is accomplished with feet containing spring mechanisms and neoprene-plus-silicone-grease damping (completely enclosed and service-free).
The Luxman PD-444 can accommodate two tonearms—a 9-10″ arm in the conventional spot to the right of the platter, and a 12″ arm to the rear left. Tonearms are ingeniously mounted on locking sleds (made from black anodised alloy and zinc!) on the rear track and can be easily adjusted to perfectly dial in spindle-to-pivot distance (there's even a reference scale to assist this). There are two Luxman armboards included and an original boxed adapter plates for another, slimmer-based arm. To make the whole double tonearm fun even easier, the underside of the turntable has a switching box—you simply run the cables from each tonearm into the box and have a standard RCA interconnect to the amp/preamp. A simple button on the front of the switching box allows you to select instantly between the two arms.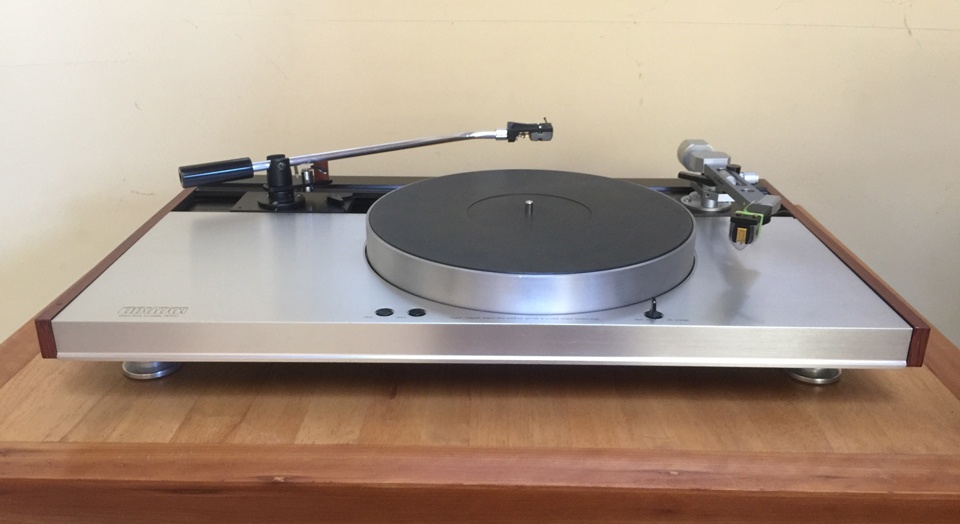 The PD-444's inert construction, ingenious suspension and eminently "even" drive gives a sonic reproduction few decks have come close to. Completely counter to the UK turntable manufacturers who were spouting at the time about belt-drive being the only way to achieve PRAT (pace, rhythm and timing) in musical reproduction, this MDS system relies on near-perfect timing (not hyperbole) for its timing—what a novel idea.
While it does not match the Technics SP10 mk III in sheer resolution in stock form, it does offer instead a warmer, richer, fuller tone. However, a modern turntable isolation platform will narrow the resolution gap dramatically while still allowing the listener to enjoy Luxman's famous rich tone.
Its little speed indicator prism, glowing blue for 33.33rpm and orange for 45 (one of the most delightful design touches imaginable) shows the motor to be capable of bringing the platter and heavy gauge (but flush fitted) PM2 rubber mat up to correct, locked speed in an instant.  My checks with a stroboscopic disc confirm its accuracy.
I bought mine eight years ago, while Luxman was still developing their return to the analogue world. I originally mounted an SME 3012 on the left and a Triplanar on the right. (Frankly, it wasn't until Luxman introduced the PD-171 that I learned how to extract the most that a Luxman turntable could offer. A complimentary turntable isolation platform turned out to be essential. Finding tone arms and cartridges that dance together sympathetically was also critical.)
Back to the PD-444, I put it aside for a couple of years and when I returned to it, I was utterly dejected to find that:
The Stop / Start switch had failed, but a temporary fix was to short its circuit.
More critically, the table could no longer maintain the correct speed. Finding someone who was willing to undertake the restoration of the electronics was a bigger nightmare than I ever anticipated. I initially gave it to a friend, who's a very accomplished EE, but after a year or so waiting for him to get around to it, he returned the table and said that it was uneconomical to repair. I reached out to Luxman in Japan and asked for their help. They admitted that due to the lack of spare parts for a 40 year old table, there was only a 60% chance of success.
I was tempted to start a project with either the Thorens TD124 or a Garrard 301, but the appeal of having a vintage two arm turntable that could play both mono and stereo simultaneously won me over to finish what I already owned.
During AXPONA 2015, our local dealer George Vatchnadze (Kyomi Audio) introduced me to a Russian service technician—Roman Sokolov of Electronic Engineers, Inc in Chicago (phone 773 202 0909). I met Roman again at AXPONA 2016—in the interim a couple of dealers told me about this fantastic Russian technician in Chicago who repaired vintage audio gear—so having seemingly little to lose, I entrusted my prized vintage table to his capable hands.
Two days after the table arrived in Chicago, I received a phone call from Roman. "I have good news & I have bad news.."
The good news: table's electronics had been overhauled and now everything worked perfectly. Lights, switches, speed control—great.
Bad news: at some stage in the tables life, it had been shipped with the platter in place and the shipping box dropped, resulting in a platter that rode up and down ¼" at the rear, where you would never think to look for damage. But also where I needed it work perfectly for the 12″ arm.
Where the hell do you find a 40 year old custom motor and spindle?
I called Sean Casey of Zu Audio and explained my dilemma. Sean instantly offered to lend me whatever parts I needed and install them for me in his free time. So the table was shipped to the Zu factory, where Sean swapped out the motor housing and spindle. Sean returned the damaged part to me at RMAF, which will now need to be entrusted to a machine shop for repair and of course returned to Sean Casey (along with a gift of Ireland's Uisce Beatha—the Water of Life.)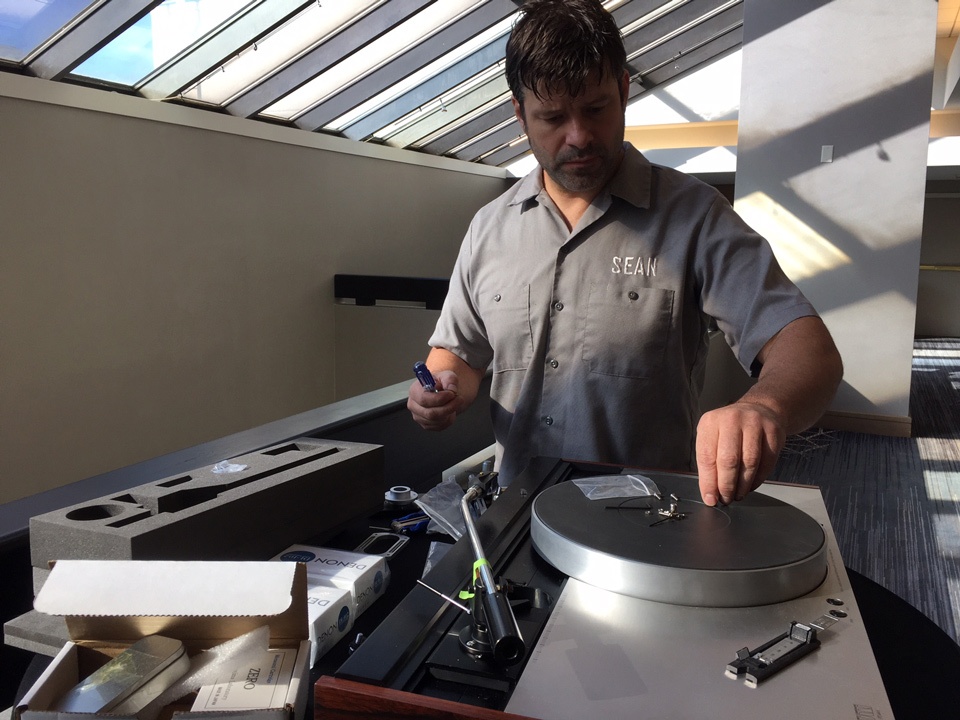 Sean was also kind enough to mount the Schick 12″ on the arm board with a Denon 102 as well as the Abis SA1.2 with a Miyajima Zero. Unfortunately, the Abis arrived too late to be properly mounted and we were unable to get the VTA right, so we ended up using the Schick & Denon 102 for the duration of Philip's Happy Hour at the Eclipse TD room every afternoon from 2:00 to 3:00 pm, where I delighted in playing mono LPs.  We hope to repeat this happy event next year at AXPONA in April and the new LA Audio Show in June.
The table was shipped back to Zu after RMAF to have the Abis correctly installed.
I have an original mono of Frank Sinatra's Sings For Only The Lonely on Capitol, which truthfully sounds mediocre on my expensive modern stereo cartridges. In mono, Frank is in the room, as large as day. There is a wonderful three dimensionality to the soundstage; Frank sounds like he is living and breathing in the room with us. By the way, the MoFi reissue is also mono and sounds wonderful on a modern stereo cartridge. But the original in comparison is tonally denser and chunky.
As a teenager in Cork, Ireland, I used to hang out at Elma Sound Studios under the tutelage of Russian emigre Norman Young, a recording engineer. Whenever we had free time, he loved to play mono records to show me what I missed. One of his favorites was Jane Morgan singing "The Moon Is Yellow" from Jane In Spain.  OK, it's a little dated sounding with the orchestral accompaniment but the singing is pure velvet and the sound quality is crystal clear—as good as Peggy Lee's "Somebody Loves Me" from Soundtrack of Pete Kelly's Blues—both of which will probably surface on Demo XIX.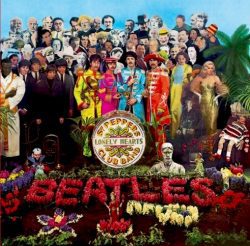 One of the highlights of RMAF was getting to hear my original mono U.K. Parlophone pressing of The Beatles Sgt Peppers Lonely Hearts Club Band. "Being For The Benefit Of Mr Kite!" took on a completely new dimension as we heard a young John Lennon sing with lots of reverb added to his voice and the equivalent of a foley stage add all sorts of wonderful sound effects to the back drop. (Thanks to Michael Fremer for decoding the matrix numbers while I was purchasing the LP from the U.K.).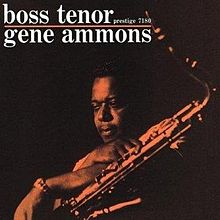 Gene Ammons' "My Romance" from Boss Tenor—we played a cheap mono reissue with dazzling effect. Gene Ammons was in front on sax with Tommy Flanagan on piano and Doug Watkins on bass. The sax enveloped the room and was utterly credible as a musical event. More than one listener commented that as long as you were seated between the two Eclipse TD510ZmkII loudspeakers, he never realized that he was not hearing a stereo soundstage—the presentation was so convincing. Alan Sircom, editor of HiFi+  remarked, "Say what you want about stereo, but one channel of effortless, dynamic, and vivid sound is hard to beat.."
So what's left? Well, the massive original dust cover has a split that needs to be repaired & polished. I had the rosewood trim pieces restored last year and they look like new. Sean commissioned a couple of Zero flight cases for our PD-444s.' I will remove the captive power cord and install an IEC inlet so that we can use modern power cords.
Then it will take a while to find the right arm / cartridge synergies for both mono and stereo. The Schick is a wonderful choice with either the Denton 102 and or 103. Both of which I have yet to hear with the Latest Zu mods. As you can read, this is an exciting ongoing project that will deliver terrific musical enjoyment. I  used this to record the mono tracks for Demo XIX which should be finished in time for CES 2017. I expect to have a selection of mono cartridges on hand to find the most complimentary for any given tune I need to record to DSD.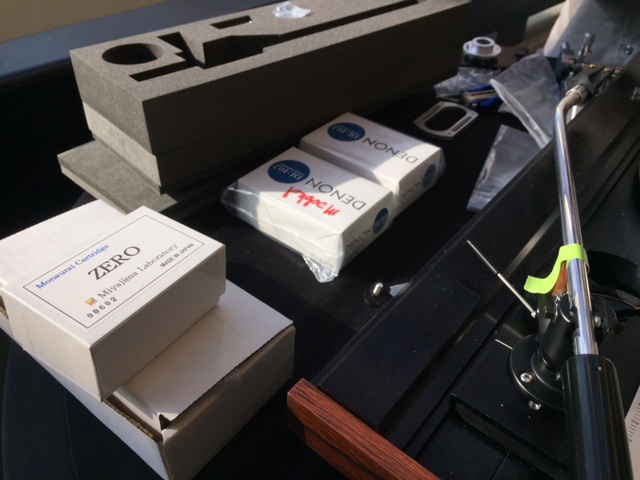 Last but not least, I plan on experimenting with different feet supporting the table, as I feel our understanding of vibration isolation has improved over the past 40 years. So far the Nordost Fut are working like a champion—lowering the noise floor, digging out the low, low bass and cleaning up the midrange. What is there not to like?
I bought approximately 100 mono LPs in the past two months and am thrilled with both the musical and sound qualities of both jazz and vocal. Only the classical LPs have been frightfully hit or miss. I've been trying to stay away from early 50s albums as there were so many different EQs at the time before the RiAA standardization.
This is an ongoing project that has delivered many hours of fun for me and my friends. Now if I could only find a near mint copy of the original mono pressing of Johnny Hartman's "I Just Dropped By To Say Hello"…
Hi-Fi+ singles out Luxman / Eclipse RMAF room for "exceptional sound"
What better way to end the day than to wind down, play some mellow tunes and relax with an ounce of God's own libation, a smooth and refined whiskey.
In 1912, Gilbey's of Dublin (a wine and spirits merchant, who bottled whiskey in bond) began selling a 12 year old whiskey named Redbreast. The name was a reference to the Redbreast Robin (a type of small bird, common in Ireland) and is attributed to the Chairman of Gilbey's, who was an avid ornithologist. In 1939 Jameson took over filling Gilbey's own casks. Two sherry casks were used for each bourbon cask. The brand died off with the closure of Jameson's distillery but was relaunched in 2010 from the Midleton Distillery which is approximately 20 miles outside of Cork City. Both Jameson and Midelton are part of the Irish Distiller's Group.
Over the years, my wife and I have slowly graduated from the Jameson & Power's 12 year old to the 12 year old Redbreast to the 15 and thought that life was grand. Unfortunately the 15 year old was only produced every four years, making it was hard to find. So when we found it, we stocked up—at least enough to tide us over until the next batch arrives in four years time. This was one of the richest and heaviest Irish pot still whiskeys, (until the 21 showed up). The Redbreast 15 is vatted from whiskeys aged between 15 and 19 years old and the cask selection is from 1st fill bourbon and sherry barrels.
A few weeks ago, a friend of mine—John Suveges of Laguna Beach—asked if I would swing by and set up his Luxman PD-171A turntable. After dialing in the tonearm arm with a Brinkmann Pi cartridge, we settled back to enjoy some tunes—wonderfully musical and utterly relaxing. John was the culprit who introduced us to the 12 year old Redbreast in the first instance, so I should not have been surprised when he produced a bottle of 21 year old Redbreast. Maybe not as dramatic as Moses parting the Red Sea, but certainly as climatic as King Arthur finding the Holy Grail. One ounce of this precious elixir revealed that this was indeed the ne plus ultra of Irish Whiskey. While there is a clear taste progression from the 12 year old to the 12 year old cask strength and on to the 15 year old. The 21 is a dramatic difference in taste, almost like a liqueur whiskey. The sherry overtones are more pronounced in the 21 over the 12 or 15. The initial taste is quite sweet with hints of vanilla and caramel. The second phase of taste is more complex and brings with it heat that covers your tongue with a glow. The third is more like the aftertaste, which leaves you with a sweet finish and an overall feeling of contentment. Truly the water of life (Uisce Beatha in Gaelic) = whiskey.
Tasting Notes from Celtic Whiskey Shop and Wines on the Green
Nose – Remarkable aroma spanning fresh tropical fruits, nuts and rich dried fruit.
Palate – Soft vanilla, toasted oak, sherry nuttiness with a dusting of Pot Still spices. Luscious fleshy fruit notes complete the creamy mouth feel. Lingers—seemingly forever—to oak and pot still spices and then—the final bow from the Barley—where it all began.
Colour – Dark golden
Made from malted and unmalted barley, which are milled and mashed before being triple-distilled through traditional copper-pot stills. Matured in a mixture of bourbon barrels and first-fill oloroso casks, as well as some refilled casks resulting in a rich and complex whiskey. Redbreast 21 was named the Irish Whiskey of the Year by Whisky Advocate. Expect to pay around $250 for a 70cl bottle. By the way, if you are spending some serious money on a magnificent bottle of whiskey, you owe it to yourself to buy a pair of the Riedel whiskey glasses ($50 a pair). It's the equivalent of replacing a generic power on your amp with a Shunyata Σ SIGMA High Current power cord. I know $3,500 is a lot of money, but what a transformation. No different than drinking out of the right glass. Sláinte (good health).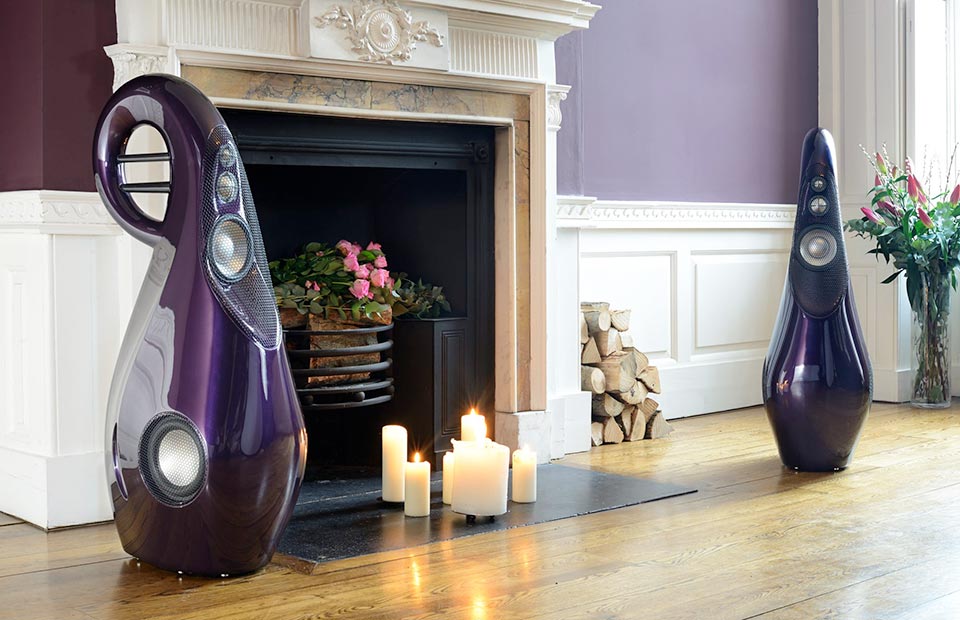 Sound rooms don't have to look like a rough and tumble man cave. According to some of the design-centric high-end audio dealers, sound rooms can be a statement of taste and high-living—sound-wise and aesthetically. Jason Lloyd from Audio Elegance in Fort Lauderdale works with designers to help their clients achieve what used to be thought of as impossible – combine great sound, luxurious aesthetics and functional living in their homes where playing great music is as much a feature of their living environment as this Balthazar chandelier by Nancy Corzine.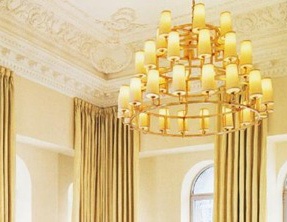 Little do we know, a chandelier, when placed properly can be used as an acoustic diffusor to scatter or disperse sound to break up and scatter the sound waves, giving the room a live ambient sound while at the same time reducing standing waves and slap echo. Similarly, plants properly placed in a sound room can help condition the sound room beyond the pure aesthetics.
On how to deliver sound with design, Jason's motto is that "regardless of where your starting point is, don't forget your music". Gone are the days when one uses decorative table cloths to cover loudspeakers or subwoofers. "Your loudspeakers stand out in the room, period, and you need them untethered to achieve great sound. Know what music you like, how loud you listen to them and find the best loudspeakers that specializes in delivering that without adding sonic signature to corrupt the sound you love," exclaimed Jason.
Jason is highly sought after by designers and installers whose clients are unhappy with their music playback, be it in their home entertainment rooms or in a multi-purpose room in their living and working environment. "In the case of home entertainment rooms, most of them have flushed cabinets that hide all their electronics, including the loudspeakers," lamented Jason. "If you are limited in space, with one simple change and without engaging more real estate, our clients are able to enjoy both their action movies and Chopin with little distortions," commented Jason, "but on the other hand, if you have more real estate to play with, the trick is to create a stereo listening environment that blends into your living, most effortlessly, most rewardingly sound wise and most elegantly from an aesthetics standpoint."
His favorite loudspeakers to achieve that with happen to be the Vivid Audio GIYA series (#LoudspeakersInTheKnow). "Vivid Audio strives to deliver zero sonic signatures where sonically, it feels like they disappear from the room. Coupled with their museum quality design offered in any automotive color, these are true works of art from an engineering design and from an aesthetic design standpoint, allowing our interior design colleagues the creative room to balance their clients' living space with other design elements while making a feature out of them."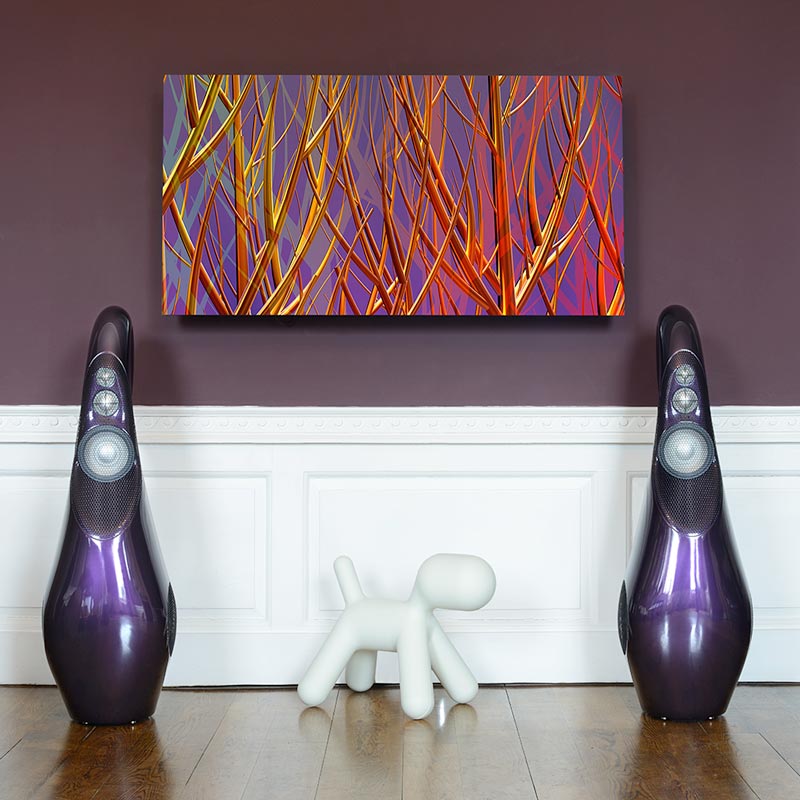 Here's the same pair of loudspeakers in a different room where the equipment and wires are nicely tugged away.  Starkly positioned on the blank wall in between these shapely GIYA G3's is the "Purple with Red and Yellow", from the Symbiosis Collection by Yuroz complimenting the rest of the design elements.
Symbiosis is a private collection that Yuroz, a well celebrated Los Angeles based artist, has been working on during the last five years. This new contemporary collection will debut next March in the Coral Springs Museum in Florida for public viewing. Blending his signature cubist structure with vibrant colors in a completely new contemporary style of painting, Yuroz (#Yurozart) expresses the symbiotic relationship between human beings and our environment, in this case, between us and the trees in the forests.
Much like sound energy, the flow of energy between us and the different elements in our environment determines our state of health and balance as the energy moves through the seven human chakras. In representing the interdependency between us and the trees, Yuroz's Symbiosis collection manifests through the vibrant use of the seven colors of human chakras, calming or stimulating viewers to an ultimate state of overall harmony and tranquility.
Find out more about Yuroz and his upcoming museum show featuring his Symbiosis Collection here.
If you are in South Florida, Jason is hosting a music seminar this weekend to share sound advice and has invited some of his interior design colleagues as well. Join him for a fun musical delight, also featuring the private music collection of Music Evangelist, Philip O'Hanlon of On A Higher Note. Register here or call (800) 918-0597 to RSVP.