Category Archives:
Customer Feedback
Showing 10 posts of 31 posts found.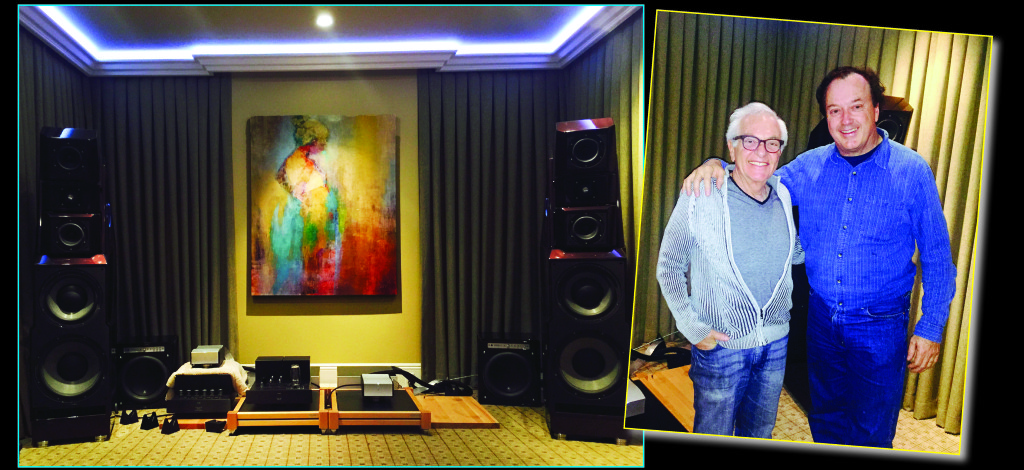 Testimonial from Steve Williams of What's Best Forum
"… I can tell you that these amps should drive anything. They are rated 400 watts into 8 ohm, 700 watts into 4 ohm and 1200 watts into 2 ohm. These amps are dead silent and the noise floor is nonexistent. A tiny little button in the front turns it on and all you have to do is sit back and enjoy the music, which I did even though they are not tubes. They are about as neutral as anything I have ever heard and the dynamics are beyond unbelievable. Philip brought over his latest demo disk #17 and we played the whole disk. At the last one he said this one is meant to be played loud as he turned up the volume to Uptown Funk by Mark Ronson feat. Bruno Mars. It almost blew me back through the wall behind me. The bass on this amp is crazy good. The dynamics (or as Ack calls the Dynamic Experience) is explosive from top to bottom. There is nothing lacking on this amp. I must admit it was somewhat on the cold side for me but this is not unexpected coming from someone who has been running tubes for the past 12 years. I also missed some of the bloom but having heard this amp I can honestly say I would have no reservation recommending this amp to anyone as IMO it is that good. The sound is crystal clear, and every string could be heard. Instruments sounded like, well what they should sound like.
Philip is bringing over the Mola-Mola preamp next week to compare against my Lamm LL1 Signature which is tubes.
I found myself with the lights off before the first track was over and tapping my toes and snapping my fingers. I was into it.
Another food for thought….. I just spent $325 to ship my right channel and its power supply back to Brooklyn as the crates weighed 200 lbs. Same price coming back as well as whatever repair cost on top of that. These amps weigh 14.5 lbs each and are carried in a very secure case which was easily moved up my stairs. To put out such incredible sound is something people need to hear for themselves.
$18K for the pair.
I am lucky to have these for a week or two and then have the Makua preamp in my system as well. Stay tuned.
Steve Williams, What's Best Forum, Coto de Caza, CA
http://bit.ly/1zMafuu
"Whenever I listened to a set of speakers I tend to find the weak spot easily and I have not come across a speaker with no flaw, until now.
"I am the proud owner of a set of the best speakers I have come across in my whole life. Vivid Audio V1.5 stand mounted two way speakers.
"There is a seamless integration what the high frequencies are concerned. Both drivers are perfectly time aligned. Warm, detailed, articulate and controlled. I heard sounds on my recordings that I have never heard until now. If it's on the recording you will hear it. These speakers are so capable that I will be more than happy with them for the rest of my life. They give me all I could ever ask of a live recording…and then some.
"I am so thrilled with these speakers that I make time at any point of my day i.e. teatime, lunch break, loo break to pop in a track or two.
Vivid or NOTHING."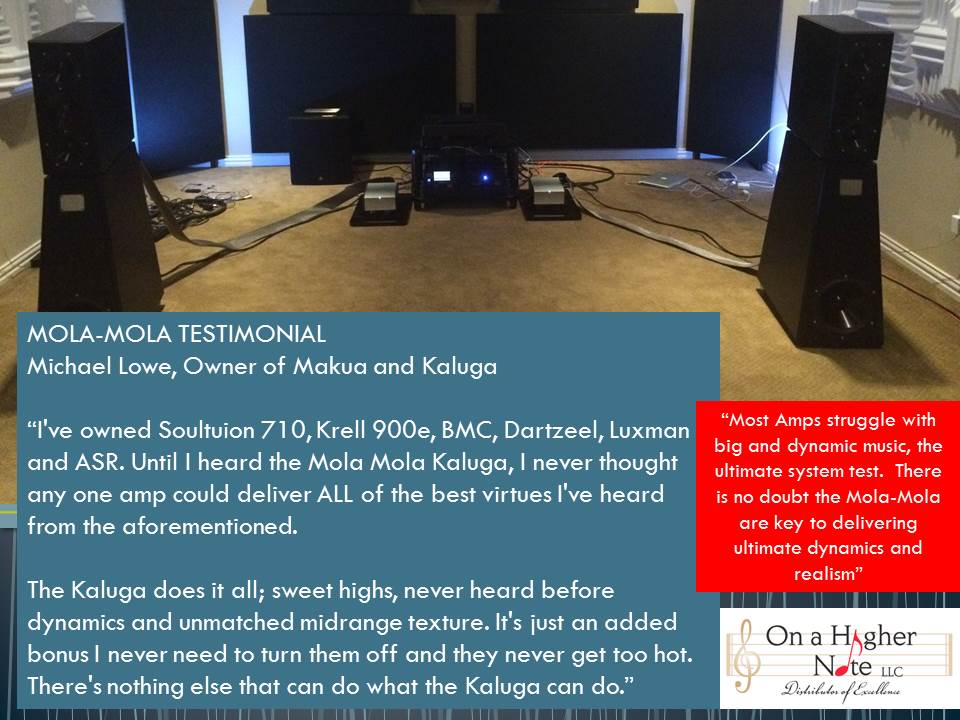 Scott Warren from Advanced Home Theater in Texas was one of the first dealers that helped his customer purchase a set of Mola-Mola preamp and monoblocks combo.  Michael Lowe gave us the above testimonial and started a couple threads in our friend, Steve Williams' What's Best Forum discussing these components.
Here are the two threads he sent us for those who are interested in joining in on the conversation:
Whatsbestforum's Thread 1 re Mola-Mola
Whatsbestforum's Thread 2 re Mola-Mola
"The Eclipse speaker system is, quite simply, an acoustic extension of my piano. It gives me the benefit of absolutely faithful sound reproduction, without any modification of sonority or the instrument, reproducing and preserving the tonal qualities of the piano in their entirety."
"The Eclipse TD712z monitors are truly amazing. I have started to mix my works and the translate my production so well compared to the other regular monitors. They are so transparent and reproduce all the sonic signatures most truthfully. Also my kick drum come throw so spontaneous and punchy despite the fact the driver unit is only 12cm diameter."
Model in use: TD712z
"Eclipse TD speakers are very accurate in getting close to the real sound image and the actual positioning of each instrument.

"I first heard these speakers in Mostar, (Bosnia) playing a record that I helped to produce, so I was quite familiar with the music on the record.

"What impressed me more than anything else was how tight the bass was and how absolutely accurate it seemed. There was no hang over of the bass. It seemed very sharp, very short. The bass drum sounded fantastic. In fact I pulled the drummer of the band, who had played in the record I produced, in to listen. He said, 'I've never heard a bass drum sound like that on a recording.

"There is something about the very high speed [response to sound reinforcement] of those speakers. I guess, because they're small speakers; they move very fast and they damp [finish moving] very quickly as well. That seems to be an important part of the sound.

"The operating principle seems to me to be excellent. It's a completely new idea as far as I can tell in speaker technology and, having listened to them for a little while, I am extremely impressed by their potential. They are also very accurate in getting close to the real sound image and the actual positioning of each instrument. It is a new principle; a different kind of idea from other speakers and, I suppose, it's the beginning of a new road towards a new way of listening to sound.

"One thing I like is that they are not in speaker boxes. I am sick of boxes. I also like the fact that this is a beautiful shape and it looks like something from this century, the 21st century, not from the last century and it sounds like something from this century as well."
"Music appears in front of me, sharp and illuminated, satisfying me emotionally and spiritually. The sound space formed by the music makes me aware of my connection to it. These speakers clearly portray the quality and life of the performance, real music appears in front of me."
Kirk Lachman (Las Vegas) exclaimed, "I was in listening heaven (in my own house)", on Vivid Audio B1 loudspeakers, paired with Luxman L-590aX integrated amp, DA-06 DSD DAC, Luxman PD-171 Stereophile 2014 POTY finalist turntable.
"The Vivid B1 speakers had a very high WAF (wife acceptance factor)… and welcoming sound that never caused listener fatigue or needed high volume to show off. They handled bass with no issues. Imaging was excellent and precise. Having her notice the imaging etc was surprising… No muddiness at all… The speakers really stole the show. When you closed your eyes, you could not locate them in the room. They just disappeared."
This is music to the ears of Vivid Audio's Technical Director/Designer, Laurence Dickie as he often likens his mission in creating a "transparent window to the music performance". You cannot get more transparent than "just disappear" I'd supposed. Well done!
For years, we have been demonstrating Vivid Audio and Luxman in different trade shows and seminars and they are a beautiful combination. Contact us or your nearest dealer for an audition.
"My audio system consists of a pair of Wilson Sasha 2 loudspeaker and a Wilson subwoofer driven by Mola-Mola Kaluga Monoblock Amplifiers and a (Mola-Mola) Makua Preamp. Every listening session of my favorite music of classical and opera brings a smile to my face and a feeling of immense satisfaction.

"The musicality is unsurpassed by anything I have heard in my home before. The sound staging makes my modest listening room sound like a symphony hall with extremely wide breadth and depth creating amazing realism. The dynamic range is truly impressive with exceptional clarity at low levels sustained through quite high volume levels. All components work perfectly together. I enthusiastically recommend this system and all of its components to all serious music lovers."
Contact us to hear it for yourself!
"Thank you so much for the outstanding customer service. I couldn't be happier… my pair of B1's is doing quite well… The speakers sound absolutely incredible and the amount of joy that I now get from listening to music is virtually endless. Thank you once again for the fantastic customer service. You've got a customer for life."