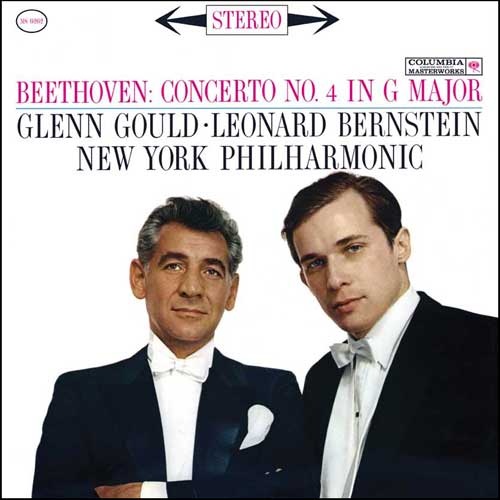 ---
Artist: Glenn Gould, Leonard Bernstein and the New York Philharmonic
Album: Beethoven: Concerto No. 4 in G Major
Label:
Release Date:
Genre: Classical Concerto
Formats: CD, LP
Paul Seydor of The Absolute Sound gave this LP to me a couple of weeks ago as an early Christmas present. I could not help myself but play & enjoy it. This is a wonderful performance, impeccably played by Gould and Bernstein's New York Philharmonic. This was Gould's favorite Beethoven concerto, and he programmed it more than any other. The relationship between piano and orchestra in this performance is less of a virtuosic/accompaniment than it is a harmonic partnership, reflecting Gould's views of the concerto & mercifully relatively free of Gould's customary idiosyncrasies; his humming I find distracting.
The other feature of note, is the percussive clarity of Gould's piano, making it almost brittle, together with its left-hand clarity, factoring back in some explosive dynamism which the slow tempos might have negated, and making it always interesting to hear, but also depriving the middle andante of some of its interiority (although some of that is factored back in by the very slow tempo).
The sonics on this Impex LP reissue are superb and Bernstein conducts with vigor, partly compensating for the slow tempos, with a superb and brisk final coda. Thank you Paul!