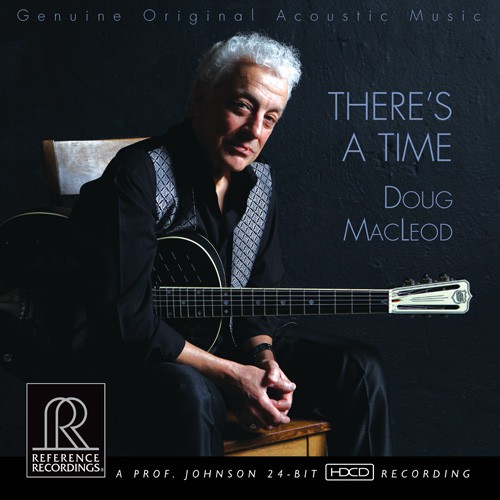 ---
Artist: Doug MacLeod
Album: There's a Time
Label:
Release Date:
Genre: Blues
Formats:
Shortly before the Newport Show, Jan Mancuso, from Reference Recordings, emailed me that she had Doug MacLeod's latest record for me & would hand it over in Newport.
Jan dropped the record off on Thursday afternoon as we were setting up & returned on Friday afternoon with Doug MacLeod who wanted to hear what it sounded like on our hi-fi system. Doug quippied, "It sounded as good as when we recorded it" (Brinkmann Bardo / 10.0 tonearm / Pi cartridge). Needless to mention, the LP sold out on the first day of its release at Newport.
This is Prof. Keith Johnson's first blues recording and in my humble opinion, his finest classical recording to date. Recorded live, with no over-dubs at Skywalker Sound in Marin County, CA, "Making this album was different than any other one I've done in the past," recalls MacLeod about the session. "They put Jimi, Denny and me on this huge soundstage at Skywalker Sound in Marin County and we sat around in a circle where we could see each other. We played live, no over-dubs, just three guys playing some music together."
I play records at a lot of Shows and Dealer's Music Events across the country & have never witnessed the reaction that this LP garnered. As it's a 45 RPM LP; the sides are only twelve minutes long, so I let the whole side play each time I spun this record. About half the time I played this, it generated a spontaneous applause from the audience at the end of the LP. Musically & sonically, this album is a gem.