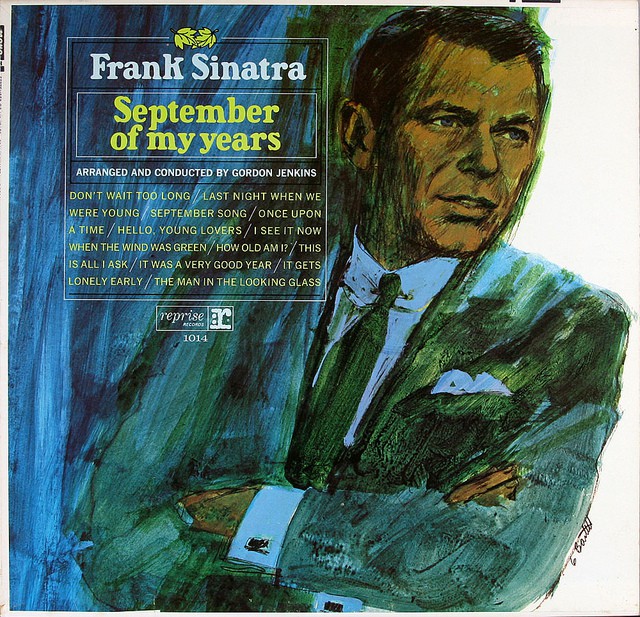 ---
Artist: Frank Sinatra
Album: September of My Years
Label: Reprise Records
Release Date: August 1965
Genre: Vocal
Formats: CD, LP, TIDAL hi-res streaming
Another music highlight at AXPONA 2015 from Kyomi Audio is Frank Sinatra's September of my Years on vinyl. It was such a great album that we kept playing it repeatedly at AXPONA and no one got tired of it.
It was 1965 when the British Invasion was in full swing. Rock music was exploding in many different directions. Yet, in the midst of it all, came this beautiful, reflective album from the Chairman of the Board. September of my Years was a perfectly arranged (by Gordon Jenkins) selection of songs recorded as Sinatra approached his 50th birthday.
"It was a Very Good Year" is the standout track, and the kind of magic even Sinatra could not have recorded when he was starting out in the late 1930's. Here it is evocative, heartfelt and very moving. There is a maturity in his delivery that comes with experience and his voice is a finely honed instrument at this stage.
At AXPONA we played the title track, a gorgeous harp accompanies the Nelson Riddle orchestra as Sinatra delivers his lonely liturgy and of course the effects of aging. An experience that we all share but one which had not been touched upon up until then by popular singers. String tone is superb, lots of air and a rich dense tonal texture. It is Sinatra's greatest achievement with Reprise, and held up as one of his top five albums by the critics.
We listened to a Reprise reissue, though original LPs are readily available. This was a very popular album track in 1965, when it won a Grammy for "Album of the Year". Clean Mint- copies are readily available. Also on CD or TIDAL.