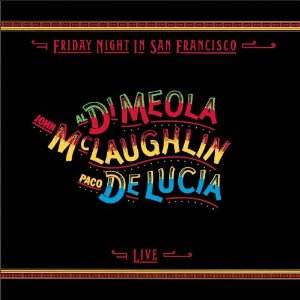 ---
Artist: Al Di Meola, John McLaughlin and Paco de Lucía
Album: Friday Night in San Francisco
Label: Philips
Release Date: August 10, 1981
Genre: Jazz
Formats: CD, LP, SACD
"Friday Night in San Francisco" is the most incredible acoustic guitar release ever by anybody. Jazz/Rock/Fusion maestros John McLaughlin (UK) and Al DiMeola (USA) team up with flamenco guitar master Paco De Lucia (Spain) and the results are breathtaking. Put simply, this is as exciting as acoustic guitar gets. The atmosphere in the live venue is a hot house, the playing never less than riveting.
Here is what you can expect:  The first track features Al DiMeola and Paco De Lucía teaming up for a medley of DiMeola's "Mediterranean Sundance" (first recorded by the duo on DiMeola's classic 1976 album Elegant Gypsy) and De Lucía's own Rio Ancho. It is a delightful performance, full of the fire and inhuman chops that one expects from two players of this caliber; if this does not leave you in awe…
All the tracks except Guardian Angel were recorded live at The Warfield Theatre on 5 December 1980, in San Francisco; Guardian Angel was recorded at Minot Sound, in White Plains, New York.
The original LP on Philips, while thin was not bad sounding, the SACD from 2002 is clearly better than the CD but gives up a lot of body to the LP.  Well ORG have finally re-released this masterpiece on 45 ROM vinyl and Ying Tan of ORG told me during the Newport Show that the first pressing was already sold out and that they are now selling the second pressing.  The 45 RPM versus 33 RPM is fuller sounding and a little more dynamic. Not a huge improvement over the 33 RPM LP though noticeable.