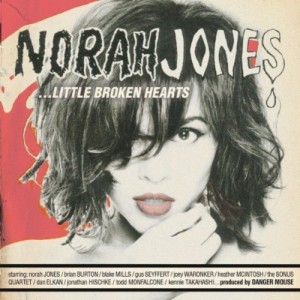 ---
Artist: Norah Jones
Album: Little Broken Hearts
Label: Blue Note Records
Release Date: April 25, 2012
Genre: Vocal
Formats: CD, LP, TIDAL hi-res streaming
"Little Broken Hearts" is an interesting new album from Norah Jones; if your last visit was "Come Away With Me" be prepared for something much more modern & electronic.  Her debut album (a slow & languorous jazz vocal voyage) was a HUGE hit back in 2002, produced by the late Arif Mardin (of Atlantic Records fame, who worked with the likes of Aretha Franklin, Bee Gees, Dusty Springfield)  seems like a good idea to return to see where Ms Jones has traveled to since.  (BTW, Analogue Productions  / Acoustic Sounds have re-issued Come Away With Me on LP & SACD, I have the LP its stunning).
You will not be disappointed, Little Broken Hearts was produced by Danger Mouse (aka Brian Burton) and he has injected his house sound all across this record. The results are mostly positive; Jones' move to a more "modern" sound pays off in most respects.
Norah Jones opens this album with the lyric, "Good Morning, my thoughts on leaving are back on the table, I thought you should know" – making it very clear that this album is a letter…a break up letter to her former lover.
Her lyrics are poignant but brutally accurate: in 'Say Goodbye' she sings "it ain't easy to stay in love if you can't tell lies", only to follow up in verse two to declare "it ain't easy to stay in love when you're telling lies".
There you have it; a wonderful journey, cleansing the broken heart, the performance is full of authentic emotion and the recording captures it nicely.  Available on CD, LP & 44.1 /24 download from HD Tracks.