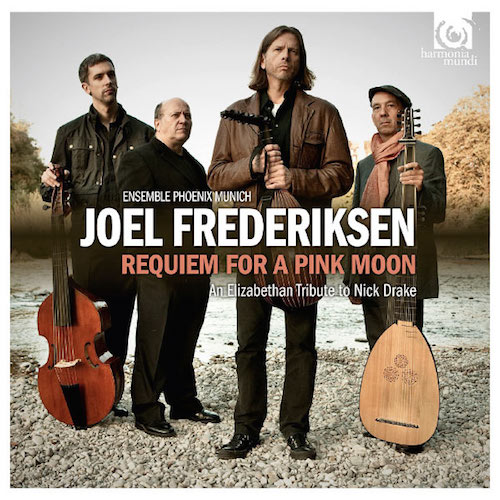 ---
Artist: Ensemble Phoenix Munich and Joel Frederiksen
Album: Requiem for a Pink Moon: An Elizabethan Tribute to Nick Drake
Label: Harmonia Mundi
Release Date: May 8, 2012
Genre: Choral
Formats: CD, MP3
Nick Drake released Pink Moon in 1972 and while it achieved some critical acclaim, sales-wise, it sank like a stone, just like his previous two albums to the unappreciative record buying public at the time.
It was probably 7 – 8 years ago that I heard Nick Drake sing "The River Man" on a Q compilation – I was stunned – Nick Drake drew up such emotion, leaving me breathless. I immediately bought everything I could find of his – well all three studio LPs as well as the outtakes.
A few months ago, my good friend John Marks called me on Skype gushing about the best album of the year – "Requiem For A Pink Moon."  Now while it is not music for the masses – those who enjoy this are in for a rare treat.
Using a period palette of lute, archlute, viola da gamba and theorbo, lutenist Joel Frederiksen and his Ensemble here unearth links between the songwriter and his Elizabethan precursors, notably John Dowland: the sequence shifting from Drake's "Rider on the Wheel" through Dowland's "Time Stands Still" to Drake's "Time Has Told Me" works both thematically and musically.  CD only.