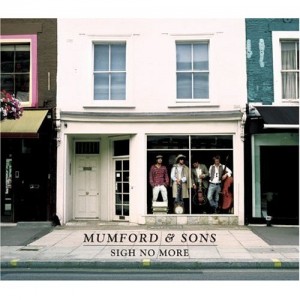 ---
Artist: Mumford & Sons
Album: Sigh No More
Label: Island Records (UK), Glassnote Records (Canada, US), United Record Pressing (Vinyl LP)
Release Date: October 2, 2009
Genre: Folk
Formats: CD, LP
Originally released in October 2010 in the U.K., Mumford & Son's debut album Sigh No More , quickly went on to win Q Magazine's best New Act of 2010. The London-based quartet will sweep you off your feet with their stunning harmonies and musical.
The album starts with the title track, Sigh No More – an ethereal four-part harmony, the British foursome intones Benedict's line to Beatrice from Much Ado About Nothing: "Serve God, love me and mend," and then the voices swell in unison: "And I'm sorry." It's one of the only pastoral moments on the band's hour-long debut LP, but the sentiment lingers.
The song starts slowly with sparse instrumentation, swelling into something you'd expect to hear at a full on hoedown (in London) and serves as a wonderful introduction to Marcus Mumford's voice; not pretty or soothing, but strong and with the ability to evoke powerful emotion.
This is an album that knocks you over at first. But when you gather yourself, get back on your feet and listen again, you'll want to hit the play button a second time. Mumford & Sons have no reason on to apologize on Sigh No More—this is a killer debut.
Their second album "Babel" is currently the best selling album in the USA.  Sigh No More is available on both CD & LP.