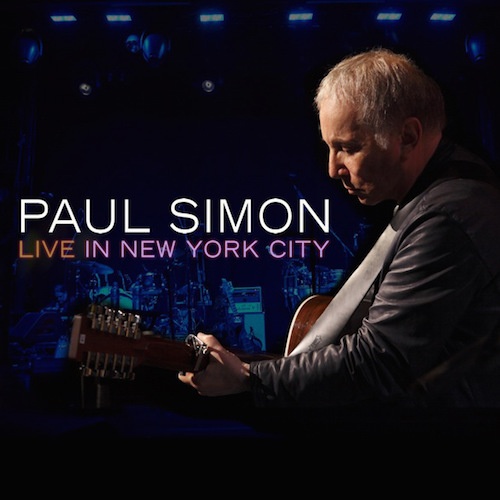 ---
Artist: Paul Simon
Album: Live in New York City
Label: Hear Music
Release Date: September 18, 2012
Genre: Vocal
Formats: CD, MP3
Last year Paul Simon released "So Beautiful or So What" to very positive reviews.  Shortly afterwards iTunes featured Paul Simon playing at the Hammersmith Odeon in London as part of their iTunes Festival.  The live version of "Afterlife" is so much more upbeat & infectious than the original studio version. So you can imagine my delight to read about the release of Live in New York City as a double CD with a DVD, Blu Ray or a 24/48 download from HD Tracks.
Here is Paul Simon, at 70, making music that is as vital and original as anything he did with Art Garfunkel or in his early solo albums. In performance, the energy astonishes. As does his sense of fun. He clearly loves being up there.  He has surrounded himself on stage with superb musicians all of whom play multiple instruments with aplomb.
Paul Simon's music has been a part of my generation's repertoire  for so long that it's possible that he's taken for granted. This magnificent collection of songs, contains only a couple from his S&G period "Sounds Of Silence" and "The Only Living Boy From New York" – stand as a testament to Simon's five decade long songwriting career. There is a reason why he was awarded the Gershwin Prize for American Popular Music. And that reason is that his singular muse, his distinctive style, his constant and continual pursuit of new musical vistas has made him the country's greatest composer of popular song; above Bob Dylan, in my opinion.
The songs included in this concert rank with Simon's best, particularly those from "So Beautiful or So What." Dazzling Blue is an exquisite gem, and The Afterlife retains its vitality and witty rhythmic wordplay ("hey, what you say, it's a glorious day – by the way how long you been dead? Maybe you maybe me maybe baby makes three but she just shook her head").
This is not a Greatest Hits compilation, rather a career retrospective  missing many of his most popular  compositions, nonetheless it is an essential purchase for music lovers who savor  a performance by a master of the singer songwriter genre who has matured with age to a rare state of Excellence.