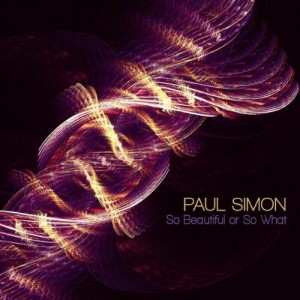 ---
Artist: Paul Simon
Album: So Beautiful or So What
Label: Hear Music
Release Date: April 8, 2011
Genre: Vocal
Formats: LP
Paul Simon has certainly gone above and beyond to create a set with amazing gems. His twelfth studio album and the first in five years.
I saw Mr. Simon perform on the iTune Festival; live his band are so tight, his singing is so sweet, if anything the live performances are a little more spontaneous than the studio album..
As always, Paul's lyrics are astute, eloquent and funny: "The Afterlife," he describes dying and feeling fine but wondering why he hasn't seen God yet. Then a "voice from above/sugar-coated with love" explains: "You gotta fill out a form first, and then wait in the line".  I use this song early any morning when I feel that I need a lift to bounce through the day.
BTW, the LP contains a download card; 24/96 – it's cheaper than the HD Tracks high rez download and of course includes the record.