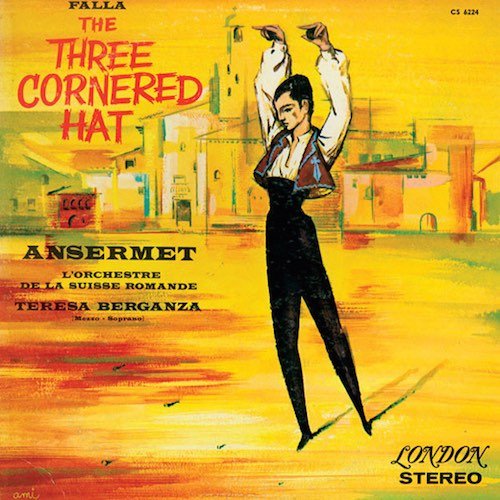 ---
Artist: Ernest Ansermet
Album: The Three-Cornered Hat by Manuel de Falla
Label: DECCA
Release Date: 1961
Genre: Orchestral
Formats: LP, SACD
El sombrero de tres picos (The Three-Cornered Hat ) is a ballet by Manuel de Falla commissioned by Sergei Diaghilev and premiered complete in 1919. The story — a magistrate infatuated with a miller's faithful wife attempts to seduce her — derives from the novella by Pedro Antonio de Alarcón. This was first performed in London at the Alhambra Theatre on 22 July 1919. Sets and costumes were created by Pablo Picasso.
Although the Impressionistic character of the musical language reflects his studies with Debussy, the composer never once renounces his native origins. Overflowing with the thrilling rhythms and electrifying melodies of Spanish folk music, this work achieved worldwide popularity virtually overnight.
The Swiss conductor Ernest Ansermet proves in this DECCA recording that he is a power to be reckoned with. The Orchestre de la Suisse Romande executes the slightest nuance, the most exquisite of figures and gentlest lyrical tone with meticulous precision. Powerful rolls of thunder, the click of castanets, lively rhythms and rich sonority conjure up a picture of fiery Spanish temperament so tangibly before our eyes that any comment on the recording quality appears almost superfluous.  The soundscapes are huge — wall to wall and as deep as your audio system will provide. Horns cascade, tympani is quick-paced and taut, and strings resound in mass while achieving adept delineation. Dynamics are massive yet scale up and down nimbly and smoothly. Stunning; the ORG 45 RMP LP set is the way to go. Though The Esoteric SACD is also remarkable, but sadly unavailable at this juncture.