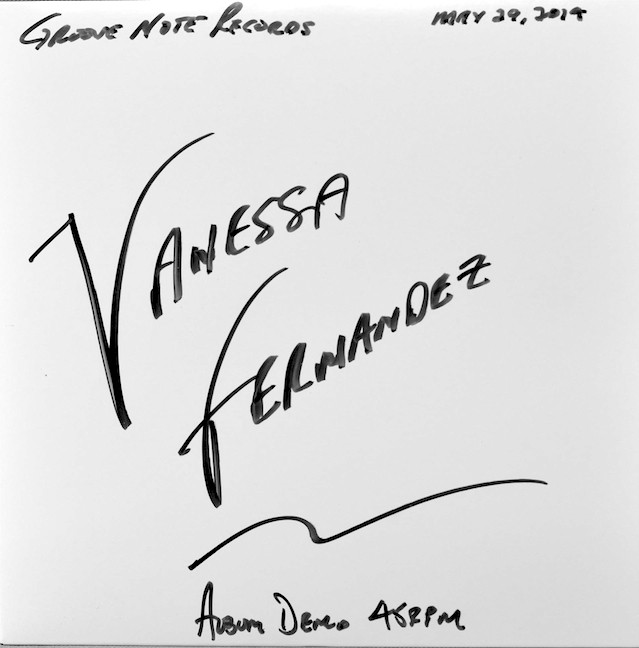 ---
Artist: Vanessa Fernandez
Album: Use Me (Laquer LP)
Label: Groove Note
Release Date: Fall 2014
Genre: Soul
Formats: LP
Debut album from Vanessa Fernandez to be released by Groove Note in the Fall of 2014. What a refreshing breath of R&B air; to hear a Singaporean singer cover Curtis Mayfield & Marvin Gaye. What a wonderful change from the usual jazz singers covering the American Songbooks. Curtis Mayfield has long been denied the credit he deserved as one of the truly brilliant American songwriters of the last century. Here is a state-of-the-art recording, covering some of the classics from the R&B genre, sung by a wonderful singer.
Ying Tan from Groove Note (creator of this record) brought in the lacquer on Friday morning of the Newport Show 2014 and played this record in many rooms over the duration of the show. For those unfamiliar with lacquers, acetate is another name for a lacquer, a lacquer is a disc of aluminum coating with a layer of celluloid material. A lacquer looks familiar to a pressed record but they are heavier and do not bend like vinyl does. They also have a distinct smell which is the lacquer coating itself. A lacquer can give you a limited, finite number of plays when treated correctly; however, using needles made for scratching will wear the grooves in more quickly. Also, adding weight to your tonearm will wear in the grooves more quickly. Lacquers come in two grades: Reference & Master.
Ying returned on Sunday afternoon of T.H.E. Show and presented me the lacquer as a gift, saying that even though we had the most inexpensive turntable (Luxman PD-171 $6,400)  that he had auditioned, he was astonished with the sound quality & the emotional impact.
The sound quality of this album is truly reference quality. Look for it in the Fall, a must purchase!