T.H.E. Show Newport 2016
June 3, 2016

-

June 5, 2016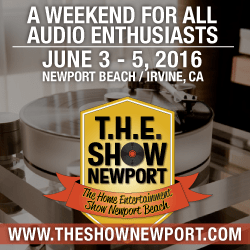 The Hotel Irvine
June 2, 2016 – Thursday, 2PM – 6PM
June 3, 2016 – Friday, 10AM – 6PM
June 4, 2016 – Saturday 10AM – 6PM
June 5, 2016 – Sunday, 10AM – 5PM
Pelican Hill (ground floor) in conjunction with Joseph Cali Systems Design & Shunyata Research
Equipment List – Audio
Luxman PD-171AL turntable, $6,500 inc armboard
SME M2-9R tonearm $1,900
SoundSmith "Hyperion" cartridge $8,500
Luxman B-1000f monoblocks $30,0000 each
Luxman M-700u stereo amps $10,000 each
Merging Technology – NADAC Player – Multi channel & stereo music player, running Roon (New product) NADAC $11,500
(Music Server TBD)
reVox / SonoruS PR99 1/4" reel to reel
Otari 1/2" reel to reel
Shunyata Research cables, interconnects & power cords, Denali line conditioner (New product)
Equipment List – Video
Wolf SDC 8 ultra Projector $16,000.00
Wolf MKIV 4K Pro Scaler included with projector
Datasat RS20i Surround Processor $23,170.00
Kaleidascape Stratos 4K servor $3495.00
Kaleidascape Stratos 4K servor w/ 6TB $4495.00
Samsung BD8500 4K Bluray player $399.99
Music & 4K Presented by Joe Cali Systems Design
We'll be in the 'Pelican Room' on the main floor just like last year. This year we'll be doing things a little differently than we usually do. In addition to playing tons of great music, Joe of Joe Cali Systems Design will be presenting "Music & 4K: Best of Music & Motion Picture". The 30 minute presentation will cover stereo (best of analog tape and vinyl), multichannel (high-res PCM and quad DSD digital files) and finally ultra HD 4K video. There will be four 30 minute sessions every morning starting at 10AM and four 30 minute sessions every afternoon (see schedule below). Stop by the room anytime and we'll give you a ticket for an upcoming session.
Master Tapes & Shunyata Research — Daily at noon & 5pm
We will also be playing analog master tapes and showing Shunyata Research's new Denali line conditioner at noon and 5pm everyday (no noon showing on Thursday, and last showing on Sunday will be at 4pm). Again, see schedule below for more details.
Eclipse — Room #410
From 3 – 4:00pm every afternoon. Philip will be spinning discs at the Eclipse TD room # 410, reminding Audiophiles how terrific SACDs sound and playing some recent titles, such as Santana III, Harry Belafonte Sings The Blues and Vanessa Fernandez's When The Levee Breaks.
Philip writes: "It's a great opportunity to trawl through my SACD collection and play the Best of the Best through some remarkable speakers that seem to coast under the radar of many audiophiles. The single driver, crossover-less speakers—once properly positioned—can completely disappear, delivering a three dimensional soundstage. Close your eyes and you will be convinced that Ella Fitzgerald is casting her magic right in front of you. The vocal delivery is so palpable, your brain will be fooled into believing that this performance is happening right now before your very ears. One of the benefits of near-field listening is that it removes the room's acoustic inadequacies from the equation. Think of these as headphones on steroids, but delivering a perfectly proportioned soundstage to boot.
The Eclipse TD subwoofers have been designed to keep up with these super fast monitors, and deliver a cushion under the music. While the small listening room at Newport only needs one subwoofer, we are going with two, as we know that two will be able to deliver a more uniform bass across the room. Nothing spoils the music faster that a sub that can't keep up, or one that draws attention to itself. We are looking for a disappearing act!
Driven by Luxman's flagship Class A integrated amplifier L-590AX II and accompanied by Luxman's new entry level SACD player D-05u; this should be a golden hour every afternoon."
Last year "Prof" Keith Johnson waxed lyrical about this setup. Come and hear what all the Grammy-award winning, mixing and mastering engineers are so excited about. It should be a lot of fun.
Room #410 Equipment List
See Past Event Show Report Here