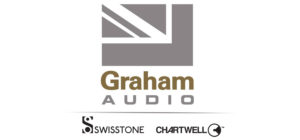 The Graham Audio line of BBC-licensed speaker designs convey the emotion and soul of the human voice with all the passion that a music lover expects, and yet, with the tonal color that an audiophile demands. Needless to say, we are very excited about them.
Our friendship with Paul Graham, the Founder, predated our distribution of this speaker line. The first pair of speakers we auditioned was the LS5/9. We were smitten to find the lifelike reproduction the performer's voice, tonally akin to a QUAD ESL57 with superb fit and finish, all the while feeling like the speakers have "disappeared" in the room.
Derek Hughes, the son of the Founders of Spendor, Derek and Dorothy Hughes, is the designer behind many of the latest designs in this speaker line. Derek wishes to improve on his parents' legacy at Graham Audio. To provide an alternative form factor, Mr. Hughes debuted the floor standing models of LS5/9 (the LS5/9f's) and LS6 (the LS6f's). Adding 5 hz of bass extension without expanding their internal volume or otherwise altering the essential sound of these monitors, the LS5/9f and LS6f deliver more bass output.