Annual Music Matters 11 at Definitive Audio in Seattle
March 3, 2016 @ 5:00 pm

-

9:00 pm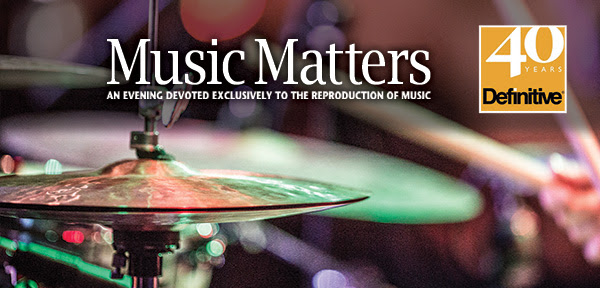 Definitive Audio's Annual Event celebrating 2-channel music reproduction. We will be show the Merging NADAC along with Wilson speakers & D'Agastino amplifiers.
From Definitive's website:
Join us for Music Matters 11, our annual event devoted exclusively to high performance audio — from classic vinyl to the latest in digital music. Regardless of your favorite artists, your music library, or the way you listen — if music is important to you, you will want to attend.
This year, as we celebrate Music Matters 11 and wrap our 40th year in business, you will have the opportunity to enjoy the finest in 2-channel systems in 6 optimized sound rooms.
-Public debut of Bowers & Wilkins 800 D3
-Audio Research Ref 6 & Ref Phono
–Merging Technologies NADAC
-Classe Audio Sigma Integrated
-Focal Sopra 2
-Public debut of the Wilson Audio ALEXX
-Public debut of the D'Agostino Progression Series
Also see exciting demonstrations from highlighted above, plus: AMG, Audioquest, Audeze, Ayre, Classe, HRS, Linn, McIntosh, Rotel, and Transparent.
Space will fill up fast, please remember to register!
See Past Event Show Report Here