Don't let the small size and small price tag fool you: these babies have the weight, punch, tone, and musicality of much bigger, much pricier hi-fi speakers.
They can be used on a shelf or desktop or simply by turning them around on the small footprint stands, mounted on a wall or a ceiling. The only extra hardware bits you'll need are some screws and wall plugs.
Available in white, or black.
Trivia question and answer: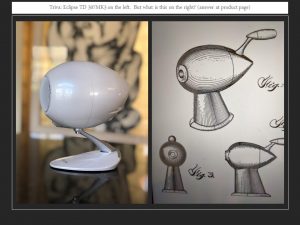 In a recent audiophile social media community group, a fellow community member, Stuart Smith, posted the design photo on the right and said "not what I first thought it was".  We (and a number of members) found a striking difference and echoed.  People were asking what that was.  Turned out, another member, Shawn Booth, is an industrial designer and told us the photo on the right was a pencil sharpener designed by Raymond Loewy, a pioneer in the field of industrial design with a patent filed in 1934!  He went on to say that it certainly looks like it could be a loudspeaker design … and it is!  Announcing Eclipse TD 307MKIII!