Showing 10 posts of 96 posts found.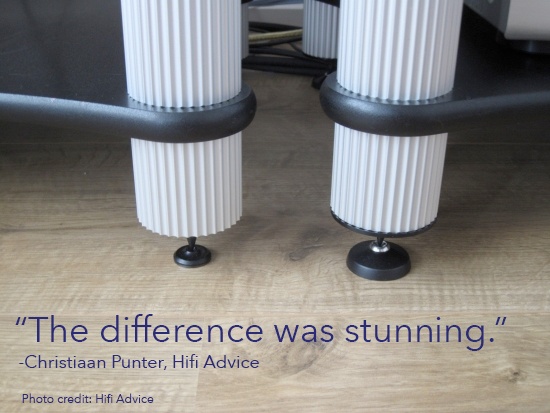 We recently ran across an article by Christiaan Punter of Hifi Advice about the huge sonic improvements that can be made by changing just the footers on your equipment racks. Punter had a Solid Tech equipment rack that he was going to sell because he didn't like its effects on his system. He decided to try footers from a couple other brands, including Artesania Audio—manufacturer of our favorite racks here at On a Higher Note. After switching to Artesania's Improved Decoupling Discs, he wrote:
"The audible difference to the standard spike discs however couldn't be larger! I know that some of you will call me crazy for claiming audible differences between spike bases under an audiorack that houses nothing but a music server and an amplifier, but hand-on-heart I think that anyone who calls him or herself an audiophile could hear the difference—it is simply that obvious…The lesson to take away from this is to not assume that little things make no difference…even the humble spike, and the disc they sit on are worthy of your attention!"

If you are interested in fine tuning your system, equipment racks and stands are an often overlooked way to improve even the best system. You can read the rest of the article at the Hifi Advice website or call us at 949-544-1990 to find an Artesania Audio dealer near you.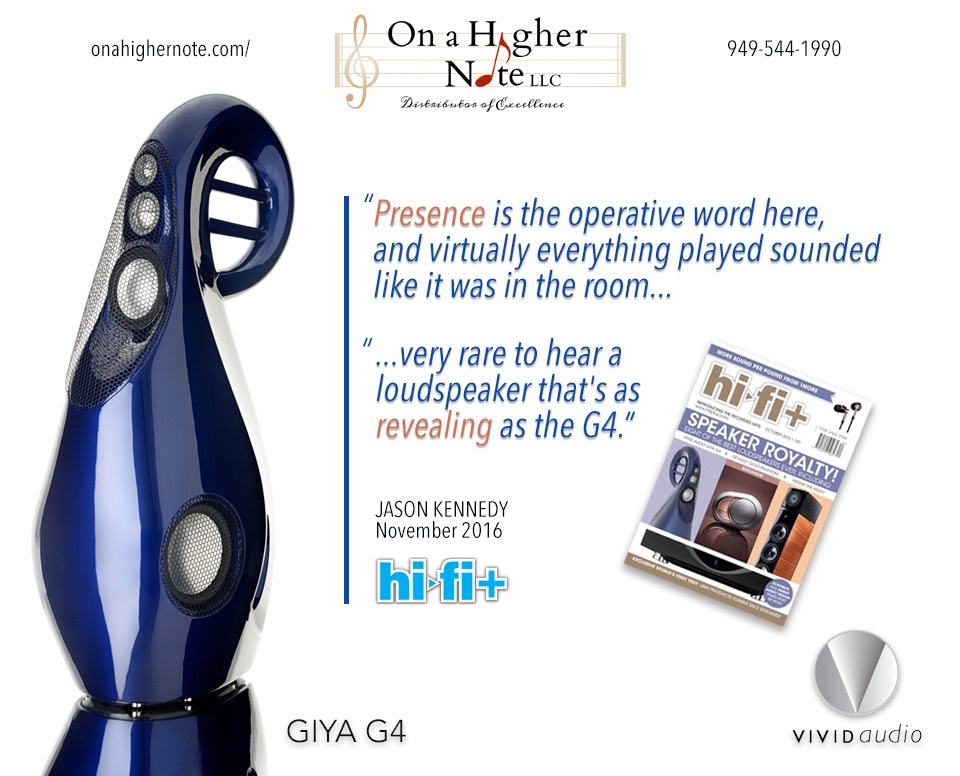 Jason Kennedy reviewed the smallest of the Vivid Giya series, the G4 in the November issue of Hi-Fi+.
"Essentially Vivid has its own take on almost every aspect of loudspeaker design and technology; this makes construction expensive but results in loudspeakers that consistently have lower perceived distortion than most of the competition… It's easy to deliver load of bass but considerably harder to do so in an articulate and clean fashion. Most speakers impress at first, but you quickly tire of the aural display because distortion levels, particular in the bass, undermine the experience; that was not the case with the G4. Alongside this is an ability to totally defy the scale of the box and produce full-size imagery, so that room size is really the only limiting factor when it comes to perceived stage height, width, and depth…

"The highs are nothing short of spectacularly real and extended, which makes reproducing instruments like violin an unusally pleasant experience … greater depth of image, increased realism, and presence. Presence is the operative word here, and virtually everything played sounded like it was in the room…

"The quality of build, finish, and ultimately sound puts them in the same league as the very best brands in the business…It is very rare to hear a loudspeaker that's as revealing as the G4…If you are looking for the very best but have limited space to enjoy it in then this curvy beauty should be very high on your must hear bucket list."
You can learn more about the Vivid G4 speakers here or contact us online or call us at 1-949-544-1990 to schedule an audition.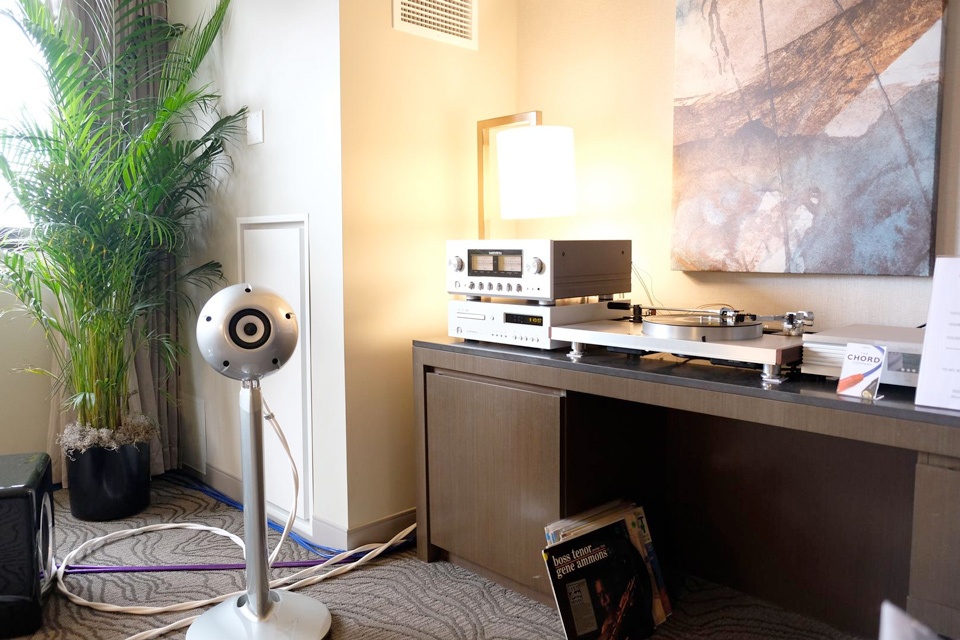 Alan Sircom singled out the Luxman / Eclipse room at RMAF 2016 in Hi-Fi+:
"Finally, there were three rooms that deserve to be singled out for making an exceptional sound. The first was the Luxman/Eclipse room, because once a day Philip O'Hanlon of distributor On a Higher Note played an hour's worth of classic mono recordings on a giant Luxman reference turntable from the 1970s. The newest LP played was 50 years old, and many were well into their mid-60s. Say what you want about stereo, but one channel of effortless, dynamic, and vivid sound is hard to beat."
Read the whole article at Hi-Fi+.
Contact us to learn more about Luxman or Eclipse.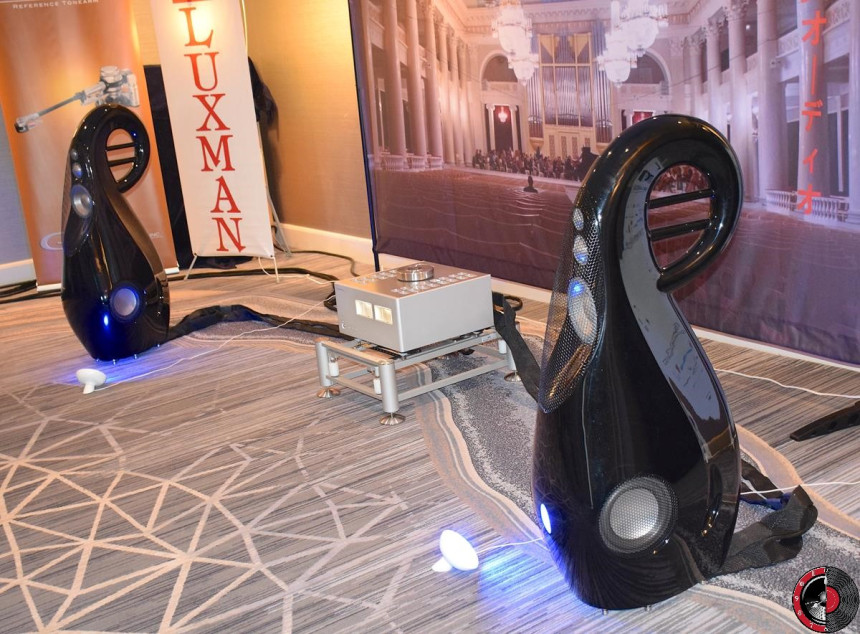 John Stancavage of Part-Time Audiophile was pretty impressed by both the look and sound of the Vivid Giya G3 loudspeakers at this year's RMAF:
"Clapton's heavily rearranged "Layla" from that night has been played to death, but on the G3 it seemed to be presented with a new energy. The sound, for a smaller speaker in a large room, had unexpected weight and dynamics. The treble was refined and airy, Clapton's underrated voice had texture and immediacy, and the bass — considering the relatively small low-frequency drivers — was deep and well-defined.

"Kyomi and Higher Note had spent considerable time measuring the room acoustically and experimenting with placement…The careful positioning created a wide, deep soundstage. In the sweet spot — which did not require me to lock my head in a vice, by the way — instruments emerged in sharp focus and were easily followed against an impressively black background."
You can learn more about the Vivid G3 speakers here or contact us online or call us at 1-949-544-1990 to schedule an audition.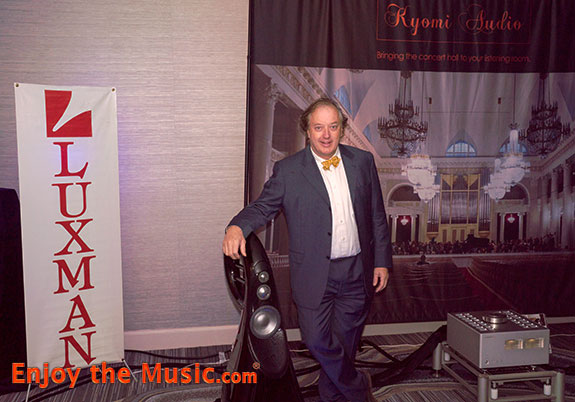 Philip…started us off on Sunday with a Sibelius Piano Trio, the piano sound resonant, percussive, and rich in tone, beautiful. Then we listened to an unreleased rehearsal take of Ivan Fischer leading the Budapest Festival Orchestra playing Mahler's Symphony No. 3, a simultaneous, alternate recording by Tom Caulfield only using five microphones, mixed down to two for stereo, the raw file without compression…This is the presentation that had me call this system the best orchestral reproduction at the show, wow. Strings and woodwinds outside the speakers by 15 feet, and the huge bass drum coming 40 feet behind the front wall seemingly from the next room. The dynamics were scary, the midrange glorious, it was powerful and involving, well done…This room was one of the very finest at the show.
Read enjoythemusic.com's full RMAF 2016 show report.
Ken Kessler reviewed the Luxman MQ-300 valve amplifier in the new November issue of Hi-Fi News.
"Instantly imposing, the MQ-300 avoids every cliche by having no flaws: perfect finish, top-quality tubes, superior terminals—even the on/off button screams "luxury"… High price, low power—Luxman bucks the trend with the ultra-retro MQ-300 all-valve amplifier, a glorious, modern take on traditional Japanese purist amplification."
Visit Hi-Fi News to read more.
You can also visit the Luxman MQ-300 product page to learn more or contact us via our web form or by phone at +1-949-544-1990.
This review by Paul Miller in HiFi News is a great introduction to Artesania Audio's Prestige equipment rack. So far, we've focused mostly on their Exoteryc rack, but the Prestige rack should not be overlooked. (If you're curious about the difference between the two racks, check out this FAQ).
"The Artesania rack system succeeds in offering extreme flexibility … without compromising the security of the system as a whole … arguably the best equipment support bar none."
[*Artesania Audio is actually based in Spain, not Italy.]
You can learn more about Artesania Audio here or contact us for more information.
Tom Lyle wrote an excellent review on enjoythemusic.com on the Luxman C-700u Control Amplifier and the Luxman D-06u CD / SACD Player with USB Input.
"The sonic prowess of the Luxman C-700u was evident from the first day I had it my system…when judged against others in its price range potential owners of a C-700u control amplifier can rest easy, because as far as I'm concerned it has little competition at its price, and quite beyond its price."
"Spoiler alert: if one decides to purchase a Luxman D-06u, it will likely take up residence in your system for quite some time. In the long run, limiting oneself to only one type of digital input might end up being foolish."
Enjoy the Music reviewed the Eclipse TD-M1 wireless desktop speaker system last month.
"Good sound quality doesn't call attention to itself. It simply is. The Eclipse TD-M1 wireless speaker system simply blended in to my desktop environment. It didn't distract or call attention to itself. Classical music rolled from the speakers with a tonality that was clear, crisp and clean…The Eclipse TD-M1 wireless speaker system is a wonderful piece of high fidelity gear."
Audiostream's Michael Lavorgna recently reviewed the Merging+ NADAC.
Listening to my system with the NADAC in it was pretty much pure pleasure. Over the course of many weeks, the NADAC delivered a super clean, super stable, highly detailed musical picture while not being fatiguing or unnatural sounding. It was easy to relax and enjoy all of my music and, perhaps of greater importance, music that was new to me.
You can read the whole review here.