Showing 10 posts of 19 posts found.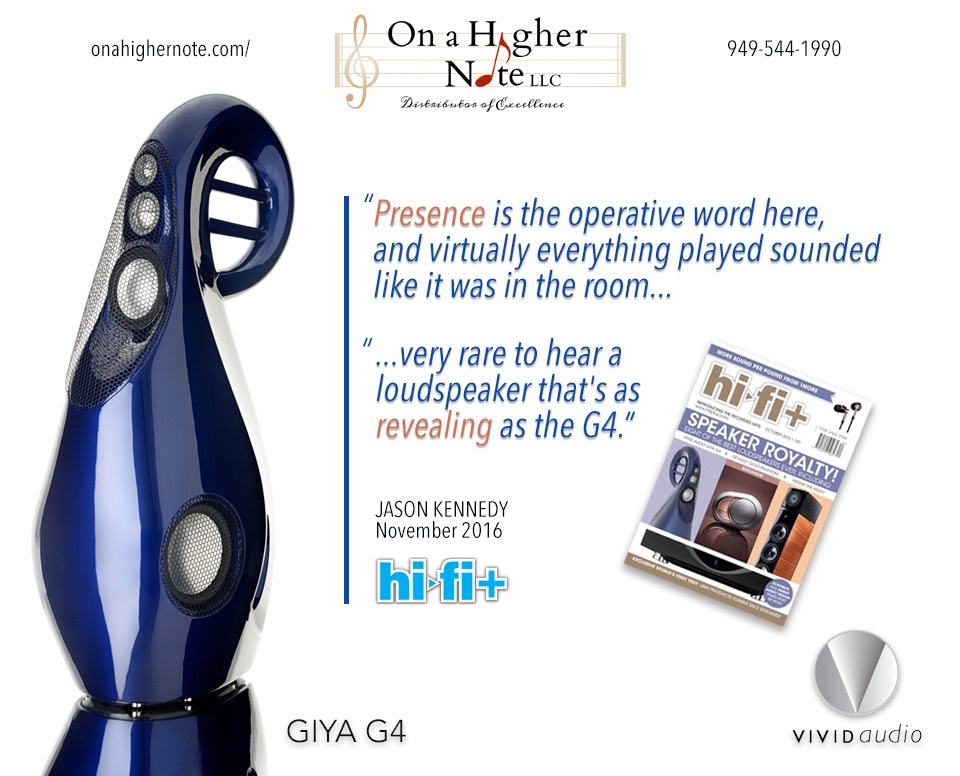 Jason Kennedy reviewed the smallest of the Vivid Giya series, the G4 in the November issue of Hi-Fi+.
"Essentially Vivid has its own take on almost every aspect of loudspeaker design and technology; this makes construction expensive but results in loudspeakers that consistently have lower perceived distortion than most of the competition… It's easy to deliver load of bass but considerably harder to do so in an articulate and clean fashion. Most speakers impress at first, but you quickly tire of the aural display because distortion levels, particular in the bass, undermine the experience; that was not the case with the G4. Alongside this is an ability to totally defy the scale of the box and produce full-size imagery, so that room size is really the only limiting factor when it comes to perceived stage height, width, and depth…

"The highs are nothing short of spectacularly real and extended, which makes reproducing instruments like violin an unusally pleasant experience … greater depth of image, increased realism, and presence. Presence is the operative word here, and virtually everything played sounded like it was in the room…

"The quality of build, finish, and ultimately sound puts them in the same league as the very best brands in the business…It is very rare to hear a loudspeaker that's as revealing as the G4…If you are looking for the very best but have limited space to enjoy it in then this curvy beauty should be very high on your must hear bucket list."
You can learn more about the Vivid G4 speakers here or contact us online or call us at 1-949-544-1990 to schedule an audition.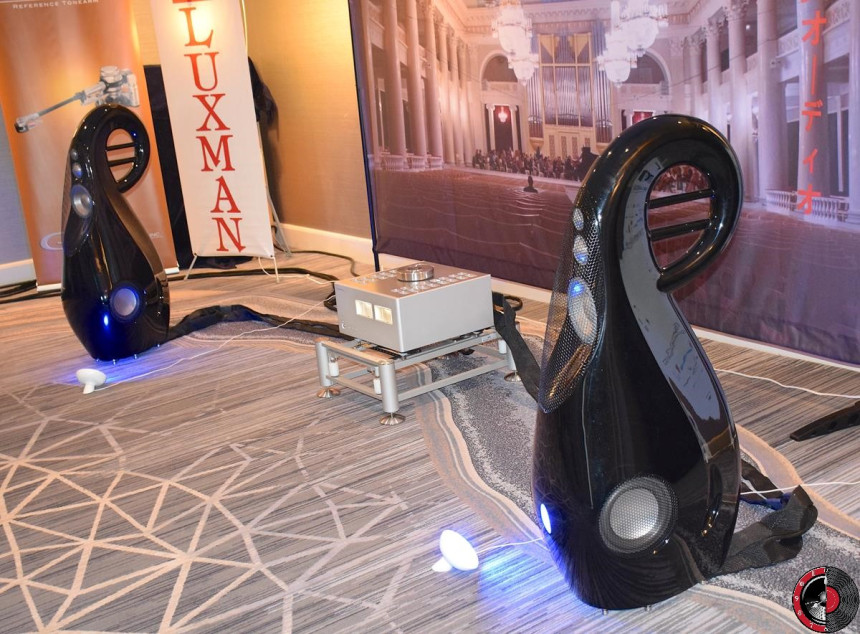 John Stancavage of Part-Time Audiophile was pretty impressed by both the look and sound of the Vivid Giya G3 loudspeakers at this year's RMAF:
"Clapton's heavily rearranged "Layla" from that night has been played to death, but on the G3 it seemed to be presented with a new energy. The sound, for a smaller speaker in a large room, had unexpected weight and dynamics. The treble was refined and airy, Clapton's underrated voice had texture and immediacy, and the bass — considering the relatively small low-frequency drivers — was deep and well-defined.

"Kyomi and Higher Note had spent considerable time measuring the room acoustically and experimenting with placement…The careful positioning created a wide, deep soundstage. In the sweet spot — which did not require me to lock my head in a vice, by the way — instruments emerged in sharp focus and were easily followed against an impressively black background."
You can learn more about the Vivid G3 speakers here or contact us online or call us at 1-949-544-1990 to schedule an audition.
Hi-Fi+ published an excellent review by Jason Kennedy of the Vivid limited edition B1 Decade in their July 2016 issue.
"I have yet to hear a Vivid loudspeaker that I didn't like, but the B1 Decade is special. It lets more of the music through by virtue of its balance and its spectacular timing."
Taiwan Press my-hiend.com published an interview with CEO of Vivid Audio, Philip Guttentag regarding the launch of B1D (B1 Decade) 10th anniversary celebration limited edition loudspeakers with detailed presentation of why these loudspeakers are so special!
Read More (chinese press but use Google for translation)
Download our Google translated PDF file here.
Jonathan Valin of The Absolute Sound gave Vivid Audio's limited edition B1 Decade Most Significant Product Introduction as a well as Most Coveted Product at Tokyo's International Audio Show this year.
"Although the oval B1d is a mid-sized 3½ -way with integral stand, it managed to generate incredibly deep, well-defined low end on bowed doublebass—and this with a tube amplifier. Superbly open, like a planar or 'stat, the B1d also had 'stat-like resolution, transient speed, and a very, very neutral tonal palette."
"You do not know high fidelity until you have heard two speakers produce what sounds like a live performance."
"The frequency response of Giya G3 is extremely wide – the controlled bass extends well into the 30-Hz region …

Always sounding convincing – with excellent productions and correct dynamics, we learn how well optimized, in all respects, this speaker really is.

Decades of experience, the unconditional desire for perfection and absolutely consistent implementation of all ideas makes the Giya G3 an absolute exceptional speaker."
Doug has personally reviewed two models of Vivid Audio's loudspeakers.  At a dealer event in Montreal, we grabbed him to tell us what he thinks about both the Giya and Oval series from Vivid Audio.  Watch the video!
Vivid's GIYA G3 just won both the overall Product of the Year Award for 2014 from Stereophile as well as joint Loudspeaker Of The Year (along with the Wilson Audio "Alexia") and it is showing at the Venetian Room 35-110.  If you are at CES, please drop by to see us play our Demo XVII songs with them.
Contact us to schedule an audition at a location near you.
We are reposting this content extracted from Vivid Audio's Facebook page for readers that don't use Facebook. We encourage you to "Like" the page for up-to-date information, including upcoming Decade Festivities to celebrate Vivid Audio's 10th year anniversary!
"Notable from the outset was how authentic the G2s sounded: they had a knack of presenting their musical wares with such pace, presence and timing that the result was almost eerily real. The tonal range was expansive, but so superbly balanced that there was no sense of exaggeration or shortfall — just pure, musical cohesion…

"A common thread throughout every extended listening session, regardless of artist of genre, was the musical integrity, the outright accessibility and the enjoyment the G2s delivered. While they allowed even the most subtle of details to be clearly heard, they never let their revealing nature overshadow the intent and emotive appeal of the performance as a whole.

"The Giya G2s are versatile, too: they easily coped with the gritty, catchy rock of The Stereophonics on Graffiti On The Train, the soul-infused R&B of The Commitments on 'I Can't Stand The Rain' (one of many powerhouse tracks on this eponymous set), and the all-enveloping, synth-infused atmospherics of Vangelis on his greatest hits anthology, Reprise.

"The Vivid Audio Giya 2s are ground- breaking in design, and constructed to world-class standards. They exude innovation, not only in their aesthetic approach, but also (and more impor- tantly) as far as their bespoke drive units, composite enclosure and acoustic engineering are concerned. Best of all, they sound fantastic: tonally and spatially expansive, explicit in their treatment of detail and nuance, and musically enthralling."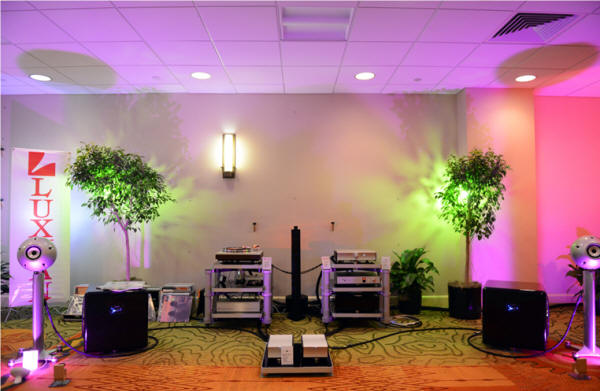 Excerpt from full post by David Robinson:
"I've been saying it for several years now: Philip O'Hanlon of On a Higher Note runs one helluva fine room at the shows I've visited. His choice in music is superb, involving LPs, SACDs, DSD, and even open reel tapes at times. The best version of Lou Reed's "Take a Walk on the Wild Side" was the one that I heard in Philip's room a couple of years ago, for example. (I'd still love to find that German EP!) His values are always elegantly musical, and his product lines reflect high quality without blowing the doors off of your Swiss bank accounts. (Yeah, you know which ones I mean.) There is always a fine return on investment with Philip's systems."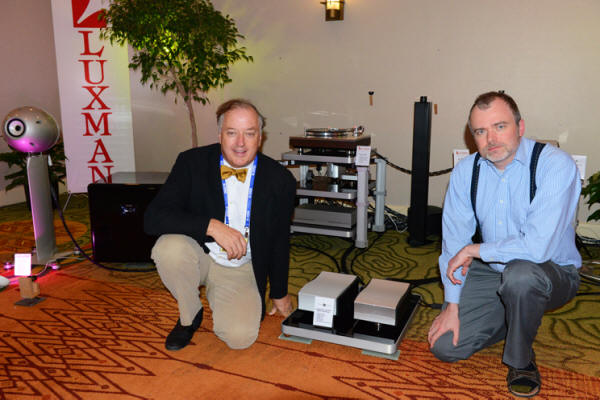 "This room really drew me in, and not just for the fine whisky and wine that was generously shared after hours on Saturday night. No, it was the new combination of equipment that I was not familiar with as a system, and that I was hearing together for the first time. I had been really taken with the Mola-Mola kit last summer at THE Show Newport Beach, where they won an Audio Oasis! Award in tandem with Vivid loudspeakers, but this time around Mola-Mola was running with the Eclipse TD-712z MK II loudspeakers ($10,600/pair) and a pair of the Eclipse TD725SW subwoofers ($6,400 each). Luxman was in evidence once again, with the DA-06 DSD DAC ($4,990); for analog, LPs were twirling on the Luxman PD-171 turntable, sporting the phenomenal Soundsmith Hyperion MM cartridge."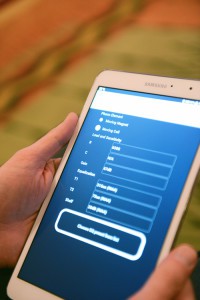 "The results were truly satisfying at the level of soul: LPs had the rightness of groove that made me sit back, unwind, and connect with the music. Dynamics were excellent, transparency was very fine, and the low frequencies were well in hand with the Eclipse subs, which were components that I hadn't encountered before. The integration of bass with midrange and higher frequencies was very nicely done…commendable. Further, this room had a really interesting holodeck-like effect, with surprising soundstaging and imaging…for reasons that I would discover.
You'll see in the photograph above one of the most remarkable things about the Makua preamp phono section: It was being controlled by an app on an Android pad! This app was the best thing that I've ever seen for controlling the parameters of LP playback. Bruno demonstrated this to me on the Android pad. It had all sorts of elements that you could select and change with the touch of a finger: Gain (via relay control), loading, mono or stereo, EQ, curves, cartridge type, etc., are all there. There were multiple stored profiles for just about every cartridge and just about every curve that's ever existed. This is an exciting marriage of digital controls with pure analog preamp operation, since the digital domain is used only to set parameters in the analog domain. No A/D is involved in the playback itself.
Damn. This is flat-out fantastic. Vinyl lovers everywhere really need to check the Makua with phono section out…killer stuff, amigos!
… My experience with the On a Higher Note room, on two separate occasions, sold me. This was definitely an Audio Oasis! winner, with a number of surprises for me.
As a result, I hope to be able to try a complete Mola-Mola system in the near future."