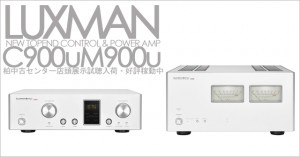 Luxman introduced a new flagship stereo amplifier & preamplifier, the new M-900u & C-900u (MSRP $19,900 each), to replace their all time favorite, M-800A & C-800f.
M-900u is a low powered class A / high powered class AB using Darlington circuit design where the output from one output module is fed into a 2nd output module in order to reduce high frequency distortion. This particular circuit design, the latest version, 4.0, of the ODNF, incorporates the Darlington circuit and as a result it is grain-less with crystal clear high frequency extension. When compared to the M-800A, you still have that remarkable mid-range full of texture and yet the high frequency is not only more extended but significantly cleaner. The M-900u has the power required to drive pretty much any speaker to peak performance.
Preserving Luxman's elegant design features, the C-900u control amplifier is most user friendly. In addition to the Darlington circuit design, it also entails 4 channels of the new LECUA 1000 attenuators and has 7 dB greater in volume bandwidth over the C-800f. This enhances the volume adjustment mechanism which is the major key for this component.
Another key feature is the Tone Controls (BTW really difficult to implement in a fully balanced design as all four channels have to be in sync across all frequencies). We all have music gems in our collection that are sonically challenging. Thanks to the Tone Controls, this component does a remarkably effective job in bringing to life a less than perfect music collection.
In point of fact, a lot of the 1980's CDs are quite harsh sounding and the digital glare can be quite fatiguing. When you reduce the treble slightly, while the harsh CD is not going to suddenly sound like a reference recording, at least it will now be perfectly listenable. You might consider using the Tone Controls as simplified room equalization tools, to effectively bring about room acoustics' correction.
Luxman does not settle on ordinary components within its products. The majority of the parts are bespoke.
Contact us or your nearest audio consultant for an audition.