T.H.E. Show in Newport Beach, California
May 30 – June 1, 2014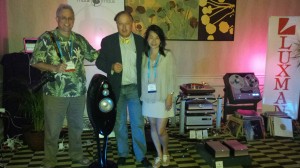 I'd like to begin by saying we won two awards for 'Best Sound' of the show from two reviewers; so to all of you involved: congratulations & thank you!
It was great fun to present my favorite music finds, as eclectic as they are, through components that I felt could bring out the best in them. So glad Dave Robinson (Positive Feedback) & The Audio Beat agreed with my choices enough to award us Best Sound of T.H.E. SHOW.
"Mr. Philip O'Hanlon is an audiophile with refined and exceptional sensibilities… The On a Higher Note room has a strong tradition of highly musical and enchanting playback, with Philip himself DJ'ing one brilliant recording after another…" <more>
– Dave Robinson, Positive Feedback
"But perhaps the star of the show was Luxman's new SACD player/DAC, the D-08u ($17,990), that is due for release in September of 2014. This new flagship of the Luxman SACD line is an enhancement of the D-08, which has been around since 2008…" <more>
– The Audio Beat
Equipment List from our San Clemente Room: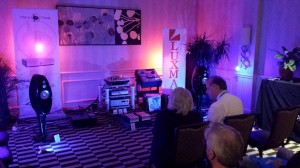 Debut of Luxman's brand new D-08u SACD player / DAC, Luxman PD-171 turntable, Vivid B1 loudspeakers with Eclipse TD-520SW Subwoofer with SonuruS proximity sub controller, SonuruS ATR-10 Reel to Reel, Mola-Mola Makua & Kaluga, Synergistic Research cables, isolation platforms & room tuning.
On passive display, Vivid G1 Giya & Eclipse TD-712z MK2 loudspeakers were featured.
Playlist from T.H.E. SHOW Newport Beach 2014. Happy Listening!
Playlist
Illinois Jacquet  – "Birthday Party Blues" 12″ single from "Blues Party" album [Groove Note]
"Mephisto" – vinyl re-issue from Reference Recordings
Fiona Joy Hawkins – "600 Years In A Moment", vinyl versus DSD file comparison.
Rachmaninov – Fischer, Budapest Festival Orchestra, "2nd Symphony" 2nd Movement, comparison of DSD file from SACD versus DSD download.
Lorde – "Royals" from "Pure Heroine" LP
Luther Vandross & Beyonce – "The Closer I Get to You", digital hi-res file.
Jack Johnson – Posters from Brush Fire Fairy Tales LP also available as a download from ProStudioMasters.
Nina Simone – "I Loves You Porgy" from "Nina Simone & Her Friends", download from ProStudioMasters.
Here's more of what the press had to say about the experience:
The Absolute Sound – Five most significant new products
Stereophile's Jason Serinus "Very, very musical"