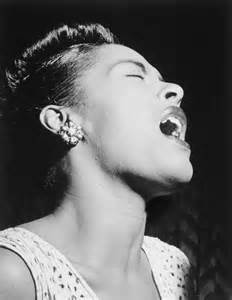 Billie Holiday was born a hundred years ago last week.  She died in 1959 at the age of 44, the coroner's report declared cirrhosis of the liver, though the police had her chained to the bed for substance abuse. This troubled soul, left us a rich treasure trove of jazz vocals at their finest.
Growing up on the other side of the pond, I was not exposed to Billie Holiday until I arrived in the US in '91 and shortly afterwards discovered the harrowing song "Strange Fruit" covered by Cassandra Wilson on New Moon Daughter 1996. (I still prefer the earlier version to the reworked cover version on Coming Forth By Day 2015). Up until then I had been listening to a steady diet of mainly English music.  Intrigued, I subsequently bought all the Lady Day albums I could find on vinyl as well as the entire Cassandra Wilson catalogue on vinyl and CD.
What drew me to Billie Holiday's singing was her cry of anguish, clearly from a tormented soul. The emotion conveyed must surely bring tears to the dead and those who do not appreciate her unique delivery should really book an appointment with their local physician and check if they are still in the realm of the living. Its a bitter sweet delivery clearly drawing on a history of grief & suffering. From the music lovers POV, she had access to some of the finest jazz musicians of the day, so while her vocal delivery is transfixing, the backing musicians were musical stars in their own right who embellished the music with the finest sympathetic accompaniment.
Verve recently released many of Billie Holiday's albums as a high resolution download at Pro Studio Masters – (or HD Tracks) .
All of these are up on Tidal, if you want to listen to them before purchasing. I love Billie Holiday singing with a small jazz combo, accompanied by first rate musicians rather than an orchestra, so here's what I bought:

Music For Torching & Velvet Moods (both 1955) illustrate how Holiday's vocal chops were beginning to wear out, her voice not as strong and sure as it once was. By listening to the two 1955 sessions and comparing them to the 1959 session Stay With Me, you can clearly hear how quickly the ghosts began to creep in. However maligned these recordings might be by some, Holiday could still sing better than most, her sense of rhythm still mostly intact, her unusual timbre still there (perhaps even a bit more idiosyncratic with age) and still able to tell the story of any song. And what songs she was given for these sessions: "When Your Lover Has Gone", "It Had To Be You", "Come Rain Or Come Shine", "Say It Isn't So" – there isn't a dud in the bunch.
Although these are Holiday's records, they are very much jazz records at the same time. Norman Granz wisely surrounded her with stellar players, some of which were her contemporaries (saxophonists Benny Carter and Ben Webster); others who surely learned a thing or two from her classic sides (pianist Jimmy Rowles, guitarist Barney Kessel). All of these guys could have made a terrific record without Holiday, but add the perfect counterpart, trading verses and solo space with the star. Kessel in particular makes important contributions to the sessions, throwing in twangy licks and tasteful solos to compliment the brilliant soloing from the others. Holiday was really one of the vocalists who determined how small group jazz complement a singer (and vice versa) and, while the singing is a little ragged, these recordings don't disappoint.
There are top artists that have done tribute albums to Ms. Holiday that I would like to highlight: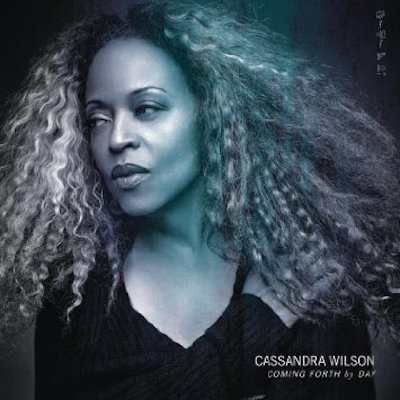 Cassandra Wilson – Coming Forth By Day (2015)
Cassandra Wilson is not afraid to change, so she hired Nick Launay (credits inc. Nick Cave, David Byrne) producer, to work on his album, along with the famous arranger Van Dyke Parks to assist her with this Lady Day tribute album. Launay brought along the rhythm section from Nick Cave's Bad Seeds giving the repertoire a thick-textured, abstract blues-rock feel, while Van Dyke Park gives a luxurious string section embrace to the ballads. Don't Explain splices Wilson's favourite slow-blues feel with old-school echo-chamber guitar and smoky tenor sax. I am not sold on her return to "Strange Fruit", guess I'll stick to her cover on New Moon Daughter. Nonetheless, Coming Forth By Day is a big gamble that, for the most part, pays off. This is no imitation but a reinvention of some of the best songs from the American Song Book. CD or LP. 24/96 download from HD tracks. I will write at a later date about the sonic differences between the 24/96 download and the LP. Also available on Tidal.  Music Video on YouTube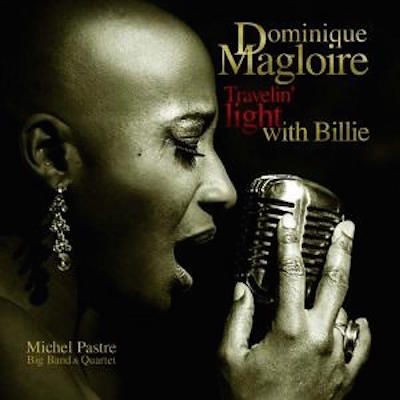 Dominique Magloire – Travelin' Light with Billie (2015)
Travelin' Light with Billie, an album made possible through collaboration with Michel Pastre, a French saxophonist, and participation of the best French jazz musicians. This album was recorded as in the 40s, with the whole team gathered in the same room and recorded live as it were. This is a fabulous album, the musicians are really tight, Dominique Magloire's singing is excellent, and it sounds like she really enjoyed making this album. The album is just so much fun to listen to: nice, big, fat, punchy sound. I downloaded the MP3 version from iTunes, I wrote to the music label and asked when it would be released on CD / LP or high resolution download but so far have not heard back from them. This is the rare find. MP3 Download so far. Check out the music video on YouTube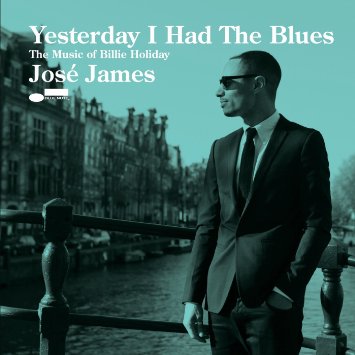 José James – Yesterday I Had The Blues The Music of Billie Holiday (2015)
I must confess to never having listened to José James before; my loss. James calls this set a tribute to his "musical mother", featuring a potent all-star trio of poll-winning pianist Jason Moran with his stablemate Eric Harland on drums, and stylings of John Patitucci on double bass. James lets the timeless materials of "Good Morning Heartache", "Body and Soul" and "Strange Fruit" speak for themselves, but his precisely crafted phrasing and occasional improviser's digressions reinvent this material by the lightest of touches. Closes with a haunting version of "Strange Fruit", almost gospel-like, but in a restrained manner and a baleful slow hand-clap. CD or 24/96 download from HD Tracks or Pro Studio Masters. Also available on Tidal.  Nice album trailer on YouTube.
I have been listening to this album on Tidal and can't wait for it to be released on LP (fingers crossed)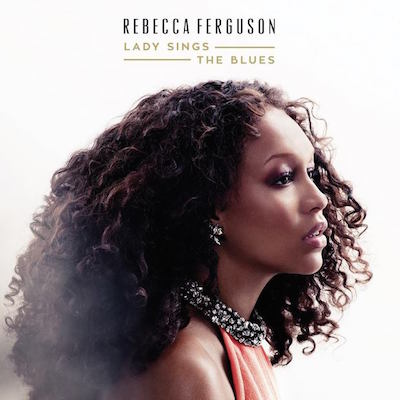 Ferguson – Lady Sings the Blues (2015)
Lady Sings The Blues is a more or less straight run through some of Billie Holiday's classics (including "God Bless This Child", "Lover Man", and of course, "Lady Sings the Blues"), freshened up only by the depth of the contemporary recording sound and the particular personality of Ferguson's first class vocals. The instrumentation is traditional jazz pop, emphasizing piano and horns, with orchestras adding an extra glaze of faux sophistication. "What Is This Thing Called Love?" is the best cover on the album and a pity that her producer Troy Miller did not take similar liberties with the other songs. Rebecca Ferguson has a terrific voice & can certainly sing but I am a little dubious of the arrangements on this album. CD & MP3 download.  Album trailer on YouTube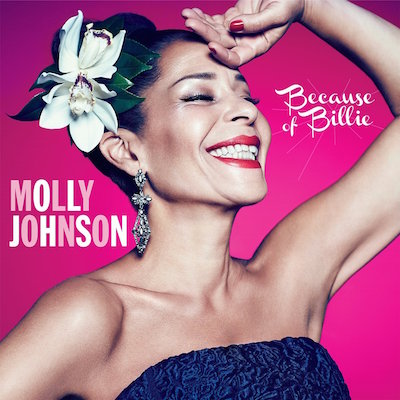 Molly Johnson – Because of Billie
I had this playing all day Sunday in the office, streaming from Tidal; here is a great example of why I like Tidal so much: I listened to this album four or five times, each time, thinking that if I listened to it just one more time, that I would find some redeeming qualities to recommend. Juno award winner Ms. Johnson does not bring anything new to these classics, no fresh arrangements, no unique vocal delivery. If anything her singing is irritating (IMHO). Reminds me of the K-Tel Classics, where they employed another artist to cover the same songs with similar backing arrangement & similar vocal delivery but it could be sold cheaper. Sorry but not my cup of tea. I'll pass. You might react differently. Available on CD, LP & download from HD tracks.