AXPONA
The Westin O'Hare | Chicago, IL
April 24 -26, 2015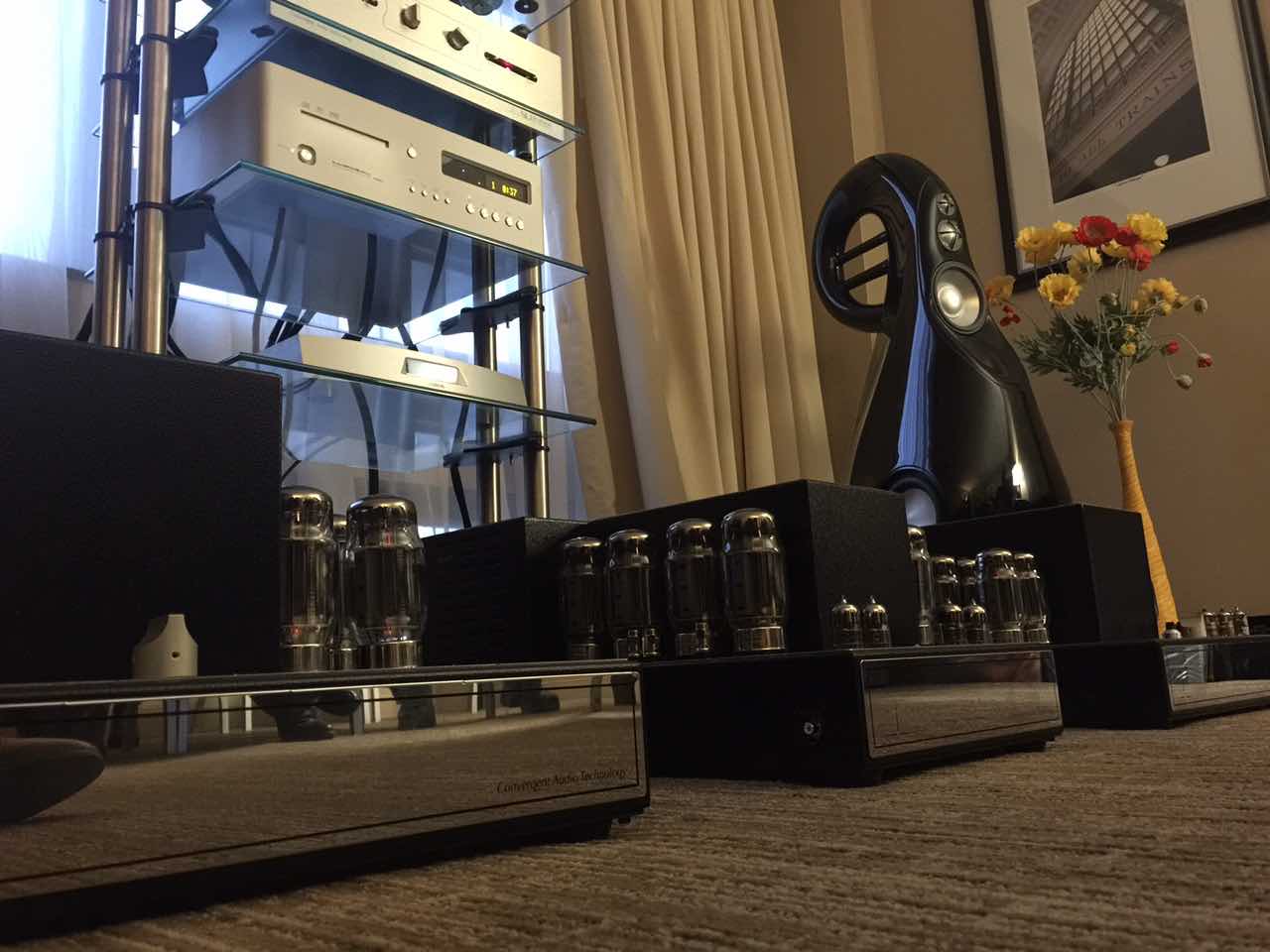 A glimpse into Kyomi Audio's room: A customer wanted to hear the big CAT Statement monoblocks compared to the little JL5 stereo amp we had played all day. The JL5 is a stereo amp with triode design using 4 x KT120 per channel, it puts out 25W Class A or 100W Class AB and retails for $13k. The Statements are monoblocks using 16 x KT120 per chassis, with a 200W triode design, Class A and retails for $100k a pair.
The big guys did not disappoint as the micro dynamics were put in the spotlight. The tonal color was more dramatic and the sound-stage became huge and spacious; it sucked the listeners in to the musical event.
It was a packed room of music lovers who were willing to delay dinner to indulge in a religious experience. Feet tapping and lots of comments exchanged over the music played at realistic club levels. It had all the vibes of a happening.
Refreshments (wine, beer & Georgian brandy to be specific) finished but the roomful of audience stuck around for more. What does this tell you about this experience with an exceptional stereo?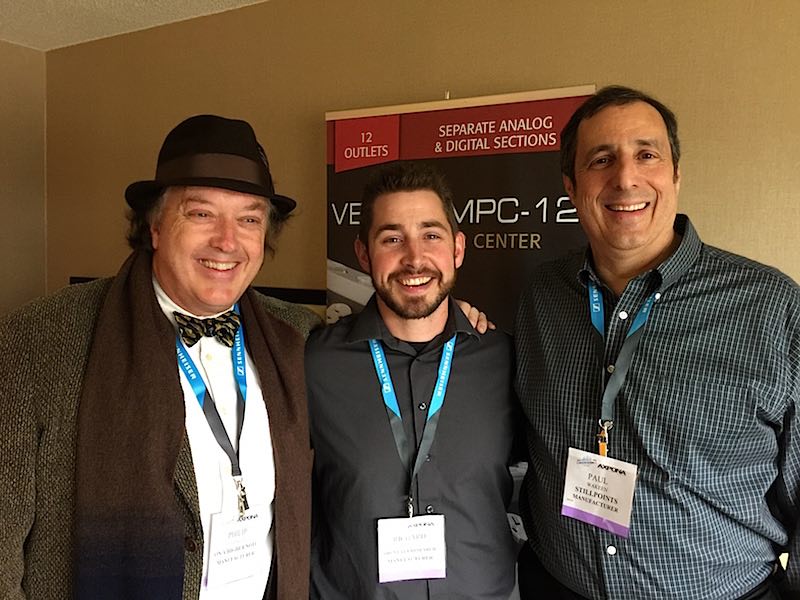 An educational experience for me at Shunyata Research & Stillpoint's room: I popped in on Saturday afternoon to catch a demo conducted by Richard Rogers (Shunyata) and Paul Wakeen (Stillpoints). We had lent them a Luxman D-05 CD/SACD Player ($5k) and a Luxman L-507uX integrated amplifier ($7k). The system also included Cobra series cabling and Venom power cords by Shunyata with a rack & room treatment from Stillpoints. The acoustic panels were approximately $650 each. The speakers were a piano black pair of Vivid Audio's V1.5s; their entry level, two way design, retailing for $8k. It took me a few visits as the room seemed to be well attended, before I could sit in a decent seat & enjoy their demo.
While I was there they played a John Mayer cut and ran the Luxman gear with stock power cords plugged into the wall. Then replaced the cords with Shunyata power cords and played the same cut again. They then lifted the CD player up & placed three large Stillpoints Ultra 6 isolators underneath & played the John Mayer track again. Finally, they placed six acoustic panels around the speakers and against the glass windows behind the speakers. To show how far the sound quality had progressed they removed all of the additions & put the system back to stock and played John Mayer for a final time. Whew!
Sonically, I heard the system get quieter, and progressively more resolute with fine micro details becoming more apparent. Tonal color improved and the system developed a nice tonal density, noticeable on Mayer's guitar as well as on the vocal. Soundstage became better defined and grew outside the speakers. Would have been nice to hear a few complete songs to get a better feel for how the system behaved. Nonetheless, I appreciate that Shunyata & Stillpoints were there on a mission to demonstrate the efficacy of their products. Hats off; it was very educational.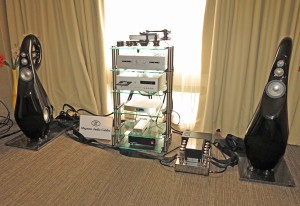 Stereophile's Jason Serinus shares his experiences at AXPONA 2015 "What better way to start one's day than on a new floor, Floor 3, in a room whose sound invites superlatives? Then again, what else would one expect when the set-up team includes a concert pianist, George Vatchnadze of Chicago's Kyomi Audio, and a music lover with impeccable taste, Philip O'Hanlon of On a Higher Note…" <Full article>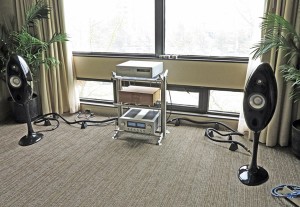 "…Using Vivid loudspeakers, Richard Rogers of Shunyata and Bruce Jacobs of Stillpoints conducted a very convincing demo in which they began with stock power cables and no room treatment. First, they switched from stock power cables to Shunyata's Venom digital power cable ($395) and Venom High Current power cable ($295). Next, they added Stillpoints Ultra 6 equipment supports under equipment where there had been no supports before…" Read full article.
Philip's Musings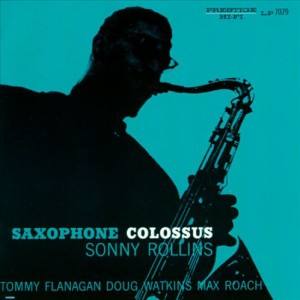 Sonny Rollins – Saxophone Colossus at Axpona 2015
Revisiting Sonny Rollins' "St. Thomas" from Saxophone Colossus on SACD at AXPONA was one of my personal highlights of the show. I first heard this when Paul Stubblebine from the Tape Project lent us (for CES one year) a Studer A80 with Dan Schmalle's wonderful … Read more.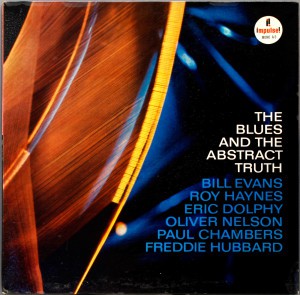 Oliver Nelson – The Blues And The Abstract Truth at AXPONA 2015
I bought the DSD download of the Blues And The Abstract Truth album a couple of years ago and have been mesmerized by the all time classic, "Stolen Moments". Recorded over fifty years ago in 1961, this piece is a timeless beauty. Its indisputable … Read more.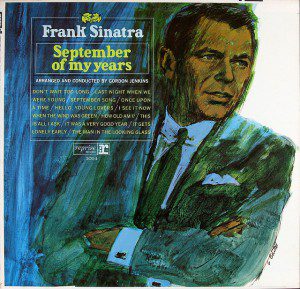 Frank Sinatra – September of my Years, best album played at AXPONA 2015
Another music highlight at AXPONA 2015 from Kyomi Audio is Frank Sinatra's September of my Years on vinyl. It was a great album that we kept playing repeatedly at AXPONA and no one got tired of it. It was 1965… Read More
Equipment List
Shunyata Research room #318:
Luxman L-507uX integrated amplifier
Luxman D-05 Stereo SACD / CD Music Player
Vivid Audio V1.5 loudspeakers
Kyomi room #315:
Luxman D-08u Stereo SACD / CD Music Player
Vivid Audio GIYA G3 loudspeakers