Music Seminar at John Rein's AV Therapy for Three's a Party, (aka Oktoberfest 2015) Store Event
October 21st, 2015
Audio Video Therapy – Nashua, NH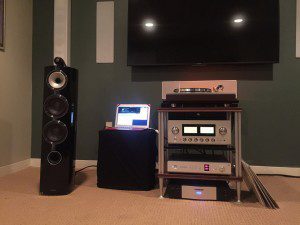 One of the problems of flying red-eyes across the United States is that you arrive really early in the morning on the East Coast with little or no sleep. So I was not surprised when I arrived at AV Therapy in New Hampshire to find that the LPs that I dragged across the United States were unfortunately still in my hotel room. Fortunately, I was able to borrow some records from Scott Shaffer and had a great time playing from his record collection.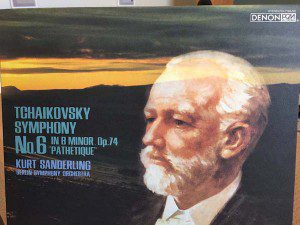 The system was comprised of a Luxman L-550aX integrated amp, a Luxman DA-06 DAC and a Luxman PD-171A turntable driving the new B&W 803 Diamond mk 3.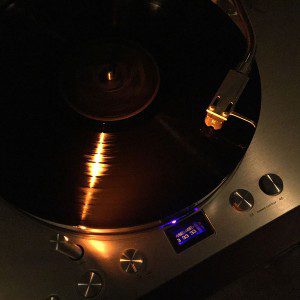 We had a lot of fun, especially when Scott pulled out his super rare Denon classical LPs in mint condition.
This beautiful turntable spinning gorgeous music in AV Therapy's pristine listening room puts me in the mood to just keep playing LPs. Scott took a beautiful picture showing the lighting and ambiance we had on that beautiful turntable while spinning his mint condition classical LP. What a fun afternoon! Thanks to John Rein and AV Therapy for hosting!
Music playlist from LPs
– Cat Stevens' "Morning has Broken" from Teaser and Fire Cat – This delivered a really high emotional charge. Everyone connects with this timeless classic. Truly, truly beautiful.
– Alison Krauss track 1 / side 1 from Paper Airplane – I already have this CD and high resolution download. The LP completely crushes both into a little paper ball.
– Supertramp's "Bloody Well Right" from Crime of the Century was a hoot and really dug out the best of what this system was able to offer.
– Horace Silver – Title Track from Songs for my Father
– Steely Dan fans will recognize the underlying melody from Pretzel Logic's "Rikki Don't Lose That Number". By the way, the whole album is superb—one of the Blue Note jazz classics.
– Yamamoto Tsuyoshi Trio – Midnight Sugar. Track 2 / S 1. Some fabulous jazz from Japan that's exceptionally well recorded—must have for the audiophile.
Equipment List
– Luxman L-550AX integrated amplifier
– Luxman PD-171 turntable
– Luxman DA-06 DSD DAC