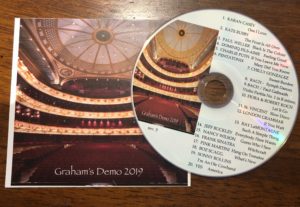 It is only appropriate to begin our 2019 Graham Demo CD compilation with A Celtic Tapestry Vol. 2, with Karen Casey's cover of a timeless spell, "One I Love".  Hear the enduring power of Irish and Scottish traditions shine through fascinating textures of her vocals, sounding so naturally through these BBC award winning loudspeakers from Graham Audio.
Paul Weller's "Black is the Color" is another beautiful Scottish folk song.  With a little help from his friend, including long time collaborator Steve White on drums and Ocean Color Scene's Steve Craddock on guitar, the Modfather, saturated this album with the Weller trademark sound, complete with gruff vocals.
To showcase Graham Audio's strength in reproducing natural human voice, Pentatonix's "Mary did you know" is on the top of our list, showing off how Graham loudspeakers handle the range and tonal color of this amazing rendition.  Next is Ray Lamontagne's "Such a Simple Thing". A tale of a lost love belted out effortlessly filled with the beautiful imagery and passionate vocals that have come to define his work, LaMontagne returned to his classic sound, thinking positively about love and life this time around with the delivery of "Such a Simple Thing."
The above is just a sample of a 20-song-compilation that we curated.  Find your nearest Graham dealer to listen to the full 2019 Graham Demo CD to hear Graham Audio loudspeakers and monitors stretch their full potential for your musical enjoyment.