"Satchmo"
This documentary shows the rarely seen personal side of Louis Armstrong, nicknamed, Satchmo.  It was short for 'satchel mouth' because he had a very large mouth).
Written up for decades as "the greatest jazz trumpeter in the world", his legacy is a wealth of terrific jazz performances, as well as songs that are full enough of midrange magic that uplift the listeners.
" …play yes, I think to myself, what a wonderful world."
His enthusiasm for life was infectious, when you listen to his music, you can't help but smile.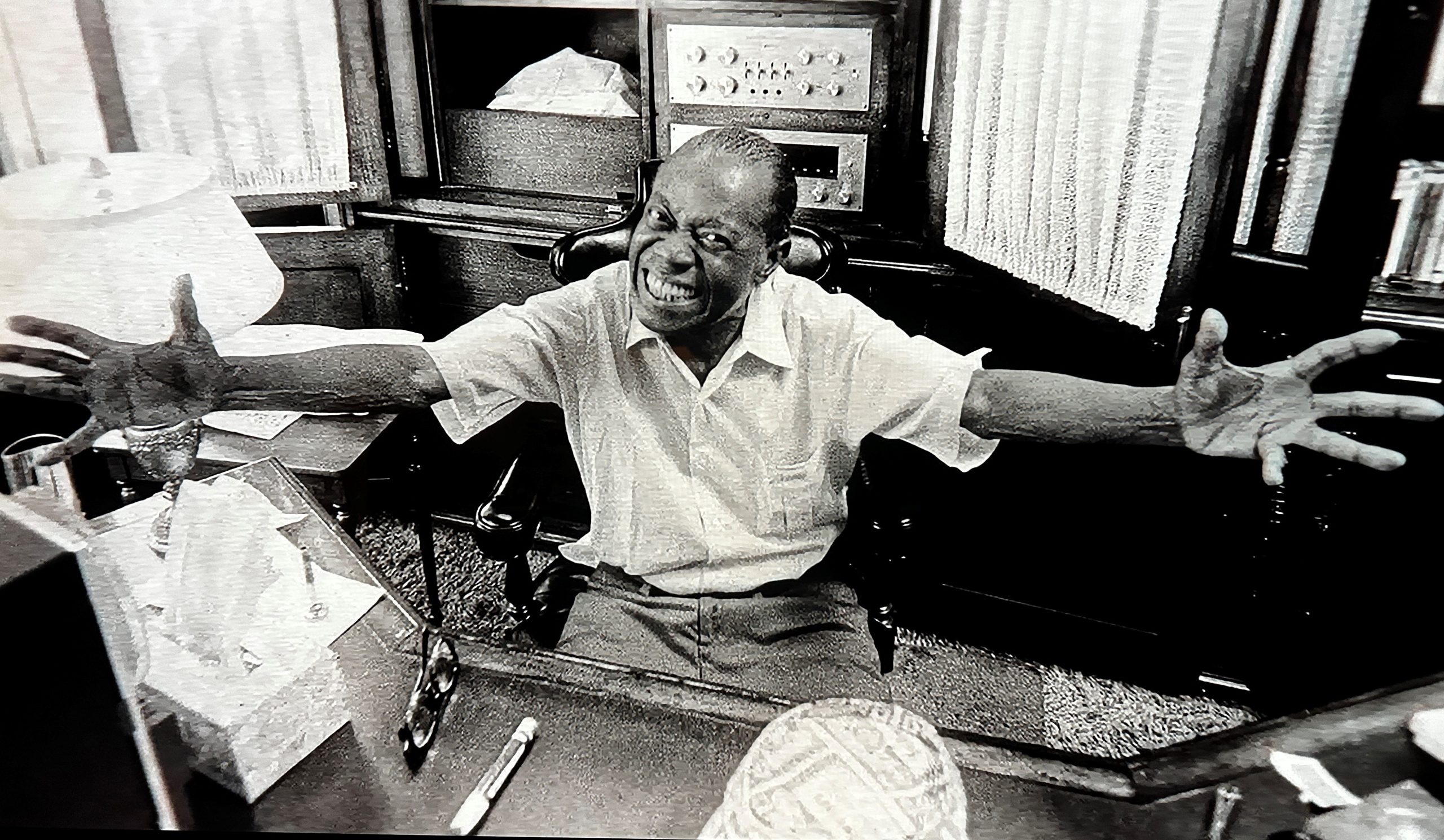 He suffered both racial abuse & ignominies including having spent nine days at the downtown Los Angeles city jail for marijuana possession in 1931.
Fearing that the facts of his personal history would be ignored when his life is being retold, Louis Armstrong went through great lengths to create a wealth of tapes to record his personal history.  This film presented his story through a lens of archival footage and never-before-heard home recordings and personal conversations.
Satchmo traveled the world as the roving ambassador of goodwill.
In public, he eschewed politics, and said "I'm just a musician..", but in the 1960's, he did speak out on behalf of racial integration.  He even called out the US President for his inaction.
All my days are happiness because I was born with nothing.

Come here with nothing, and I come through the world, whatever nothing I had, I enjoyed playing music.

And what little advancement or whatever it was, it was more than I had at all times. And right now it's still more than I had.

And the fans are still happy with Satchmo. And I wouldn't give a damn if they had $10 trillion.

They can't be no happier than Louis "Satchmo" Armstrong and Lucille.

~  Satchmo in his own words
When Leonard Bernstein introduced Satchmo playing with the New York Philharmonic,  Bernstein said, "Louis Armstrong told me that his most honored ambition is being fulfilled tonight in playing with the New York Philharmonic. I should say that it is rather we, on the longer hair side of the fence, who are honored in that when we play the St. Louis blues, we are only doing a blown-up imitation of what he does. And what he does is real and true.… and honest and simple, and even noble."
The film shows how Armstrong's own life spans the shift from the Civil War to the Civil Rights movement, and how he became a lightning rod figure in that turbulent era.
Conclusion:
Our strongest recommendation to watch this compelling documentary on Apple TV+