We have Mola Mola on active display over at the Mirage penthouse #D36 during CES driving Vivid G3 Giyas. They are also on passive display at the Venetian in 30-216.  You really need to stop by to hear these revolutionary new products.
Class D has never been this good. Come to think of it, neither has class

A.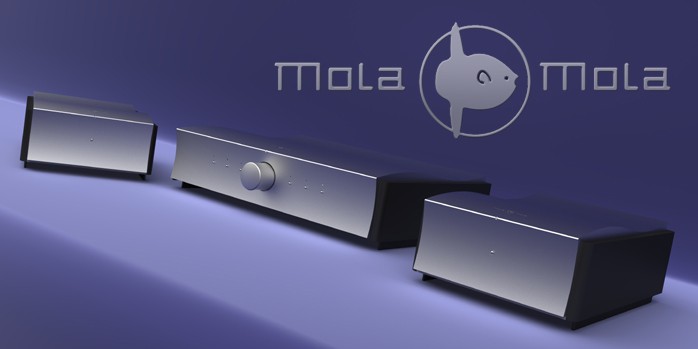 The Mola-Mola Power amplifier is based on the world's most sought after class D technology: Ncore. Designed by Bruno Putzeys, this circuit packs 20 years of design experience and research into non-linear control theory. Its audio performance runs rings around linear amplifiers of any description. Lower distortion, lower noise and lower output impedance combine into what scores of enthusiastic users unanimously describe as "no sonic signature at all".  Just music, glorious music.
The days of compromising power efficiency for audio performance are finally over: the Mola-Mola power amplifier deliver definitive audio performance with power efficiency thrown in as a bonus.
The Mola-Mola Preamplifier is modern analogue design at its best.
Five inputs are switchable between XLR (AES48 compliant!) and RCA connection, and all can be internally routed through optional processors such a an MC stage. The sixth input is reserved for the optional DAC board.
Internal operation uses a little known strategy called "single-ended drive differential". Rather than merely doubling up the signal path, this eliminates common-mode noise at every stage in the circuit. Used with good quality balanced interconnects, this structure insures a high degree of immunity to things like mains quality and cabling.  All stages in the Mola-Mola Preamplifier use discrete amplifier modules.
The potentiometer is arranged to control the gain of the output stage directly. This arrangement has lower distortion than a relay-based attenuator followed by a buffer stage.  Optional phono stages can be added that feature adjustable impedance load, gain, EQ, mono / stereo & phase from the convenience of your iPad.
A detailed approach to innovative DAC design.
The critical ingredients of a DAC are well known: the current reference, the I/V stage, the reconstruction filter and the clock. For the Mola-Mola DAC, all four were redesigned from the ground up. The variable bandwidth PLL achieves immediate lock but then gradually reduces loop bandwidth down to the microhertz region. After a minute of operation, jitter rejection is for all intents and purposes absolute. The crystal oscillator is a class A Pierce circuit with gain feedback. This eliminates phase modulation of the oscillation frequency by amplifier noise and insures that phase noise is solely determined by the crystal. The I/V converter and filter are, uniquely, rolled into one circuit which has better performance than either function alone. The current reference is a discrete, LED-biased regulator that replaces the on-chip voltage reference.  The on-board DAC will deliver state of the art performance not only with PCM up to 24/192 but also with DSD and double DSD signals.  Bruno's digital designs at Grimm Audio are extremely well thought of in the professional arena.
Care to Know More ?
"I must confess that I'm a huge fan of Bruno Putzeys' work", Paul Miller (Hi-Fi News)
Bruno Putzeys was formerly employed at Philips where he invented, among others, the "UcD" power amplifier circuit.
Very informative article about Hypex's new amp modules; the Mola Mola monoblocks (above) are loosely based on the N Core 1200 amp module. Hypex OEM customers include: Bowers & Wilkins, Genesis, Meridian, NBS…
http://www.6moons.com/industryfeatures/ncore/1.html
I leave you with a quote from Bruno:
"Reviewers, prepare yourselves: Ncore continues along the path set out by UcD and the step forward is quite big. If you want to wax lyrical about all the different sonic colours and textures amplifiers can add to the listening experience, there's not much to say. If you want to forget completely that you're listening to an amplifier, how it's made and how it works and instead you just want to get sucked into the music, this amp is for you,"  Bruno Putzeys (Mola Mola)….Feb 2011