Montreal Audio Show at the Hilton Bonaventure Hotel in Montreal, Quebec
March 28 – 30, 2014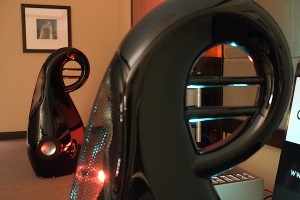 First and foremost, sincere congrats and thanks … Congratulations to our dealer/partner, Jennifer and Graeme at Coup de Foudre (CdeF) in Montreal for yet another successful event. It is a true delight to partner up with CdeF in bringing Luxman, Vivid, and Eclipse TD to show at Salon Son et Image (SSI). The workhorses behind the scenes that I owe great gratitude to were Erik Fortier and Danny Labrecque. They helped with every aspect, including assisted tremendously in the logistics of moving, unpacking and situating all the gear.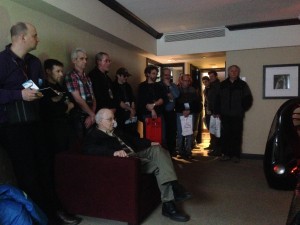 Attendance was great … deeply touched by local hospitality, Quebecois style
We want to thank everyone that came to see us at the show. Before I dive into the gear and music talk, I want to express my sincere gratitude to the hospitality I experienced while I was there. I was deeply touched when gifts of food were brought into the room for me on both Saturday and Sunday by different show attendees and clients of CdeF's, most of whom I have only met the first time.
Not being able to leave the room does make it difficult. Thank you for the thoughtfulness and it was greatly appreciated. It was truly a pleasure sharing my music with you. I am lining up a great big surprise to take with me in a couple of months and hope to be back visiting these fine folk before too long.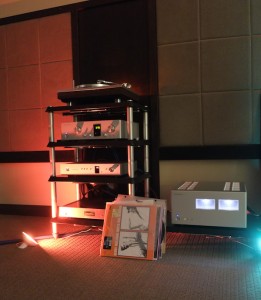 Behind the scenes on equipment and setup
Luxman decked out in style: PD-171 turntable, E-1 phono stage, C-900u control amplifier, DA-06 DSD DAC, M-900u stereo amplifier, the latter not only looks stunning, but its high frequency performance is utterly grain-less, driving the Vivid Giya G3. Cardas Cables & Obois equipment rack.
The set up challenge… We positioned the speakers on the long wall, as the room was too narrow and almost tunnel shaped. It was pretty much near field listening, which is great in a problematic room for dialing the room out of equation, well, almost. The system always sounds horrible once initially connected, so I did not bother to place the speakers, but waited until the system settled down. Friday came and I positioned the speakers an hour before the show opened but was truly disgusted by a honking great room node in the mid bass. Honestly, when this note was exacerbated, it boomed across the room seemingly, endlessly…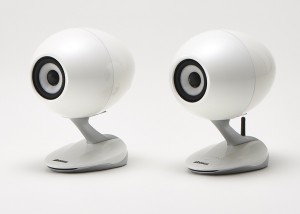 Playing host to the very person who inspired me on the wonders of "time domain"

On Saturday afternoon, I was delighted to introduce Stereophile's Robert Deutsch to the Eclipse TD-M1. It was Bob who attracted my attention originally to Eclipse TD with his startling review of the original TD712's.
When Robert recognized the diminutive new speakers, he commented, "You know I reviewed their big brother many years ago for Stereophile? They are very special and hold a place in my heart." After I finished demonstrating the M1's, he commented: "My only question is which room should I put them in?"
Art Dudley from Stereophile told me afterwards that Robert had been smitten by the baby Eclipse and was still searching for the most suitable room in his room for these M1's. Art called them, "A very small eclipse"… <more>
Here's the playlist from the show including musings (hyperlinked), French music demo and popular Italian songs. Happy listening!
| | | | |
| --- | --- | --- | --- |
| | Playlist In Montreal | | |
| | Artist | Track | Album |
| 1 | Emilie-Claire Barlow | | Seule ce soir |
| 2 | Nina Simone | I Love You Porgy | Nina Simone And Her Friends |
| 3 | Billie Joe & Norah Jones | | Foreverly |
| | More French demo music played | | |
| 5 | Camille | Allez, Allez, Allez | |
| 6 | Jacques Brel | Jojo | |
| 7 | Camille | Que je t'aime | |
| 8 | Madeleine Peyroux | La Javanaise | |
| 9 | Jacques Brel | Le Marquises | |
| 10 | Serge Gainsbourg | Dieu Fumeur de havanes | |
| | Popular Italian songs on my playlist | | |
| 11 | Zucchero & Miles Davis | Dune Mosse | |
| 12 | Gianmaria Testa | Per Accompagnarti | |
| 13 | Gianmaria Testa | Joking Lady | |
| 14 | Melody Gardot | Se Voce Me Ama | |
| 15 | Zucchero | II Suono Della Domencia | |
| 16 | Eros Ramazzotti & Anastacia | I Belong to You (II ritmo della passion) | |
Here's what the press had to say about the experience: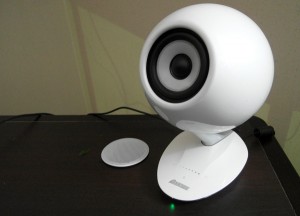 "Dollar for dollar, the TD-M1 wireless loudspeaker system from Eclipse ($1300/pair) was among the most impressive products I heard at SSI…" <more>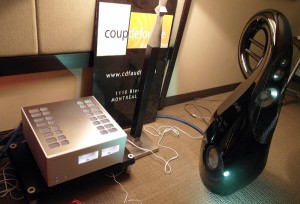 "When I return home from Montreal I'll be able to tell my 16-year-old daughter, truthfully, that I listened to Lorde's "Royals" on a very good system…" <more>