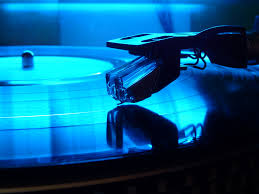 Record Store Day was Saturday, their 7th year run of a homegrown promotional event that New York Times dubbed as a "Small Renaissance".  That really made me nostalgic.
I could not help but remember lending the LP of Santana's Abraxas to my speech teacher, James Stack, a famous theater director in Ireland then.  The two of us were transfixed listening to the music coming from a mono record player cabinet and time stood still.  That put us back to 1971.
Jim borrowed the LP for a week and told me the following week that while the music was very interesting, it wasn't his cup of tea.  However, he certainly appreciated musically what was happening and encouraged me to bring in more LPs to share as he was interested in hearing what the younger generation was listening to.  He would have been 40 years my senior.
This was a golden era of rock with Led Zeplin II, Crosby Stills, Nash & Young, Yes (Fragile), King Crimson's Court of the Crimson King etc.  Even then I was listening to music that would become popular 12 months later.  The local band was the Taste (with Rory Gallagher).  Thin Lizzy used to visit Cork frequently.
Fast forward to today:  I live in a quaint town at the end of South Orange County in California.  This town was built around one of the Missions with lots of quaint local businesses.  Supporting local businesses is just something I do so I was curious what kind of wave Record Store Day made yesterday.  In surfing the web on that, I found some useful but random information I am archiving for myself here:
1.  First and foremost, the music – Here's the List!!  As far as I am concerned however, it's Record Store Day everyday as new music is being released all the time.  Subscribe to my blog here or Like our Facebook page for updates of my new finds and new playlists.
2.  Either each of us is buying more records or more people are coming into our hobby to buy LPs, or, probably both.   According to the Recording Industry Association, as recently as 2008, only 2.9 million LPs were sold in the United States, representing about 0.7 percent of annual album sales.  Last year those sales climbed to 9.4 million, representing 3 percent of all albums, that's over 300% increase in 5 years.
3.  You can make/sell a record in four hours!  Jack White, the ex-White Stripes frontman who has "the golden touch", broke a record in honor of the Record Store Day, selling a 7-inch single in 4 hours!
Do you remember your first ever album?  Mine was Skid from Skid Row with Gary Moore on lead guitar.  Yours?  Please post here to share!  Happy Easter!