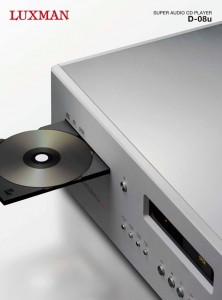 The Luxman D-08u with updated and improved sound quality picked up right where its predecessor, the D-08, left off.  Truly a top-end disk player for enjoying a wide variety of sound sources, the D-08u has extended high frequency performance with cleaner sound than its predecessor.
Luxman's original feedback type ODNF circuit with the latest version 4.0 whose distortion characteristics at high frequencies have been remarkably improved is embedded in the output amplifier unit. In the output circuit, there is no independent filter block, but band processing is gradually implemented in the ODNF circuit. Therefore, natural waveforms can be reproduced.  In addition, the USB receiver from the DA-06 has been included on this component now so that Windows & Mac PCs can connect, playing up to 2xDSD or 32/384 PCM over USB.
This component is due for release in September of this year and I will be following up with a write-up of my listening experience in the next issue.
Contact us or your nearest audio consultant for an audition.