Off to Vegas and Demo XVII is finally finished!
It was a true labor of love or depending on which day you caught me, I may refer to it as painstaking precision.  All told, I think we spent more time putting this compilation together than any other compilations in my over four decades of history in assembling compilations.
I thought it would be a walk in the park when we started assembling this Demo CD in the middle of November as we had accumulated a full CD's worth of terrific sounding music, but boy was I wrong…..True to form, musical suggestions poured in from my muses (dear friends who reached out to me or allowed me to lean on them, prying their list of top music they heard during 2014) and we received well in excess of another 2 CD's worth of music suggestions.  A frenzy of music sampling and purchasing later, we had a high class problem – "What do we cut and what do we keep?"
Here's a couple instances of the high class dilemma (embarrassing as it is) that we faced:
1.  The Beattles Dilemma:
Maier Shadi from The Audio Salon in Santa Monica, California suggested that we include a stripped down Beatles cut, something that would be familiar to all but with greater immediacy and clarity.  So I recorded the LP of "Let It Be Naked" to DSD and down sampled the album to CD.  The track I chose was "The Long & Winding Road", which in reality must have started life as a scratch track.  Essentially, Paul McCartney playing piano, which was then used as the foundation over which all the other instruments were overlaid.
Ultimately, both Paul's vocal and piano performance were re-recorded in higher quality and composited into the finished song.  While many of our listening panelists loved the emotional quality of the performance, most were hesitant to recommend the song from a sonic point of view.  Music panelists worked hard during the holidays to come to consensus of what to keep, add or cut.  Thank you Rick Brown from Hi Fi One, Jay Kaufman at Audio Revelations, John Suveges, Steve McCormack from SMcAudio, Danny Kaey, Arian Jensen, Jeff Aldrich and Steve Williams for lending us your ears.
As a fallback, I put the Paul McCartney album "Kisses On the Bottom" in 24/96.  This album was recorded by Elliott Scheiner who incidentally is a great proponent of the Eclipse TD speakers.  The cut that Hideto Watanabe from Eclipse TD used to demo the Eclipse TD-M1 is "I'm Gonna Sit Right Down and Write Myself A Letter".  While this Paul McCartney song was beautifully recorded, many of my listening panelists advised that it lacked the emotional impact of "The Long and Winding Road".
Ken Boyce of Cake Audio in San Clemente, CA refreshed my memory of Musica Nuda as Ken was thrilled with their cover version of "Eleanor Rigby", just an exquisite female vocal playing over a double bass.  While sonically it was a 10, I felt that it paled in comparison to the original in the emotional department.  On the same CD, there is also a remarkable cover version of the Police's classic Roxanne but I was after another Beatles song so I opted to use the "Blackbirds" as it had a delightful fun factor besides the wonderful sound quality.
2.  The Teenagers in the house factor… and my music exec friend came to the rescue:
We have two teenagers in the house who regularly play music for me while we drive.  Both of them listen to alternative music as opposed to mainstream pop music.  Their musical recommendations were FKA Twigs & King Krule.  It created a dilemma for me.  While it sounds really good, our objective is to put together a compilation that resonates with 80%/90% of the music loving populace and their taste is a little too much of a niche to serve that purpose.
So my friend, Jeff, an A&R executive who visited us during Thanksgiving for a fun day of music actually came to the rescue .  During the past decade of our friendship, Jeff had worked at Warner Brothers, Sony BMG and nowadays works as a consultant putting songwriters together with artists.  For me, it's always great fun going to visit him to listen to a demo cut delivered by the producer, sometimes collaborating song writer, then the same demo cut but with the addition of a horn section for example, and finally, the finished version really recorded and performed by the artist who ultimately bought the song.  Jeff knows all the music that is being sold, listened to, and recorded by the mainstream music industry.  However, as an audiophile himself, he is keenly aware of which producers are providing audiophile quality product.  It took Jeff about three weekends to pick six candidates for the pop music selection to recommend to me for this compilation.
Well, turned out, some of the best tracks he picked were not available in any physical format yet as the music labels intended to release those songs in January (in the case of James Bay we have to wait till April!).  So unfortunately, I have to lean on Jeff again to call on the labels to pry tracks available in physical form from them for this demo CD.
I am a fan of TIDAL's and think it's a great way to share music picks with everyone afar.  The playlist of Demo XVII (most of it) is available (to the extent they have the songs but may not be the exact version) is up on TIDAL here.  Unfortunately TIDAL did not have "Blackbirds" so I included "Come Together" instead.

I hope you enjoy the music suggestions from this playlist.
For those of you interested in recording your compilations into CD's, I want to pass on what I do as a reference.  When I put together physical CD compilations the blank CDs I use are blank silver discs recommended by Gary Koh from Genesis and they are cryogenically treated by Shunyata Research.  Each CD has been individually burnt on my Alexis MasterLink CD burner which took a whole day to burn 20 CDs to take to CES to share with friends I have not seen.  IMHO, mass CD duplications are just not able to deliver the same sonic quality I am afraid.  Another tip, use a separate printer for printing directly onto the CD itself rather than using a label which throws the balance of the CD off unless it is perfectly aligned at the center.
Last but not least, I want to thank Ewald Verkerk from Terrason Audio, Netherlands, Steve Williams with What's Best Forum, Erik Fortier at Coup de Foudre, Montreal for music recommendations and Tom Caufield & Jared Sacks with Channel Classics for their generosity in allowing me to share music.
Here's my physical playlist: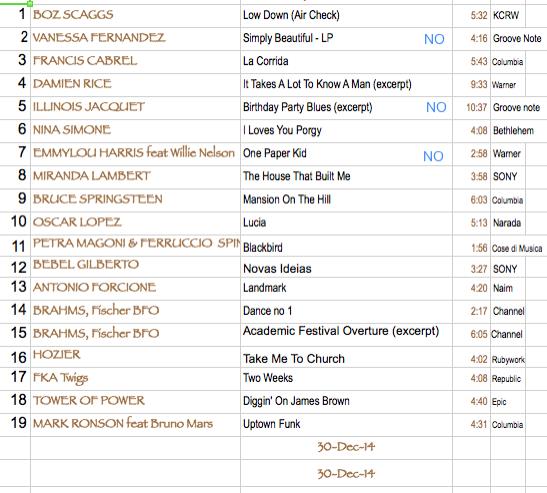 Listen on TIDAL