If the traditional wood-veneered design of Luxman's award-winning PD-171 turntable is not to your taste, or if the wood-paneled exterior on your unit is damaged somehow—like ours, which suffered a cosmetic accident—we are pleased to offer a beautiful solid mahogany finish. After some serious research into the matter of repairing the wood-paneled exterior of our turntable, we found a fine woodworker who was able to match the original wood-panel with a real mahogany trim. The cosmetic accident suffered by our PD-171 soon became a visual upgrade. We think many of you will find it as beautiful as we do.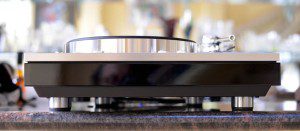 And for those more contemporary homes, we are also still offering the PD-171AL in an optional high-gloss piano black finish. And soon, we will be offering the PD-171AL with a hand-crafted solid hardwood trim with ebony finish to match the satin ebony armwand of the Schroeder "Alto" tonearm. We plan on unveiling the Schroeder "Alto" tonearm (specially designed for the Luxman turntable) and PD-171AL with matching solid wood trim at CES 2016.  We are very pleased to offer these optional finishes for just $500 more.
Call us today at 949-544-1990 or submit our contact form to get more information about these custom finishes for our favorite turntables, the Luxman PD-171 and PD-171AL.