If you wonder what the buzz was that made its way from Munich High End Show last year to CES this year among the many manufacturers, it is about how important a rack is to the performance of your sound system and what to look for. Actually, during the past two Munich shows, we noticed that more than a dozen of the leading high-end manufacturers were using a Spanish rack called Artesania. This includes Auralic, CH Precision, Constellation, Brodmann, Magico, Metronome, Mola Mola, Stylus, TechDAS, Vivid Audio, Viola, Wadax ZenSati etc. Here's what they said:
We auditioned and investigated the Artesania rack last year ourselves. Here's the summary of our notes: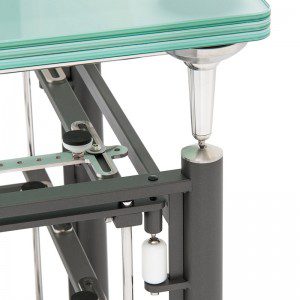 Sound quality improvements are noticeable with lower noise floor, blacker blacks between the notes and greater bass extension.
The music is more resolute, though more relaxed at the same time. That might appear a contradiction but you wouldn't know what that meant unless you hear it for yourself.
They include their own proprietary technology (Anti-resonance, Acoustic Treatment) which eliminates vibrating transmissions of the enclosure by propagating acoustic sound and a solid transmission. With the damper's placement on the electronics, the parasitic vibrations are muffled from their own chassis in each of the electronic components.
These racks employ a double structure and are not fitted with shelves. Most shelves are just another resonating surface, those competitors' racks with damped, substrate layer shelves, drive the price up dramatically.
Each electronic component is in suspension and is treated independently. Thus, they manage to eliminate modulation as well as harmonic distortion.
Performance is among the best at any price however with pricing approximately 25 / 50% lower than their peers.
Colors: Graphite is standard, Black or Silver carries an additional 10% price. Custom sizes available on request.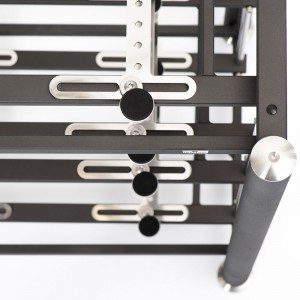 We put our money where our mouth is and began importing Artesania at the end of last year. We are amazed at what they had to say. We put together a video and will send that to you shortly.
In the meantime, we urge you to call your local dealer that you work with to request that they audition Artesania racks for you and as their potential go-to brand. Or, simply call us at 949-544-1990 or click here to schedule your personal audition at an Artesania dealer near you.