March 3, 2016 @ 5:00 pm – 9:00 pm at Definitive Audio's Seattle Showroom
It has been almost a decade since we were last invited to Definitive's Music Matters, which has to be the best organized and best attended dealer event in North America. Definitive pulled out all the stops this year to celebrate their 40th Anniversary.
We were fortunate to be invited into their reference room, where Dan D'Agostino presented his brand new "Progression" powerhouse monoblocks, delivering a cool 800wpc into 8ohms, doubling down to 2 ohms (retail is $39,000 a pair). Wilson Audio debuted their new ALEXX loudspeakers. Despite being 2″ shorter than the MAXX 3, they have an adjustable head like the XLF ($109,000 retail). Bruce Brown has ordered a pair already.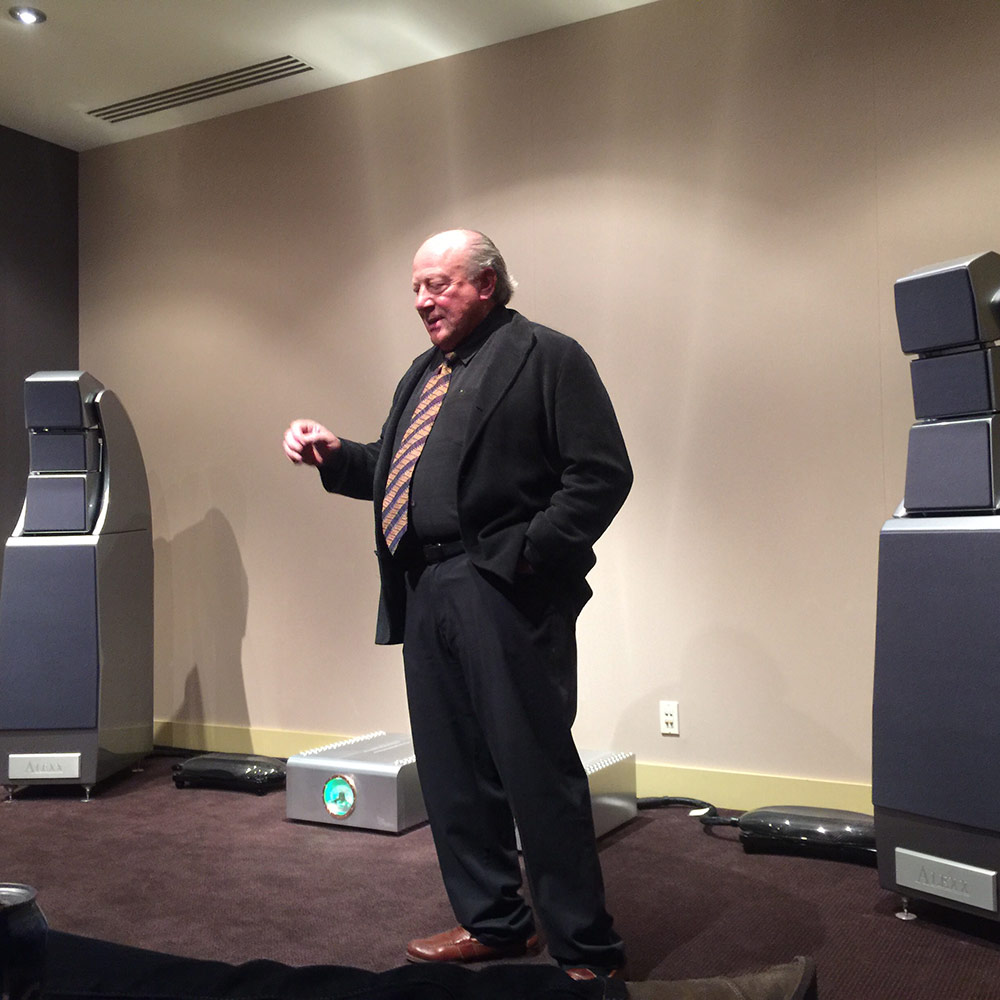 The flagship AMG turntable was in use with a Clearaudio Goldfinger Statement cartridge feeding the new D'Agostino "Momentum" phonostage ($29,000). One of the sonic treats I found was the DECCA reissue from Speakers Corner of Jean Martinon with the Paris Conservatoire Orchestra playing Saint-Saens Danse Macabre. It has a glorious rich tone and a beautifully laid out orchestra playing an enchanting piece of music.
A hundred or so dignitaries were invited for a small cocktail party on Wednesday night and Peter and I shared DJ honors. We played a lot of high-res files from a PC. The system sounded great and was punchy as all get-out. It's amazing actually how the big Wilson's can play so well in such a small room. We played the Momentum amps on Wednesday night and the Progression amps on Thursday.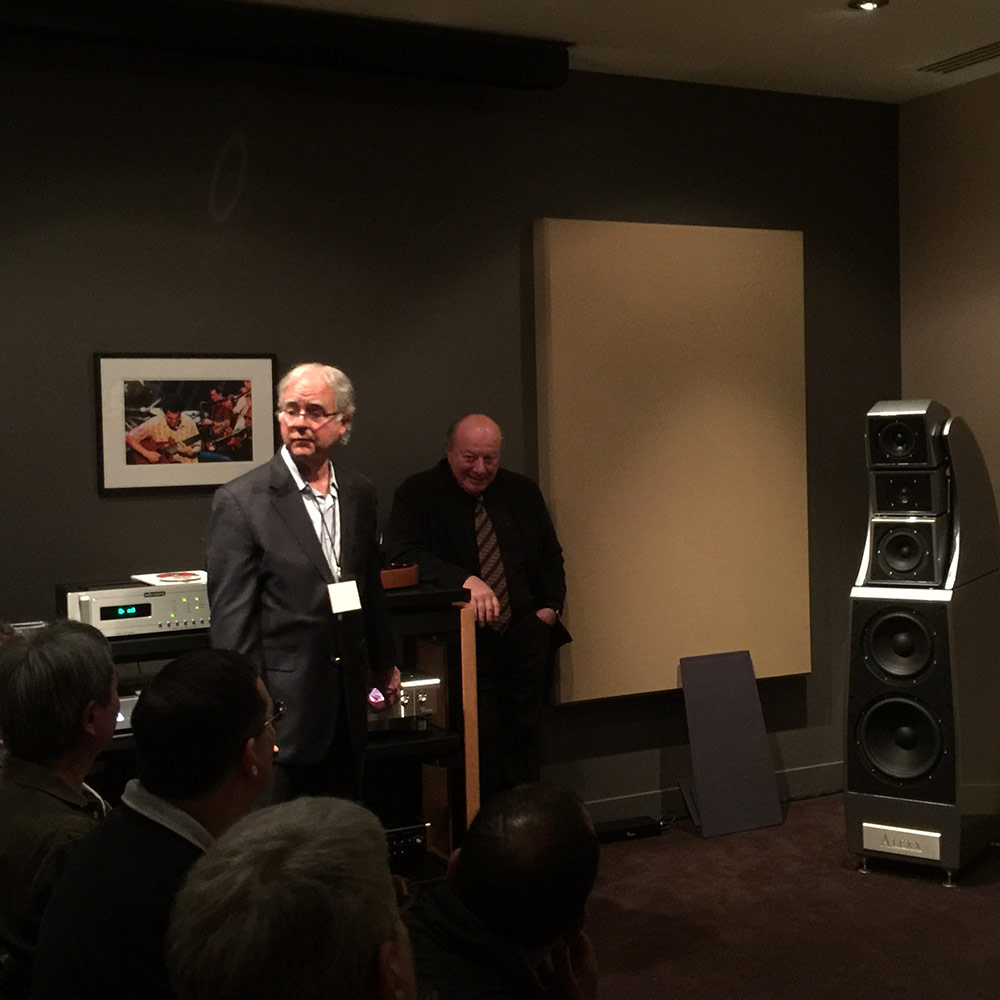 Thursday night was the main event open to the public and over 500 people attended, though only half were able to sample the reference room. There were 25 guests every half hour; demos ran from
5:00 PM until 10:00 PM
. As Peter McGrath prefers to conduct his demos using his CD collection, we used an Audio Research CD 6's digital output into the Merging+NADAC and swapped the SPDIF cable so that he could play a few of his own recordings from his solid state recorder. There was actually less than 20 minutes to play music, so Peter abbreviated all the songs to give the listeners as diverse a palette as possible as to the system's performance. Regardless of the format or resolution, the Merging+NADAC delivers tremendous resolution without adding any etch to the high frequencies—quite a difficult balancing act.
Press
The Absolute Sound
"Wilson Audio's sophisticated and entertaining Peter McGrath played some of his own excellent digital recordings through the Merging Technologies NADAC DAC, represented on site by Philip O'Hanlan of On a Higher Note. Merging Technologies is a relative newcomer in the high-end home-audio scene but, apparently, is an established marque in the pro-audio recording and mastering niche. …I hesitate to ascribe any particular sonic attribute to certain components of the system, but from the AMG turntable, Audio Research CD6, and NADAC sources through to the Wilson speakers, this system sounded fantastic."
A member of the audience pointed out to us that they were familiar with Merging Technologies as the Seattle Symphony Orchestra has four of Merging Technologies' Hapi digital audio workstations running their Pyramex software for recording, mixing and mastering their performances. Pretty much most classical venues I have been to recently are using Merging Technologies' gear.
To those lucky few who managed to enjoy the set, I look forward to seeing you again next year. For the rest, at least you can hear what you missed on Tidal. Listen to Peter's Playlist on Tidal.
Playlist (Courtesy of Peter McGrath)
Bach / Jacques Loussier Trio – Gavote in D major
Handel / Rene Flemming – "Sleep why hast thou deserted me" (SACD)
Leonard Cohen – "Never Mind"
Carey Bell – "It's So Easy To Love You"
Christy Moore – "Shine on you Crazy Diamond" (Philip's Demo XVIII)
Keith Richards – "Words of Wonder"
Depeche Mode – "Welcome to my World" (Philip's Demo XVIII)
Cecilie McLorin Salvant – "John Henry"
Stravinsky – Histoire d'Soldat Deutsches Kammerorcherstra (SACD)
Mathias Eisenberg – Num Komm, Der Helden Heland Organ Choral BW659
Dubzanne – "Roxanne"
Puccini – Tosca. Conclusion (PMG original recording)
Rickie Lee Jones – "Showbiz Kids" (45RPM vinyl)