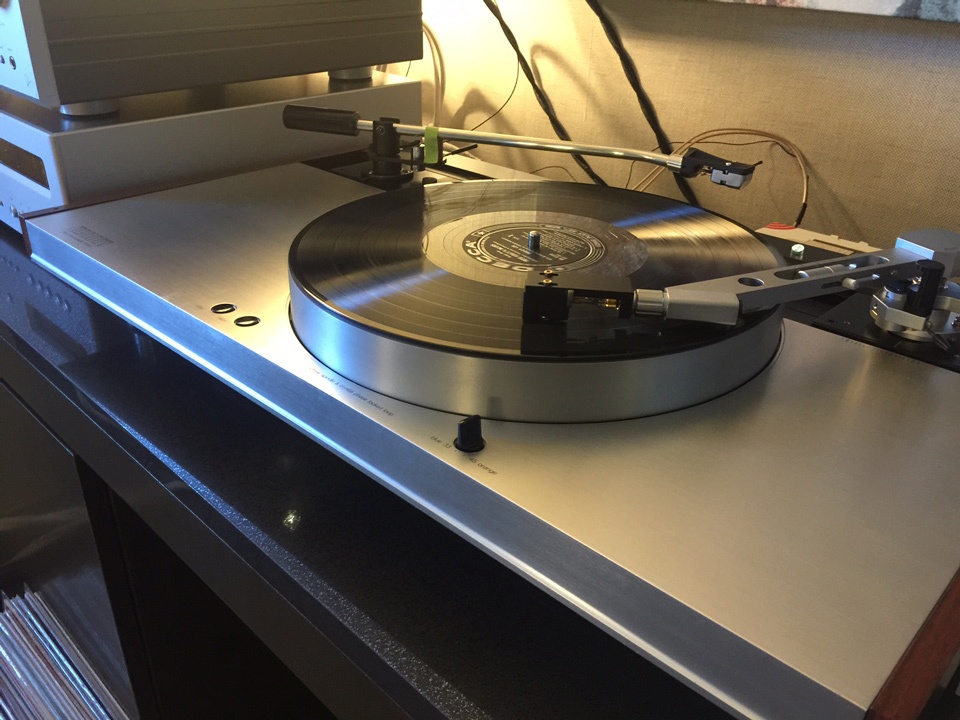 Originally announced at the Tokyo Show in October of 1976, the PD-444 was Luxman's flagship direct drive turntable—massively expensive and ambitious. The family-owned Luxman out of Osaka created it in conjunction with Micro Seiki of Tokyo—by then the uncontested champions of Japanese turntable consultancy and invention. While Luxman's aesthetic signature is strongly evident (swathes of thick, brushed aluminium, elegant rosewood cheeks, the refined palette and typography), the clever steel plinth sandwich and the drive mechanism is Micro Seiki all the way…
The direct drive motor (custom built for Luxman by Mitsubishi) is one of the best ever—in any deck. The MDS152C, a "load free" spindle system—in which integral, opposing magnets effectively relieve the motor of around 80% of the platter's considerable weight—offers notchless, seamless, silent and peerlessly regulated drive. Correspondingly, pitch is absolutely rock-stable.
Although slim in profile, the plinth is massively dense; beneath the handsome alloy plate lie sandwiched layers of timber board and thick iron, which bring the whole deck's weight to approximately 55 pounds.  Suspension is accomplished with feet containing spring mechanisms and neoprene-plus-silicone-grease damping (completely enclosed and service-free).
The Luxman PD-444 can accommodate two tonearms—a 9-10″ arm in the conventional spot to the right of the platter, and a 12″ arm to the rear left. Tonearms are ingeniously mounted on locking sleds (made from black anodised alloy and zinc!) on the rear track and can be easily adjusted to perfectly dial in spindle-to-pivot distance (there's even a reference scale to assist this). There are two Luxman armboards included and an original boxed adapter plates for another, slimmer-based arm. To make the whole double tonearm fun even easier, the underside of the turntable has a switching box—you simply run the cables from each tonearm into the box and have a standard RCA interconnect to the amp/preamp. A simple button on the front of the switching box allows you to select instantly between the two arms.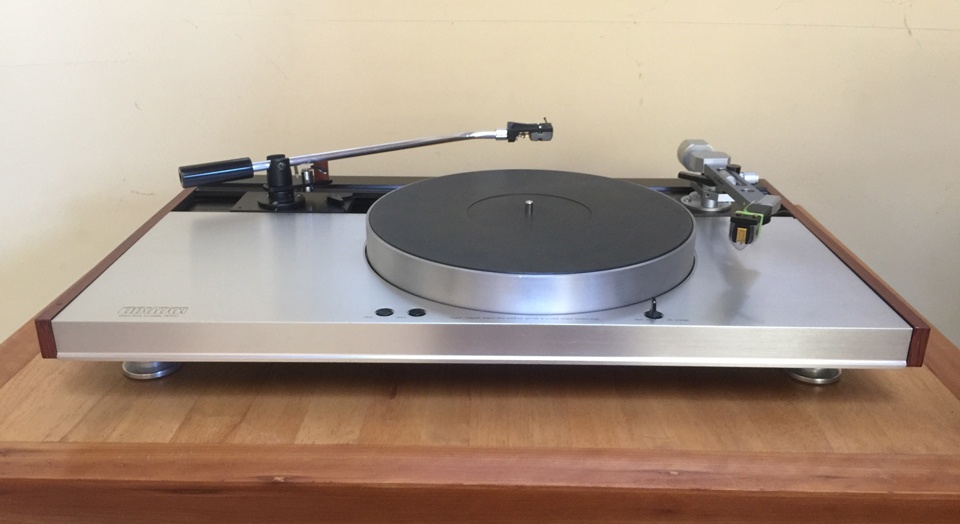 The PD-444's inert construction, ingenious suspension and eminently "even" drive gives a sonic reproduction few decks have come close to. Completely counter to the UK turntable manufacturers who were spouting at the time about belt-drive being the only way to achieve PRAT (pace, rhythm and timing) in musical reproduction, this MDS system relies on near-perfect timing (not hyperbole) for its timing—what a novel idea.
While it does not match the Technics SP10 mk III in sheer resolution in stock form, it does offer instead a warmer, richer, fuller tone. However, a modern turntable isolation platform will narrow the resolution gap dramatically while still allowing the listener to enjoy Luxman's famous rich tone.
Its little speed indicator prism, glowing blue for 33.33rpm and orange for 45 (one of the most delightful design touches imaginable) shows the motor to be capable of bringing the platter and heavy gauge (but flush fitted) PM2 rubber mat up to correct, locked speed in an instant.  My checks with a stroboscopic disc confirm its accuracy.
I bought mine eight years ago, while Luxman was still developing their return to the analogue world. I originally mounted an SME 3012 on the left and a Triplanar on the right. (Frankly, it wasn't until Luxman introduced the PD-171 that I learned how to extract the most that a Luxman turntable could offer. A complimentary turntable isolation platform turned out to be essential. Finding tone arms and cartridges that dance together sympathetically was also critical.)
Back to the PD-444, I put it aside for a couple of years and when I returned to it, I was utterly dejected to find that:
The Stop / Start switch had failed, but a temporary fix was to short its circuit.
More critically, the table could no longer maintain the correct speed. Finding someone who was willing to undertake the restoration of the electronics was a bigger nightmare than I ever anticipated. I initially gave it to a friend, who's a very accomplished EE, but after a year or so waiting for him to get around to it, he returned the table and said that it was uneconomical to repair. I reached out to Luxman in Japan and asked for their help. They admitted that due to the lack of spare parts for a 40 year old table, there was only a 60% chance of success.
I was tempted to start a project with either the Thorens TD124 or a Garrard 301, but the appeal of having a vintage two arm turntable that could play both mono and stereo simultaneously won me over to finish what I already owned.
During AXPONA 2015, our local dealer George Vatchnadze (Kyomi Audio) introduced me to a Russian service technician—Roman Sokolov of Electronic Engineers, Inc in Chicago (phone 773 202 0909). I met Roman again at AXPONA 2016—in the interim a couple of dealers told me about this fantastic Russian technician in Chicago who repaired vintage audio gear—so having seemingly little to lose, I entrusted my prized vintage table to his capable hands.
Two days after the table arrived in Chicago, I received a phone call from Roman. "I have good news & I have bad news.."
The good news: table's electronics had been overhauled and now everything worked perfectly. Lights, switches, speed control—great.
Bad news: at some stage in the tables life, it had been shipped with the platter in place and the shipping box dropped, resulting in a platter that rode up and down ¼" at the rear, where you would never think to look for damage. But also where I needed it work perfectly for the 12″ arm.
Where the hell do you find a 40 year old custom motor and spindle?
I called Sean Casey of Zu Audio and explained my dilemma. Sean instantly offered to lend me whatever parts I needed and install them for me in his free time. So the table was shipped to the Zu factory, where Sean swapped out the motor housing and spindle. Sean returned the damaged part to me at RMAF, which will now need to be entrusted to a machine shop for repair and of course returned to Sean Casey (along with a gift of Ireland's Uisce Beatha—the Water of Life.)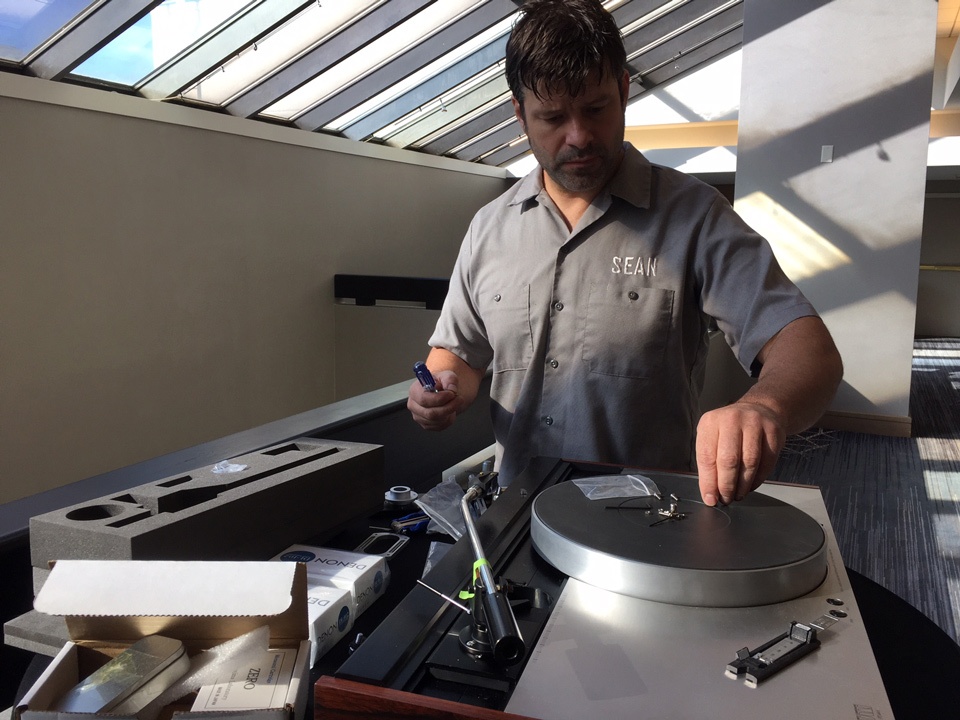 Sean was also kind enough to mount the Schick 12″ on the arm board with a Denon 102 as well as the Abis SA1.2 with a Miyajima Zero. Unfortunately, the Abis arrived too late to be properly mounted and we were unable to get the VTA right, so we ended up using the Schick & Denon 102 for the duration of Philip's Happy Hour at the Eclipse TD room every afternoon from 2:00 to 3:00 pm, where I delighted in playing mono LPs.  We hope to repeat this happy event next year at AXPONA in April and the new LA Audio Show in June.
The table was shipped back to Zu after RMAF to have the Abis correctly installed.
I have an original mono of Frank Sinatra's Sings For Only The Lonely on Capitol, which truthfully sounds mediocre on my expensive modern stereo cartridges. In mono, Frank is in the room, as large as day. There is a wonderful three dimensionality to the soundstage; Frank sounds like he is living and breathing in the room with us. By the way, the MoFi reissue is also mono and sounds wonderful on a modern stereo cartridge. But the original in comparison is tonally denser and chunky.
As a teenager in Cork, Ireland, I used to hang out at Elma Sound Studios under the tutelage of Russian emigre Norman Young, a recording engineer. Whenever we had free time, he loved to play mono records to show me what I missed. One of his favorites was Jane Morgan singing "The Moon Is Yellow" from Jane In Spain.  OK, it's a little dated sounding with the orchestral accompaniment but the singing is pure velvet and the sound quality is crystal clear—as good as Peggy Lee's "Somebody Loves Me" from Soundtrack of Pete Kelly's Blues—both of which will probably surface on Demo XIX.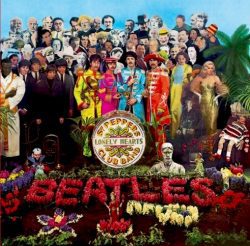 One of the highlights of RMAF was getting to hear my original mono U.K. Parlophone pressing of The Beatles Sgt Peppers Lonely Hearts Club Band. "Being For The Benefit Of Mr Kite!" took on a completely new dimension as we heard a young John Lennon sing with lots of reverb added to his voice and the equivalent of a foley stage add all sorts of wonderful sound effects to the back drop. (Thanks to Michael Fremer for decoding the matrix numbers while I was purchasing the LP from the U.K.).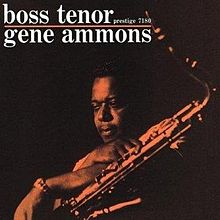 Gene Ammons' "My Romance" from Boss Tenor—we played a cheap mono reissue with dazzling effect. Gene Ammons was in front on sax with Tommy Flanagan on piano and Doug Watkins on bass. The sax enveloped the room and was utterly credible as a musical event. More than one listener commented that as long as you were seated between the two Eclipse TD510ZmkII loudspeakers, he never realized that he was not hearing a stereo soundstage—the presentation was so convincing. Alan Sircom, editor of HiFi+  remarked, "Say what you want about stereo, but one channel of effortless, dynamic, and vivid sound is hard to beat.."
So what's left? Well, the massive original dust cover has a split that needs to be repaired & polished. I had the rosewood trim pieces restored last year and they look like new. Sean commissioned a couple of Zero flight cases for our PD-444s.' I will remove the captive power cord and install an IEC inlet so that we can use modern power cords.
Then it will take a while to find the right arm / cartridge synergies for both mono and stereo. The Schick is a wonderful choice with either the Denton 102 and or 103. Both of which I have yet to hear with the Latest Zu mods. As you can read, this is an exciting ongoing project that will deliver terrific musical enjoyment. I  used this to record the mono tracks for Demo XIX which should be finished in time for CES 2017. I expect to have a selection of mono cartridges on hand to find the most complimentary for any given tune I need to record to DSD.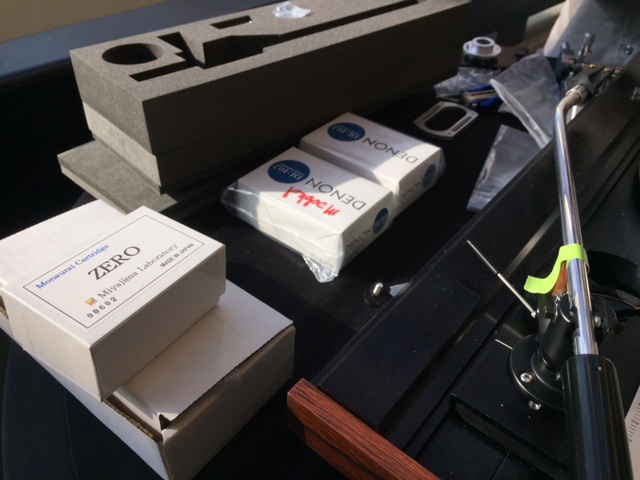 Last but not least, I plan on experimenting with different feet supporting the table, as I feel our understanding of vibration isolation has improved over the past 40 years. So far the Nordost Fut are working like a champion—lowering the noise floor, digging out the low, low bass and cleaning up the midrange. What is there not to like?
I bought approximately 100 mono LPs in the past two months and am thrilled with both the musical and sound qualities of both jazz and vocal. Only the classical LPs have been frightfully hit or miss. I've been trying to stay away from early 50s albums as there were so many different EQs at the time before the RiAA standardization.
This is an ongoing project that has delivered many hours of fun for me and my friends. Now if I could only find a near mint copy of the original mono pressing of Johnny Hartman's "I Just Dropped By To Say Hello"…
Hi-Fi+ singles out Luxman / Eclipse RMAF room for "exceptional sound"