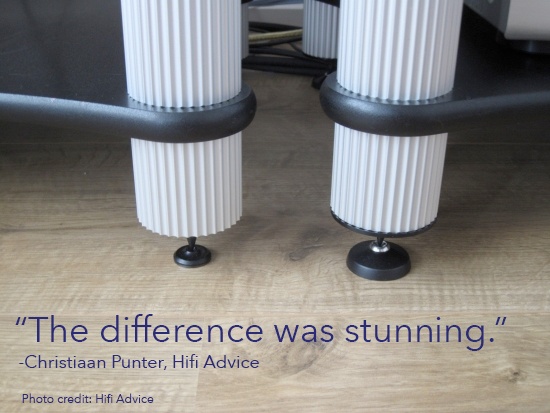 We recently ran across an article by Christiaan Punter of Hifi Advice about the huge sonic improvements that can be made by changing just the footers on your equipment racks. Punter had a Solid Tech equipment rack that he was going to sell because he didn't like its effects on his system. He decided to try footers from a couple other brands, including Artesania Audio—manufacturer of our favorite racks here at On a Higher Note. After switching to Artesania's Improved Decoupling Discs, he wrote:
"The audible difference to the standard spike discs however couldn't be larger! I know that some of you will call me crazy for claiming audible differences between spike bases under an audiorack that houses nothing but a music server and an amplifier, but hand-on-heart I think that anyone who calls him or herself an audiophile could hear the difference—it is simply that obvious…The lesson to take away from this is to not assume that little things make no difference…even the humble spike, and the disc they sit on are worthy of your attention!"

If you are interested in fine tuning your system, equipment racks and stands are an often overlooked way to improve even the best system. You can read the rest of the article at the Hifi Advice website or call us at 949-544-1990 to find an Artesania Audio dealer near you.