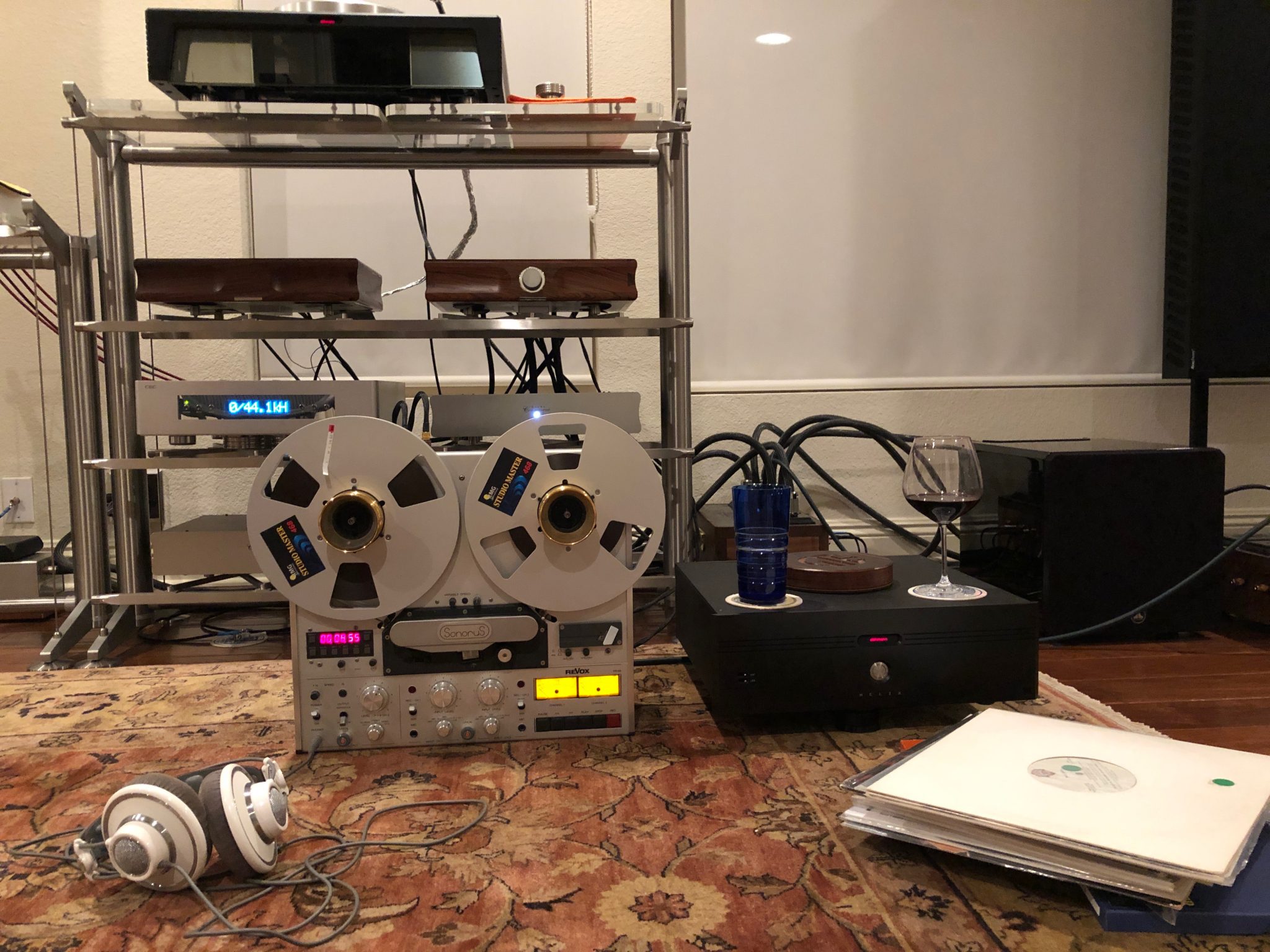 Making compilations has been my hobby since I was a teenager.  Recording some of my choice vinyl cuts to digital was something I have done for many years. While I was happy with the results, the digitization never quite equaled the sonic performance of the original analogue playback.
While playing master tape dupes is a sublime experience, not only are the albums frightfully expensive but there are not that many titles to choose from.   Which left me thinking, where can I find a wider selection of really well recorded analog music?  In reality, I didn't have to leave home, as I have been buying records far almost 50 years.
Back in 2008 I had a reVox PR 99 modified by SonorouS. The mods included the play back board, the record board as well as the power supply.
So I have started a new hobby, bringing a clutch of records with me to a friends home and recording vinyl to tape (2 track, 15 IPS) on their state of the art turntable system.
With the help of Tidal, I assembled the playlist & play order before I engaged the record button.
For my first endeavor, I visited the great communicator himself – Rick Brown of HiFi One in Carlsbad and we recorded two reels of tape (an hour), start to finish, including listening to the reels, took almost seven hours.
Next day, I played the tapes on a wonderful Gryphon / Magic stereo system at Scott Walker Audio in Anaheim for the LA / Orange County Audio Society.  It was a huge help to be able to access my own collection of  45RPM Test Pressings from Analog Productions, .ORG etc. lovely quiet vinyl that rarely betrayed its provenance but left the listeners tapping their feet and grinning from ear to ear.  Even modern recordings such as London Grammar's "If You Wait" throw a terrific, wide & deep soundstage with glorious vocals leaving the audience spellbound and hanging on her every word. Glorious, truly glorious.  My well worn 12" single of Lou Reed's "Walk On The Wild Side"  was as stunning as ever.
I am looking forward to assembling more playlists of diverse choice material. Classic rock, classical, jazz, pop, R&B/Soul – should be a lot of fun.
Rick Brown's System
Dohman Helix Turntable,
Schroeder (arm)
Lyra Atlas (cartridge),
Lyra Connoisseur Phono Stage & Preamp.
Reel I.
Johnny Hartmann – Easy Living 6:48
Jon Hendricks – Fast Living Blues. 12:31
Ray Brown –  Cry Me A River 18:13
Quincy Jones – Secret Garden 23:18
Nina Simone – I Loves You Porgy 27:25
Ricky Lee Jones – Under The Boardwalk 30:49.
Reel II.
London Grammar – If You Wait 4:42
Lou Reed – Walk On The Wild Side 8:55
Illinois Jacquet – Birthday Blues 19:25
Bill Berry – Take The A Train 24:
Yello – The Expert  26:42
Paul Simon – Boy In The Bubble 32:55