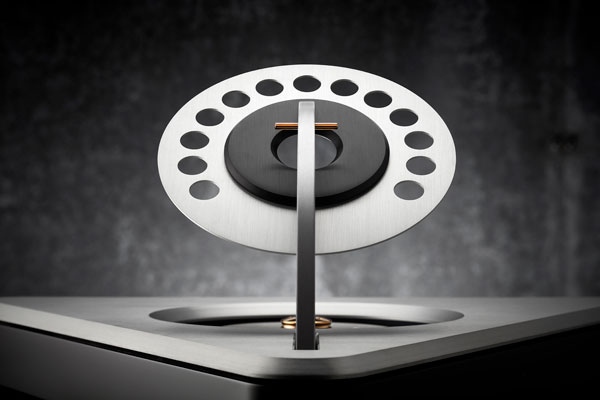 Ry, Denmark, April 7, 2019 
The sleek lines, low profile and stylish blend of metalwork and high-gloss acrylic in the exterior design of the Gryphon Ethos CD player can only begin to hint at the sophisticated technology concealed within as Gryphon Audio Designs again takes up the challenge of creating the definitive combination of CD transport and digital-to-analogue converter.
In the once crowded, but now nearly vacant field of CD player design, the Gryphon story began with our very first digital source component at the close of the previous millennium. In 1998, The Gryphon CDP-1 CD player introduced the world to the sonic improvements offered by 88.2 kHz asynchronous sample rate conversion, the world's first implementation of this advanced technology, now ubiquitous in digital audio.
The Gryphon Adagio, successor to the CDP-1, was launched in 2001, taking digital musicality to the next level with asynchronous 24-bit/96 kHz sample rate conversion. After further refinement of this technology in the Gryphon Mikado in 2003, the implementation of 32-bit/192 kHz upsampling in the acclaimed Gryphon Mikado Signature represented another giant leap forward, once again breaking new ground and laying out a path for others to follow.
The first Gryphon separate digital-to-analogue converter, Kalliope, has been universally praised in the world audio press. "Kalliope reproduces music in all its harmonic richness, giving free rein to voices and instruments, well differentiated with a fluidity that is exemplary." Haute Fidelité, March 2015. 
Dedication and Devotion
Gryphon Ethos is designed unapologetically with single-minded dedication to the compact disc, because this focused approach enables Gryphon Audio Designs to devote all our resources and expertise to releasing the full, unfettered musical potential of CD playback. When you choose the Gryphon Ethos, you know that its CD performance is not a mere afterthought. It is the player's very reason for existing.
We designed the Ethos integrated CD player to be a moving target in the rapid evolution of digital audio. In addition to handling standard 16-bit/44.1 kHz "Redbook" CD, the Ethos offers convenient playback and can be connected to external sources up to 32-bit/384 kHz PCM and up to DSD512.
Taking our cornerstone philosophies of dual mono and fully symmetrical balanced operation still further, Gryphon Ethos is fully balanced throughout the digital DAC domain as well, implementing eight DAC's in full dual differential mode. This configuration drastically lowers the digital noise floor and contributes to the expansive soundstage and sharply focused stereo image of the Gryphon Ethos.
In the interest of extracting the purest, most unadulterated sound possible, timing issues (jitter) are effectively addressed with two independent, specially designed, temperature-compensated crystal oscillators accurate to better than five parts per million.
Asynchronous Upsampling
Gryphon upsampling allows the use of a simpler, lower-order analog output filter, for dramatically increased resolution, detail, spaciousness, focus, transient accuracy and harmonic integrity.
Properly implemented upsampling eliminates the need for conventional, steep-slope analogue filtering altogether. In the Gryphon Ethos, this filter is replaced by a single, silvered Mica capacitor acting as a simple, first-order analogue output filter, preserving the integrity of the audio signal for a pristine presentation staged against an utterly silent, "black" backdrop.
The heavily regulated, fully discrete, fully balanced Class A analogue output stage employs zero negative feedback and offers both balanced XLR and single-ended phono outputs. The analog section is supplied with +23 Volts and careful attention has been paid to power supplies with separate transformers and comprehensive regulation.
Built for the Future
Thanks to its distinctive modular design, Gryphon Ethos is built to keep pace with digital technology as it evolves. Convenient modification of digital or analogue circuits by your local authorized Gryphon service centre as upgrades become available will ensure that your Gryphon Ethos remains on the cutting edge of CD playback.
Like every Gryphon product, the Gryphon Ethos is designed and manufactured in Denmark.  Retails for $39,900 in the U.S.