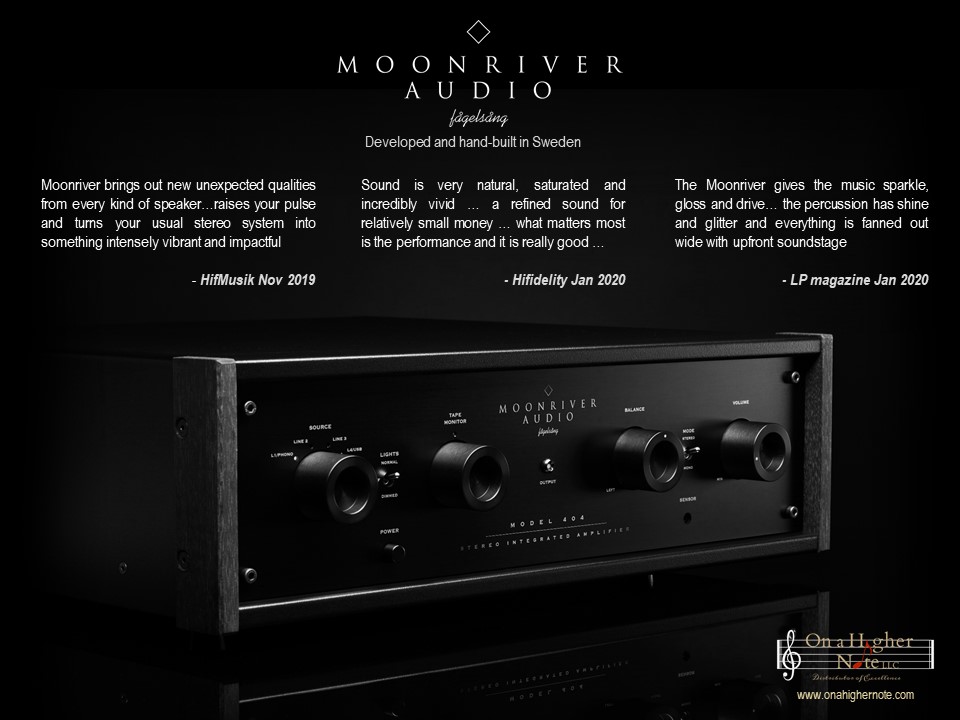 FOR IMMEDIATE RELEASE: March 9, 2020 (MALMO, SWEDEN / LOS ANGELES, CA)
MOONRIVER AUDIO FROM SWEDEN DEBUTS IN NORTH AMERICA WITH ON A HIGHER NOTE, LLC AS ITS EXCLUSIVE DISTRIBUTOR
Moonriver Audio is a Swedish company that penned its name from the famous song by Andy Williams. With a design concept that envelopes both an affinity towards contemporary forms and nostalgia for the timeless classics, balancing artistry with rich functionality in a modular approach, Moonriver Audio is dedicated to offering the best sound and reliability in music playback with organic texture acquired within an open space and unrestrained dynamic behavior while preserving natural color.
"Moonriver Audio is designed for music lovers that love vinyl, tape, and digital, offering hybrid designs that fuse well known and fresh tech elements that fit the application so consumers who know how to manipulate the flexibility and sensitivity can taper the sound to their own taste," George Polychronidis explained. "I designed this line to give the sense of real-life performance with a dynamic range of instruments and vocals even for ordinary and inefficient loudspeakers. We are delighted at the prospect working with On A Higher Note that has a stellar track record in bringing great products to North American music loving households to touch the hearts and minds of a new audience with our unique experience."
"We have paired up Moonriver's Model 404 with many different speakers, including Graham Audio's BBC designed monitors, the LS5/9's, with terrific results: rich and musical in the mid range with clear, articulate and well-defined bass. This is not transistors pretending to mimic tubes as it exhibits great drive, and a well-defined rhythm and pace. As big as it is on deconstructing the percussive complexity and articulating the horn sec on of Al Green's early '70's recordings, it is just as committed in exposing the compression of R.E.M.'s "Collapse Into Now" while keeping it on the right side of listenable. It energizes much like a breath of clean, fresh air or a brisk walk on a cool evening, and a hint of sun that ushers the first signs of Spring's promise. It puts the joy back into music," remarked Philip O'Hanlon from On A Higher Note. "Currently offered in six flavors, its leading Model 404 modular integrated power amplifier with class AB power modules (US$3,499 to US$4,717) checks so many boxes, touting an experience to satisfy both the current and the next genera on needs in music loving households."
With a second product, a new phono stage Model 505 slated to debut later this year and some other products in the pipeline, Moonriver Audio will add to their offerings.  Current six modular offerings are as follows:
404 integrated power amplifier (US$3,499)
404 with MM RIAA (US$3,898)
404 with MM/MC RIAA (US$4,048)
404 with USB DAC (US$4,168)
404 with MM RIAA and USB DAC (US$4,567)
404 with MM/MC RIAA with USB DAC (US$4,717)
About Moonriver Audio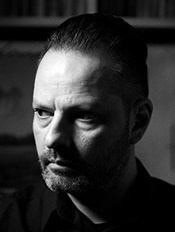 Moonriver Audio is a Swedish company based in Malmo, with products designed and hand-assembled with precision in Sweden.  With a rich background in industrial and user interface design and technical hi-fi engineering, Moonriver Audio's Founder and Head Designer, George Polychronidis, set out to design a classic product with a modern touch.  Using a simple and ergonomic user interface, and sustainable and reliable high-quality materials, Moonriver Audio debut with their first product, the modular 404 integrated stereo amplifier that is flexible and affordable for this and the next generation music lovers' needs.  
Visit https://moonriveraudio.com