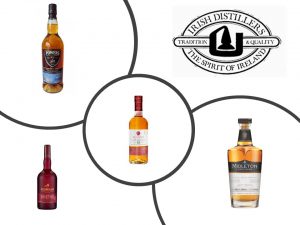 Irish Distillers have many long-established brands, such as Jameson, Redbreast, Powers, Midleton Very Rare, and the Spot range, so while these are fabulous brands that can be carefully refined and are allowed to evolve organically, they do not leave much room for experimentation. Method and Madness is a new experimental range of Irish whiskeys (and a gin, which I am not discussing) from the masters & their apprentices at Irish Distillers distillery in Midleton, Co. Cork, Ireland.
Each of the three whiskeys has a unique twist – there's a sweet, toasty single-grain whiskey finished in virgin Spanish oak; a spicy single pot still dram finished in French chestnut; and a fruity, honeyed single malt whiskey enhanced with French Limousin oak (normally used to age Cognac). This is the new face of Irish whiskey…
The Method and Madness range of Irish whiskeys was introduced by Pernod Ricard's Irish Distillers arm back in 2017 to Ireland. Since that time it has provided the distillery team at Midleton's (the main Irish Distillers whiskey-making facility) new micro distillery in Ireland "the space to take chances and breakthrough traditional category norms by exploring new styles of Irish Whiskey – both in the distilling process and unique casks types."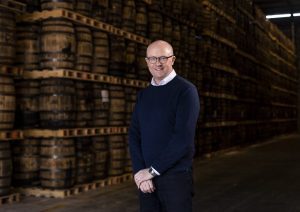 "Driven by inspiration from our legacy as well as our culture of innovation, our team of blenders, distillers and apprentices treat our micro distillery in Midleton as an experimental hub," said Kevin O'Gorman, Master Distiller at Midleton Distillery, in a prepared statement. "This type of environment enabled us to trial and test various distillates without disrupting normal production which gave way for the creation of Method and Madness."
The Method and Madness Single Grain Whiskey finished in Virgin Spanish Oak Casks, Single Pot Still Whiskey Finished in Chestnut Casks, and Single Malt Whiskey selectively finished in French Oak Casks are now available ( since the beginning of October) in select markets nationwide, including AZ, CA, FL, MA, MN, NV, PA, SC, TX, and WA at the respective prices of around $60, $75 and $90 per 750 ml bottle.
Method and Madness Single Grain Irish Whiskey Finished in Virgin Spanish Oak Casks

After maturing in ex-Bourbon barrels to achieve a light, perfumed flavour on the exceptional grain distillate, the whiskey has uniquely been finished for 12 months in toasted, virgin Spanish oak from Galicia, North West Spain. The process added complexity, cask character and a spicy note until the perfect balance between the subtlety of the grain spirit and the contribution of the Spanish oak was skillfully mastered. The expression is bottled without chill-filtration at 46% ABV.

Tasting notes by Master Blender, Billy Leighton:
* Nose: New pencil shavings, light rose petal and fresh rain on pine
* Taste: Warm toasted oak, fresh peeled grapefruit and zesty wood spices
* Finish: Sweet cereal, clove spiciness and fresh mint

Method and Madness Single Malt Irish Whiskey Selectively Finished in French Oak Casks

The first Single Malt Irish Whiskey released from Midleton in recent memory, the whiskey has been initially matured in ex-Bourbon barrels, imparting flavours of malt and biscuit, and in a first for the category, has been part-finished in French Limousine oak for one year to add a lighter, floral and herbal note. The expression is bottled without chill-filtration at 46% ABV.

Tasting notes by Master Blender, Billy Leighton:
* Nose: Freshly shelled peanut and cereal malt aroma
* Taste: Cracked cinnamon stick and ice cream cone wafer
* Finish: Fragrant bonbons and a hint of toasted barley

Method and Madness Single Pot Still Irish Whiskey Finished in Chestnut Casks

This Single Pot Still Irish Whiskey has been matured in a combination of ex-Oloroso sherry and ex-Bourbon barrels, before being transferred to chestnut casks sourced from the Isére region in France.
As one of the world's firsts, the French chestnut casks impart a distinctive sweetness that lightens the mouth-feel, increases depth and adds a mahogany glow. The expression is bottled without chill-filtration at 46% ABV.

Tasting notes by Master Blender, Billy Leighton:
* Nose: Red Liquorice laces, Fresh Rosemary mint and grated root ginger
* Taste: Sweet fruit and spice, cinnamon toast and ripe banana
* Finish: Aromatic green tea, dissipating fruit and spice and rich wood farewell
Picking any whiskies not imported into the USA has never been a problem given I return to Ireland at least once if not more each year. But with all the travel restrictions in place this year, it looked like I needed to be patient for quite a while longer.  You can imagine my delight when I read on-line that Method & Madness was being imported in small quantities into select states, including California.
I have been so curious to check out how Method & Madness compare against the formidable Red Spot, Red Breast, Midleton, Power's John Lane, etc so I splashed for all three Method & Madness that Total Wine carries in my recent visit.  They were not on the shelves and no one seemed to be aware that they were in stock.
Tasted the Single Grain over the weekend for the first time and all I am going to say right now is that it's unlike the other Irish Distillers products, though with a delicious taste and interesting aroma. More anon.  Our daughter is flying in with a bottle of the limited edition Method & Madness Single Pot Still whiskey, finished in wild cherry wood casks from Europe.  Stay tuned for more personal tasting notes.