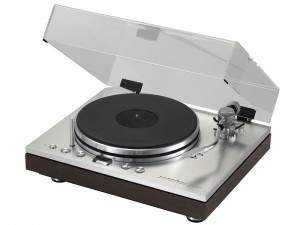 Luxman's first turntable in 28 years offers classic looks and timeless performance.
The Luxman PD-171 is the powerful heart of any analog playback system. Its high output power supply, coupled to the 32 bit processor for speed control offers impressive dynamics and resolution. A high torque synchronous AC motor drives a high inertia platter via a synthetic belt for smooth, seamless playback. The precision-machined spindle rests on a wide Teflon bearing to ensure frictionless rotation. The PD-171's statically-balanced custom Luxman tonearm glides smoothly on ball bearings for stable and reliable sound. The universal headshell allows easy cartridge replacement, and a detachable stylus light unobtrusively enhances visibility in a mood-lit room.
The PD-171 embodies Luxman's long-standing philosophy: to utilize the most advanced technology through a conventional medium for unrivaled audio performance. The PD-171 reproduces any powerful musical achievement captured onto vinyl with the airiness and warmth that demanding analog enthusiasts have come to expect.
Features:
Electronic circuit based on high output audio amplifier with built-in high precision 32 bit MICON signal generator.
Belt driven high torque synchronous AC motor
Equipped with handy LED reflected stroboscope for more accurate speed adjustment and confirmation.
Milled aluminum platter of 0.7tcm² super high inertia
Chassis built from 15mm aluminum panels with floating sub-chassis to eliminate structural and airborne vibration
AC inlet on back plate to accommodate detachable mains cables
Non-resonant, detachable universal headshell made of aluminum-magnesium alloy
Detachable OFC 5-pin DIN → RCA phono cable
Detachable acrylic dust cover of 4mm thickness
Click here for more information about the PD-171