The Inside Story… set up was a nightmare but we came, we saw, we conquered!
While I feel like we got a lot done at the 2013 Rocky Mountain Audio Fest, I have to say that getting everything humming was a bigger challenge this year compared to previous ones. I thought I would start the post with the "behind the scene" story, letting you know some of the unexpected problems we encountered, especially relating to digital music playback in an electrically noisy environment.
So here it goes: I brought the digital playback system from our home, thinking that way we would not have any problems with setup. Wow, was I ever wrong; Caelin Gabriel (Shunyata Research's designer & fearless leader) was able to remotely trouble shoot some of the problems, even though we did not use his USB cabling (not shipping until next month). We ended up swapping a 3m AudioQuest USB cable for a shorter 2m WireWorld. Evidently the WireWorld must have better shielding, because Audirvana crashed every ten minutes with the longer cable and in the end would not open even after removing the software & re-installing an older version.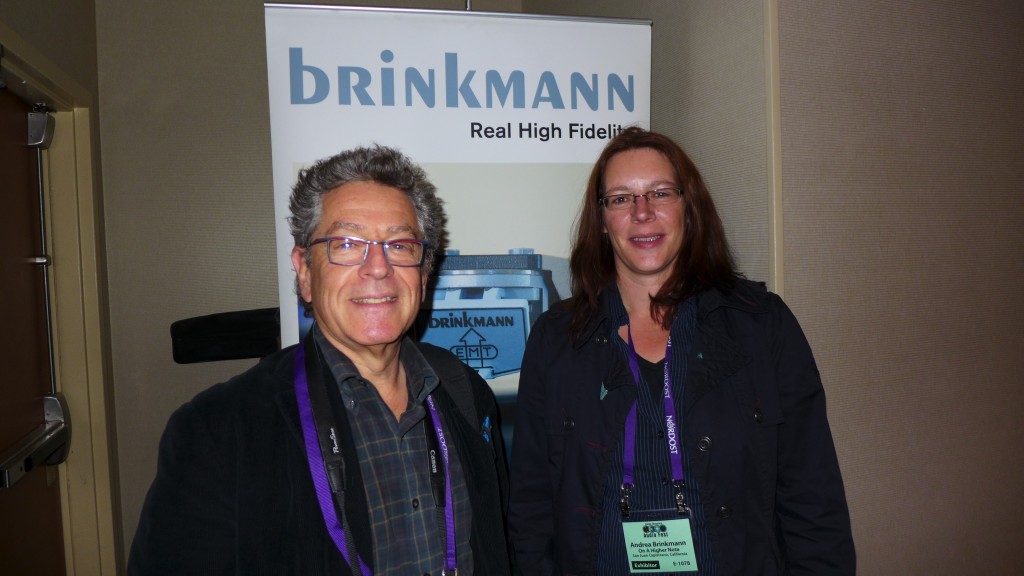 But we were not out of the woods yet. Even with the shorter cable & Audirvana stable, we had noise intermittently blasting through the system. I had to give up playing digital for John Atkinson from Stereophile & settle for playing vinyl on the Brinkmann Bardo with a Triplanar 12″ tonearm & Brinkmann Pi cartridge. I eventually traced the problem back to our external FireWire hard drive with another Audioquest cable that was unhappy with show conditions. As soon as I disconnected the FireWire external drive the digital playback was transformed & performed for the rest of the show without a hiccup.
While I was pulling my hair out trying to figure out what was wrong with the digital playback, I asked Grant Samuelsen from Shunyata Research to dial in the Vivid B1 speaker for us. Long's Peak is an overly square room and so we centered the speakers off of one corner; it looked a little funky (see photo below) but it almost eliminated the bass node issues, that you can typically expect from a square room. Grant like pretty much everyone else at the show was suffering from a cold, so was unable to complete speaker setup on Thursday but nailed it on Friday morning.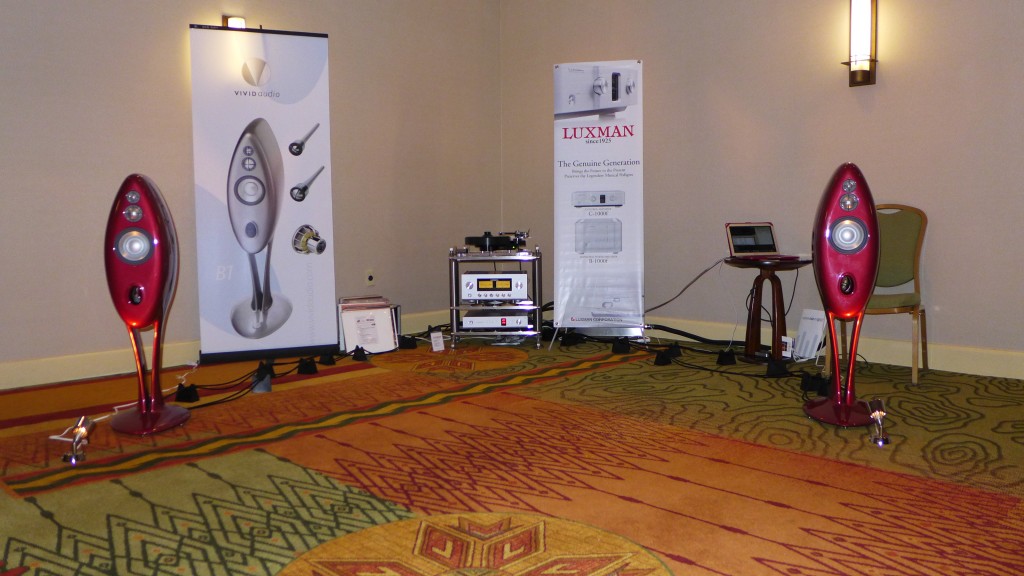 Best Sounding Digital (DSD)
One of the unexpected surprises was the arrival of the DSD Master of Ray Brown's 1988 Live at the Loa with Gene Harris on piano & Jeff Hamilton on drums. This was nothing short of spectacular; I believe the Master Tape was transferred to DSD using the Grimm AD1 (analogue digital converter). The same unit that Jared Sacks from Channel Classics uses for all of his recordings.
Most Played LP
Doug MacLeod's There's A Time (2013) on 45 RPM LP continued to delight listeners in Denver, again garnering spontaneous applause after the first side was over. My thanks to Reference Recordings for a gift of the HRx copy of the same album, though I will confess not having the time to compare & contrast to the LP yet.
Most Interesting Comparison
What I did have time to compare & contrast was Cat Steven's Tea For The Tillerman. We played the track Hard Headed Woman, first at 24/192 PCM (downloaded from HD Tracks) and then the DSD (taken from the Analog Productions SACD). In the chorus on the PCM playback Cat's voice was so strident in the chorus, that his voice sounded more like noise (my guess is that he was clipping the microphone), the DSD playback had a much more organic, natural feel to it. To quote Art Dudley "compared to DSD, PCM sounds flat & uninvolving." Finally, we played a Test Pressing on 33 RPM LP (thanks to Chad at Acoustic Sounds) and everyone was unanimous in preferring the vinyl playback. We will repeat this comparison once the DSD Master becomes available for download. In our experience, the DSD file from the SACD is very good and truly head & shoulder better than the CD player or the 24/192 PCM but the DSD Master has less grain (you notice an edge on strings or even vocals, that sounds unnatural).
On Saturday morning from 9:00 AM – 10:00 AM we hosted the Press Release of NativeDSD.com, Jared Sacks explained that they are a fortnight behind schedule, but Music Lovers will soon be able to download titles from Channel Classics & Harmonia Mundi. By CES he expects to have a dozen labels offering their DSD downloads from this unique Co-Op site. Analogue Master Tapes transferred to DSD is fine, along with native DSD recordings, but PCM up sampled to DSD will be forbidden.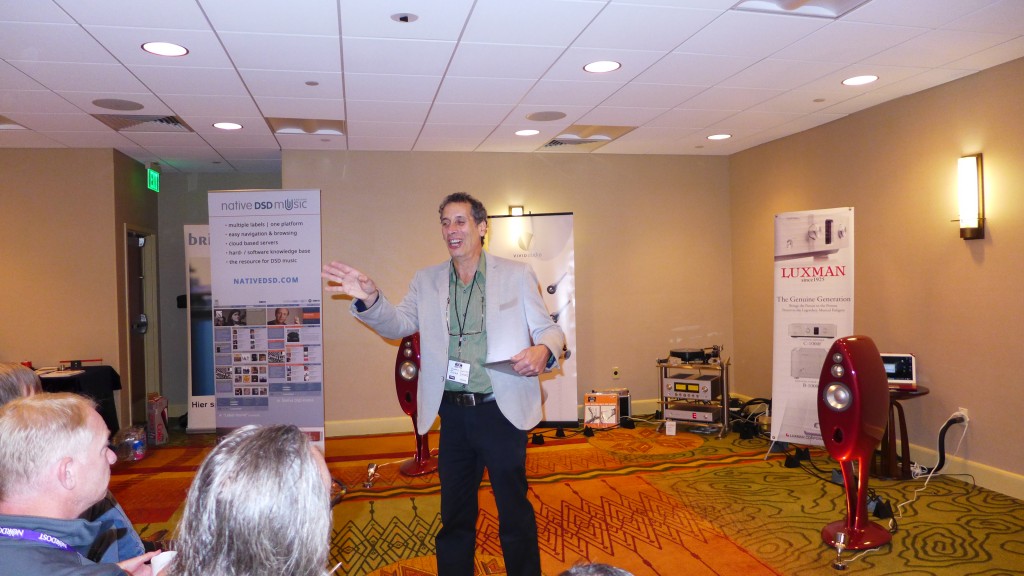 Most Unusual / Personal Favorite
Tom Caulfield from Channel Classics tipped me off to a most unusual track off of Florilegium's Bolivian Baroque vol I. This album was recorded in a church in the Amazon. Apparently, there were so many birds up the rafters that recording during the day was impossible with all the noise, so Jared Sacks recorded at night. While waiting for the birds to settle down one evening, the group decided to play a little improvisation to warm up. The singer picked up the pan pipes and played. When Jared heard what they were playing, he asked them to stop & start again so that he could record the improvisation. The birds cooperated and when the music stopped you can hear them chattering, way up in the loft of the ancient wooden church.
Equipment List
Brinkmann Bardo III turntable
Brinkmann Pi cartridge
TriPlanar 12″ tonearm
Luxman L-590aX integrated amp
Luxman DA-06 DSD DAC
Apple Macbook Air playing Audirvana
Vivid B1 speakers
Shunyata Research cables, power cords & line conditioner
RMAF 2013 Playlist
Artist
Song
Album
Format
Santana
Black Magic Woman
Abraxas
DSD from the SACD
Herbie Hancock
Watermelon Man
Headhunters
DSD from the SACD
Tanita Tikaram
Twist In My Sobriety
Ancient Heart
DSD from LP
Ben Webster
The Man I Love
Gentle Ben
DSD from SACD
Herbie Hancock
Summertime
Gershwin's World
DSD from SACD
Michael Jackson
Billie Jean
Thriller
DSD from SACD
INXS
Need You Tonight
12″ Single
DSD from vinyl
Thomas Dolby
She Blinded Me With Silence
12″ Single
DSD from vinyl
Eva Cassidy
Wonderful World
Songbird
DSD from LP
Steely Dan
Haitian Divorce
12″ Single
John Mayer
Side 1
2012 Live Performances
12″ EP vinyl
Saint Saens
Bacchanale from Samson & Delila
Exotic Dances from the Opera
LP
Doug MacLeod
Side1
There's A Time
LP
Aaron Neville
Close Your Eyes
Warm Your Heart
2 x 45 RPM LP
Blood, Sweat & Tears
And When I Die
Blood, Sweat & Tears
2 x 45 RPM LP
Ray Brown
Up to Twenty Minutes
Summerwind – Live at the Loa
DSD Master
Florilegium
Henry Villca Suntura – Improvisation
Bolivian Baroque vol I
DSD Master
Here's what the press had to say about the experience:
Scott Hull of Confessions of a Part-Time Audiophile wrote, "I'm on record as being a fan of Philip O'Hanlon and his On A Higher Note – he carries marvelous brands and never fails to put on a good show. The dapper Irishman always seems to have the best music – and now I know why…" <more>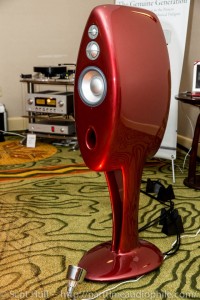 Michael Lavorgna of AudioStream said, "I saw two familiar faces in the On A Higher Note room; the perpetually pleasant proprietor Philip O'Hanlon and the Luxman DA-06 DAC that I reviewed back in June. This time, as was the case the last time I saw Philip at the New York Audio Show, he had a listening comparison up his sleeve (Philip has long sleeves). We were to compare…" <more>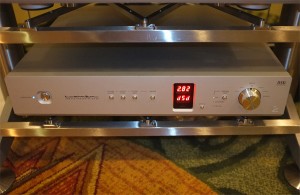 John Atkinson of Stereophile mentioned, "The DA-06 continued to impress me at RMAF, with a classic Ray Brown live album, transferred from analog tape to DSD with the Grimm converter, sounding . . . er . . . vividly natural with a full-range balance." <more>