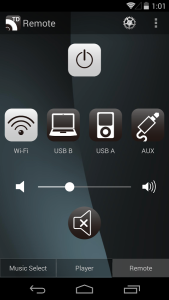 The "ECLIPSE TD Remote for Android" application for the "TD-M1″ home audio wireless speaker system is released on Google Play™ TODAY!
Until now, only wireless music streaming via "AirPlay" has been available for the TD-M1, with remote control functionality supported via the "TD Remote" application, exclusive only to iOS devices. This new Android application allows these functions to also be enjoyed by the growing number of Android smartphone users around the world. Since its release in February 2014, the "TD-M1″ system has been recognized for having the world's top-level "accurate sound" and ease-of-use.
Eclipse TD speakers are the perfect monitors for quiet and accurate near-field listening, particularly when you desire to set your music free from room anomalies and boundary effects while enjoying unmatched accuracy and emotional response. This plug-and-play TD-M1 desktop speaker system allows you to experience the ultimate headphone experience without the headphone.