T.H.E. Show Newport 2016
The Hotel Irvine
June 2 – June 5, 2016
For a change this year, we teamed up with one of the most famous audiophile retailers and custom system designers in the United States. Also a recording engineer and record producer, Joseph Cali started out as a sales person at Audio Exchange in Manhattan in the 70s. After selling a stereo system to a casting agent, the agent asked him to read a part for an upcoming movie. That movie—which Joe subsequently starred in—was Saturday Night Fever. (More info on Joe's acting career can be found here). In the early 80s, Joe decided to return to his passion and began working with Chris Hansen selling high-end audio systems. In the early 90s, with the help of Mark Levinson he founded Cello Music & Film Systems. He also met future wife Lori Lieberman.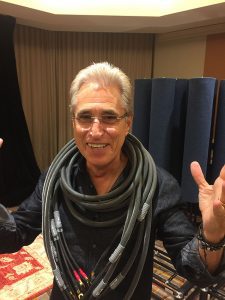 Today, Joe runs a successful custom install operation (Joseph Cali Systems Design out of Santa Monica, CA) that services the A-List celebrities and the leaders of the entertainment industry. His client list includes Oprah Winfrey, Les Moonves, Dr. Dre, Irving Azoff, Jimmy Lovine and more. Joe also records all of wife Lori Lieberman's albums and is also her tireless promoter. Joe not only arranged for Lori's new album Ready For The Storm to be released during the Newport Show on 180 gram vinyl from Chad Kassem's QRP, but also had the Lori Lieberman Band play on Saturday afternoon in the Pavilion.
Joe was kind enough to bring his personal pair of Vivid Giya G2s for the front channels, while we used a pair of Giya G3s for the rear channels in the 'Pelican Hill' Room at the Newport Show. The mandate was to show audiophiles how a world class stereo system could be incorporated into a cutting edge home theater. We also wanted to demonstrate how accessible high resolution 4K video could be from devices as simple as a Roku 4 streaming video device over wi-fi in our room, a Kalidescape movie player with downloaded UHD movies and the new UHD, HDR BluRays. We opted to skip the center channel so it wouldn't spoil the imaging of the stereo soundstage (the room geometry limited the depth and height needed for a center channel speaker behind an acoustically transparent screen).
Show Highlights
We were fortunate to be able to demonstrate for the first time in North America a combination of newsworthy (certainly to us) music and listening platforms:
Multi-channel Roon, scheduled for delivery by CEDIA (September). Beta software that proved to be quite stable.
Merging Technologies NADAC Player running a Roon Core, scheduled to launch at RMAF 2016. Controlled by an iPad. Storage can be a USB hard drive and/or a NAS on the network. Pricing TBD.
Channel Classics multichannel session recording of Mahler 3 in DSD256. Recorded in April by Tom Caulfield (5 x B&K mics in a DECCA tree) at the Bela Bartok National Concert Hall in Budapest. Ivan Fischer conducted the Budapest Festival Orchestra. This album will be released around the end of this year. Even playing this at home in stereo, the winds are about 20′ to the left from the listening chair, while the bass drum is approx. 50′ away, also to the left of the soundstage and clearly well beyond the boundaries of even our large listening room.In the unedited version of the first movement you will hear Ivan Fischer instruct the percussionist as to how he would like the bass drum to sound a little crisper. You can clearly hear, how far each is speaking relative to the microphones and you get a great handle on the Hall's acoustics. This album gets my vote / recommendation as the best acoustic recording of 2016.
Luxman B-1000f monoblocks fed by a line conditioner — Joe insisted that we bring Luxman's big guns to the show as he wanted to demonstrate effortless dynamics. So we brought Luxman's flagship B-1000f monoblocks, reviewed by Wes Marshall in Stereophile in February 2011. It was the first time we have ever demonstrated the huge Luxman monoblocks being fed by a line conditioner. As up until now, we felt that line conditioners tend to compress the dynamics. Clearly that is not the case with Shunyata Research's revolutionary new Denali line conditioner.
Shunyata Research Denali Line Conditioner — Last year, Dr. Daniel Melby used a Shunyata Research power conditioner to effectively reduce noise when performing Electrophysiology surgery. Differentiating noise from the subtle heart signals can be the difference between a successful and an unsuccessful procedure. Caelin Gabriel (Shunyata's lead designer) subsequently developed a conditioner specifically for scientific and medical applications that delivered results that were below the measured threshold of the test equipment.Shunyata's latest model, the Denali, uses the same technology originally developed for the medical imaging application. The Denali line conditioner reduces noise by over -40dB while actually improving the system's dynamic response. The sonic results provide unrivaled dynamics and a noise floor that allows amplifiers to plumb the depths of LF performance, while simultaneously cleaning up the midrange and allowing the amplifiers to deliver unrivaled high frequency extension.Short video of Dr Melby describing the procedure:


Awards

Audio Oasis Award from David Robinson and Positive Feedback Online

Audio Oasis Award from PFO for On a Higher Note's Pelican Hill Room at T.H.E. Show 2016

Audio Oasis Award from PFO for Prana Fidelity's Room at T.H.E. Show 2016, which featured the Luxman D-06u

Read more at Positive Feedback Online.

"Pelican Hill" Gallery

Pelican Hill equipment on Artesania Audio equipment racks

Video equipment for Pelican Hill room

Luxman B-1000f & Vivid G2 in the Pelican Hill Room

Philip O'Hanlon in 'Pelican Hill' room

Otari, SonoruS & Luxman PD-171AL

Prepping for 4k video presentation

Eclipse Gallery

Eclipse room

Eclipse room

Philip O'Hanlon in the Eclipse room

Eclipse room #410

Press

'Pelican Hill' room at T.H.E. Show 2016 photo credit: Dennis Davis, The Audio Beat

"Reel-to-reel tape playback was popular in several rooms (six by my informal count), in none with more impact than the room shared by On A Higher Note, Joseph Cali Systems and Shunyata Research…I spent some considerable time listening to various tapes…the sound was simply stunning. While digital music and LPs were exceptional through the Giyas, the best of the reel-to-reel tape selection was truly a step above."

"Philip O'Hanlon of On A Higher Note had yet another great outing…treated listeners to a feast of sources…superior transient response and excellent instrumental texture…A fascinating and impressive demo—and very close to a Best of Show."

Luxman B-1000f monoblock and Vivid GIYA photo credit: Ron Resnick, Mono and Stereo

Ron Resnick on our "elaborate and very carefully structured demonstration":

"The demonstration showed clearly the transparency, naturalness and low-frequency capabilities of the Giya G2s. The Giya speakers never fail to impress. Joseph and Philip have been putting together top high-end audio systems for many years, and each of them is a very accomplished expert in the field."

Mono and Stereo also named our room as one of their Best Sounds of Show. Thank you Ron and Mono and Stereo!

John Atkinson of Stereophile included our room in his two favorite sounding rooms at T.H.E. Show:

"…a new Channel Classics recording of Mahler's Symphony 3, performed by Iván Fisher conducting the Budapest Festival Orchestra and recorded in multichannel DSD256, may well have been the finest recorded orchestral sound I have experienced."

photo credit: Stereophile and Thomas Norton

"Pelican Hill and Joseph Cali Systems set up an elaborate show…the demo was unquestionably dynamic, and certainly the most unique presentation at the show."

Eclipse's Single Point Source "makes a point" at T.H.E. Show 2016

Pelican Hill – On A Higher Note in conjunction with Joseph Cali Systems Design & Shunyata Research

Music Played

Bass solo – Gary Peacock Distinguished Friends Of Cello CD
Drum solo – Billy Elgart Distinguished Friends Of Cello CD (Both pieces recorded by Mark Levinson on two B&K calibration mics)
"A Piece of Me" – Lori Lieberman Ready for the Storm LP
"When The Levee Breaks" – Vanessa Fernandez When The Levee Breaks 1/4″ tape
"My Home is on the Delta" – Muddy Waters Folk Singer 1/2″ Tape
Mahler 3 – Ivan Fischer with the Budapest Festival Orchestra Quad DSD recording, multi-channel

Audio Equipment List

Pelican Hill equipment on Artesania Audio equipment racks

Luxman PD-171AL turntable, $6,500 inc armboard
SME M2-9R tonearm $1,900
SoundSmith "Hyperion" cartridge $8,500
Luxman DU-80 Universal Player $10,000
Otari MTR20 1/2" Reel to Reel (vintage)
SonoruS ATR-10 1/4" Reel to Reel $17,500
Luxman B-1000f monoblocks $30,0000 each (front)
Luxman M-700u stereo amps $10,000 each (rear)
Merging Technology – NADAC Player – Multi channel & stereo music player, running Roon (New product) NADAC $11,500
Vivid Giya G2 loudspeakers $25,000 each
Vivid Giya G3 loudspeakers $20,000 each
Shunyata Research cables, interconnects & power cords, Denali line conditioner $5,000 (new product)
Artesania Exoteryc 3-shelf equipment rack $6,000 each
Artesania Aire amplifier stands, $3,690 each

Video Equipment List

Video Equipment

Sony VW1100 ES 4K $29995
Lumagen 2144 4K Scaler $3995
Kaliedescape Stratos 4K $5995
Roku 4 4k streaming $129
Samsung UBD K8500 4K Bluray $399
MacIntosh Retina MacBook for 4K Video presentation
Cables by Proflex Advanced

Room #410 Equipment List

Eclipse room #410