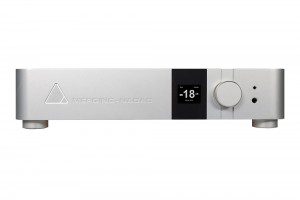 Andrew Everard reviewed the Merging+NADAC in the November 2016 issue of Hi-Fi News. He addresses whether the Merging+NADAC really brings anything special to the table, besides sheer number of connectivity choices.
"…using this unusual DAC with my usual 'computer audio' rig was no trickier than with any conventional USB-connected digital audio device. However, what does set the NADAC apart is the sheer sound quality on offer, with a sparkling combination of power and subtlety, information and musical involvement. And it's pretty much file-agnostic, in that while higher-resolution files show obvious gains in dynamics and definition, even those at CD quality have excellent impact and superb tonal textures, confirming this as every bit a world-class component…back to how the DAC performs in two-channel, and the results prove consistent not only irrespective of the file format or sampling-rate being played, but also across the range of musical genres, and whether it's used as a conventional DAC via its AES/EBU and S/PDIF inputs, or connected using the Ravenna networking…Yes, the Merging+NADAC is unashamedly at the exotic end of the DAC scene, but justifies its place with a sound combining presence, purity and power."
Read more at Hi-Fi News. Learn more about the Merging+NADAC here or contact us online or by phone at 1-949-544-1990 for a dealer near you.