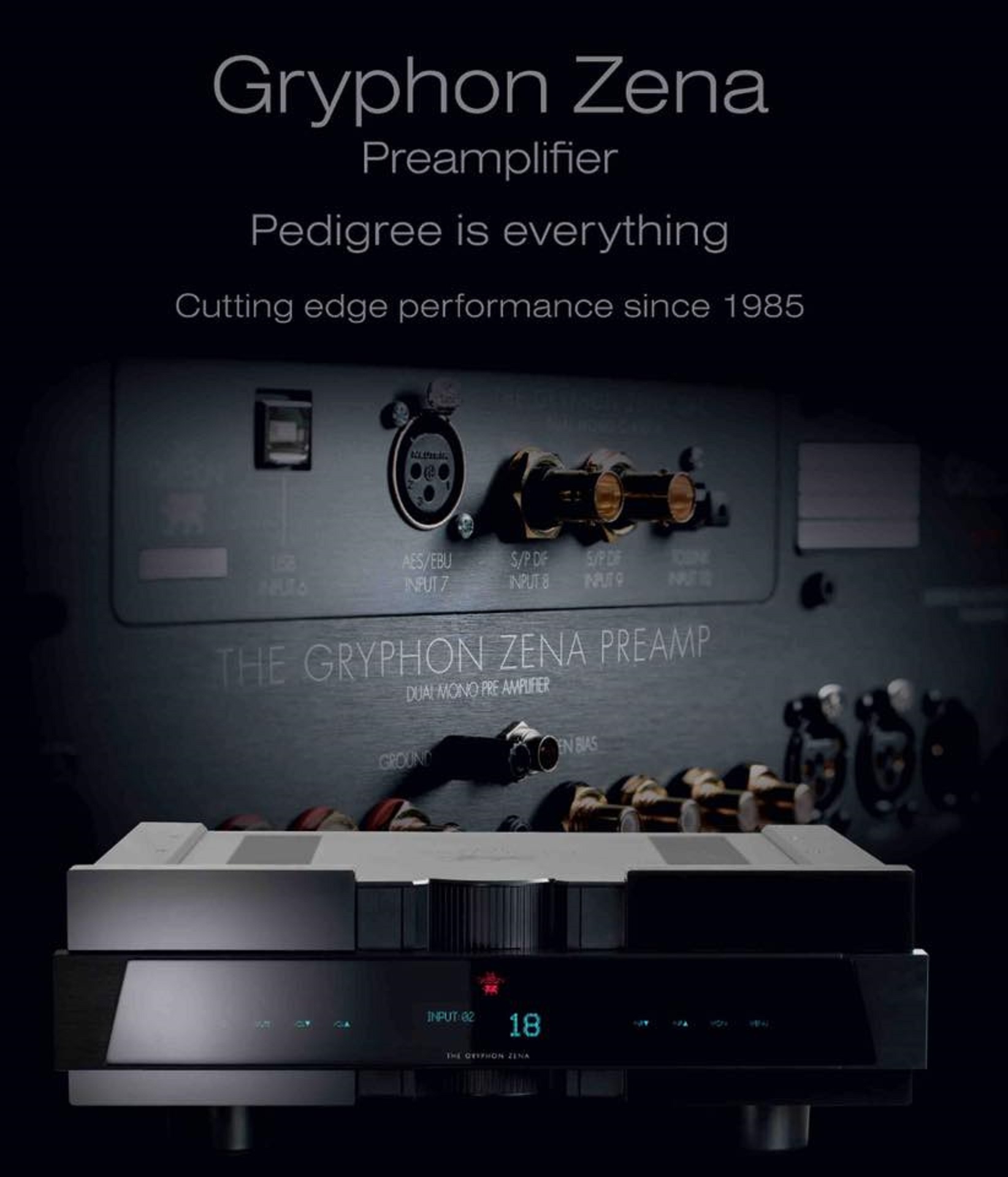 Gryphon Audio Designs announces the North American debut of their new Zena preamplifier at the Rocky Mountain Audio Festival, on active display in the Longs Peak room, mezzanine level.
The Zena preamp is based on an exclusive, fully discrete, DC-coupled Class A topology with zero global negative feedback and extended 1 MHz frequency bandwidth, all contributing to high slew rates, extreme transient fidelity and zero treble phase shift for proper focus with fine ambient micro-detail.
The Gryphon Zena replaces the Athena ball-bearing volume wheel with touch-sensitive up/down buttons to create a volume attenuator consisting of 43 individual steps in 2 dB increments, with no more than two resistors in the volume control signal path at any given time.
Among the numerous component upgrades of the Zena is an ultra-precise array of SMD metal-foil resistors and hermetically sealed, gold-plated, ultra-low capacitance Pickering reed relays.
Equally crucial, the Zena volume attenuator is fully balanced, with no conversion of the signal from the XLR inputs to single-ended prior to attenuation, as was the case with the Athena. This simplification of the Zena signal path represents a major step forward in sound quality.
The Zena employs shunt regulators in the voltage supplies to the active circuits of the volume attenuator, in order to ensure a DC supply with ultra-low output impedance across a wide frequency band and optimal noise suppression.
To allow use in a surround system without compromising the stereo performance of the Gryphon Zena, the preamp now includes an expanded AV throughput function, so that either Input 2 (XLR) or input 3 (phono) can be configured as a 0 dB AV throughput for ideal integration with the owner's multi-channel installation.
The Zena will be available in November from authourised Gryphon dealers, prices starting at $17,500 excluding phono stage ($2,250) or DAC module ($6,000).
For more information, click here.