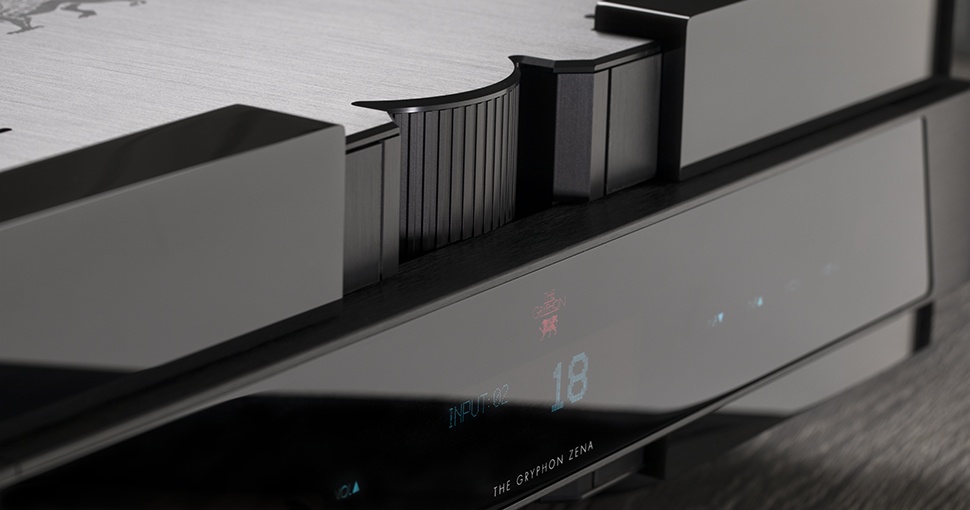 Just got on my way to Chicago to unveil Zena to music lovers in the greater Chicago area.  This is the last of a 6-city-launch since we received the Zena distributor unit for RMAF.  On the plane, I was recounting my experience with the Diablo 300 as compared to the Zena / Antileon EVO combo and how the Zena compares to the Pandora reference preamp.  Memories of music bites, conversations at events, set up challenges we overcome by working together, all spilled into my head as I reviewed my critical listening notes for the different listening sessions.
We have been demonstrating Gryphon for the past twelve months to great acclaim. Never before have so many attendees expressed their thanks at the sight of Gryphon after years of hiatus from the N. American shores.  In 2017, we showed the Pantheon or Mojo S with the Diablo integrated amplifiers.  Diablo 300 has its own fan club worldwide with owners, press, even industry insiders singing its praises. but it was not until the introduction of the Zena, dual mono, fully balanced, class A preamplifier were we able to raise the sound quality in these shows significantly by pairing Pantheons with Gryphon's most affordable separates.
I.  The Diablo 300 vs the Zena / Antileon EVO combo
In short, the improvement in the soundstage, sound quality & musical experience is dramatic.
1.  Soundstage 
Larger, with greater three dimensional depth and better image specificity.
2.  Sound Quality
We are not just talking about the increased resolution but also all the instruments & performers have greater weight. The sound is both fuller & richer. You might compare a meringue based Pavlova versus a the same flavor cheesecake. One is light, sweet & delicious while the latter is rich, sweet & also delicious, albeit in a different context.
3.  Musical Experience
Here is where the Zena excels over the Diablo as it's a dramatically more compelling musical experience.  In an A/B comparison, it takes all of ten seconds on a familiar piece of music to hear what musical delights are added to the mix by the addition of the Zena / Antileon EVO combo to your music system.  It's not possible to electrically quantify the increase in emotion & passion that the equipment generates in the listener, except to say that listeners with tears dripping slowly down their faces or music lovers grinning from ear to ear, is a wonderful acknowledgment of Gryphon's first class design.
At the shows & dealer events, I kept hearing the same refrain from reviewers: "the best sound we have heard from Gryphon…"
Wait until they hear the Tridents with the Colosseum at AXPONA next April, a killer system to look forward to.
Meantime, I also dug out my listening notes on Gryphon Zena compared to Gryphon reference Pandora preamp …
II.  Zena Compared to the reference Pandora preamplifier
It was easily apparent that Gryphon have a winner on their hands with the Zena.  July in Ry was my first time hearing the new preamp and I came away mightily impressed. Zena delivers about 80-90% of the Pandora's performance for a little over 50% of the cost.
The new guy (Zena) has a larger, easier to read display and can accommodate either a DAC or phono stage.  Zena takes the same PS2 internal phono stage as the Diablos,  and the same DAC as the Diablo 300, just with shorter stand-off pins.  Zena is a one box preamp, needs one less rack space than the two box Pandora.  For those who want to use both a DAC and a phono stage. Then we recommend getting the internal DAC and the stand alone Sonett phono stage.
The Reference Pandora preamp has state of the art performance even against considerably more expensive competitors.  Pandora will accommodate one pair of Legato phono stage boards or the more inexpensive PS2 internally with power supply that will also drive a stand alone Legato phono stage (Gryphon's state of the art, no compromise phono stage). In other words, no need to buy the additional power supply.
Music used for comparison purposes at Gryphon's showroom in Ry, Denmark in July 2018:
The Portuguese duet was used to show a nice natural vocal timbre, while the Leonard Cohen displayed his wonderful husky voice with a wonderful Hammond B3 accompaniment. While the Depeche Mode track grew steadily more complex after each chorus and is a terrific demo track for showing how tight, articulate & well defined a system might play. This track grows increasingly more complex as the song progresses and a great system should be able to keep all the instruments identifiable as individual entities.
III.  Zena debut for greater Chicago, this Saturday December 8th.  At your local dealer in two weeks!
Since then, we have shown the Zena at both RMAF, Capital Audio Fest as well as a few dealer events over the past few months.   Last dealer event this year will be at Kyomi Audio in Chicago on Dec. 8.  This is a different presentation with concert pianist George Vatchnadze.  See our event link:
Gryphon Zena Preamplifier Launch continues at Kyomi Audio in Chicago, IL
Over the holidays we will use the Zena to control both the Antileon EVO as well as a stereo Colosseum; should be terrific fun listening to the new music we have chosen for Demo XXI on these superb electronics.
IV.   Gratitude to superb dealer network support for the Zena launch 2018, the press who covered our events, the friends that spread the words, and the attendees that were present – pictures speak a thousand words
We want to thank the dealers that have helped in the Zena launch and have collated a series of gallery pictures to share.  If you were at any of these events and have photos you can share, please contact us here: https://onahighernote.com/sales/
 At RMAF 2018, Scott Warren and Colin Dennehy from Supra HiFi in Plano, Texas, along with Bjorn from Gryphon Audio were key to making our room sound great and look great.   Fun photos for sweet memories.  Arnold Martinez from Tweak Studio, Beverly Hills, CA was our co-presenter, kicking up lots of storm on facebook live.
2.   October with Zena at Joseph Cali System Design's in New York with Zena + Antileon EVO driving Pantheon loudspeaker system, and Mojo S on static display.  Source from Scorpio S CD player, Kalliope DAC, Sonett Phonostage connecting Brinkmann Balance turntable.
3.  Capital Audio Festival with Jay Truitt from 20/20 Evolution System in Potomac, MD to debut Zena.  Gryphon Audio first time in D.C/Virginia/Maryland districts in 15 years, with two setups: Diablo 300 + Mojo S, and Zena + Antileon EVO with Pantheon loudspeaker system, with Scorpio S CD player, Kalliope DAC, and Sonorus reel to reel tape deck.
4.  Scott Carpenter from Evolution Home Theater in Atlanta, Georgia transformed his showroom into a grand Gryphon fare for the Zena debut and the brand's first public appearance in Georgia for over a decade.
5.  Charlie Santmire, and team (Zach Born, Eric Baines, Gale Cooper, and Todd Snyder) from Sound Environment in Omaha, Nebraska created a special event to debut Gryphon's Zena preamp, paired up with Gryphon's Colosseum amplifier, driving Wilson Alexx
V.  What's Next?
Zena will arrive in the next couple of weeks at your nearest Gryphon dealer's.  We have updated our dealer locator on our website.  Look for an authorized dealer near you or reach us here with any questions: