Music relaxes, emotes, and engulfs.
It refuels and anchors.
In celebrating the power of music, with the mission to "make neutral products … products [the Founder] wish[es] to own …", and to deliver designs that enable "every section within the circuitry … for its optimal purpose", Gryphon Audio Designs and its Founder, Mr. Flemming Erik Rasmussen,  pay "deep respect for both the music makers and the ultimate music "enjoyers", connecting deep into the soul of the performer and the artist.
The House of Gryphon recently celebrated the 70th birthday of Mr. Rasmussen's with great fanfare.  The Gryphon family from near and far gathered to partake in this joyous event to pay tribute to the man who has won world acclaim for his uncompromising and all-encompassing approach to connect listeners emotionally to the artist and his laser focus in building world class systems within the Gryphon Audio Designs brand.
Gryphon does a fantastic job on their website posting their brand mission in "The Gryphon Story" page laying out their brand promise.
A recent customer who purchased the Pantheon loudspeaker system wrote this to us unsolicited to say, "I have never been so emotionally connected with the artist the way I was when listening to Gryphon loudspeakers driven by Gryphon electronics – it's that sound and experience that I want in my home … From a form factor, my wife likes it …  [in] integrating them into my room and achieve dynamic, involving sound."
We feel this is as good an opportunity to incorporate a piece of Gryphon's history in our post that at times get crowded out by the noise (pun intended).
Initially known for their duo-mono class-A phono stage and later the high power amplifiers and other electronics, Gryphon's production of its first loudspeaker, the stand-mount 2-way Cantata loudspeaker system released in 2002 sprung Gryphon Audio into a full-systems solution house.  For 17 years since then, customers have had the ability to outfit their systems in which every link in the audio-signal chain (cables included), is provided by Gryphon Audio Design.
Below is a video where Mr. Rasmussen and the team talked with Mr. Doug Schneider, the founder of Soundstage! Network about their loudspeaker development.  Soundstage! Network's video production shows high end audio equipment manufacturers at their home front, bringing the world a peek of their "house" and their history.  Their work allows us to get up close and personal in our own assemblage art for music choices and equipment selection.
In the foreword of this year's Gryphon's brochure, Mr. Rasmussen wrote, "I founded Gryphon with a mission of making correct sounding products, not creating any make up, or becoming illusions, but in essence, a naked reproduction of the actual recording, good or bad".
It takes the thoughtful design of each component in the home audio ecosystem to deliver the ultimate balance.  To accomplish that, it is both an art and a science.  This is when design meets function and performance meets aesthetics.
Quoting Mr. Rasmussen, "… it is honesty really, and not arrogance…".
The shape question …
In art, we observe lines and shapes.  In loudspeaker science, we analyze frequency response, time domain response or other schools of thoughts.  In experience we feel texture, tone, and see colors. In musical experience, we feel emotions and we get emotional.
As Gryphon's Founder called it, "a direct connection to the souls of the performers".
The ability to elegantly incorporate Gryphon's "Constant Phase" technology adopted from Duelin's, together with all the other form factors to meet Gryphon Founder's design philosophy takes not just a swift conductor but an entire team with clear dedication.
The shape of any loudspeaker tells a big part of the story.  Gryphon's is no different.  From the beautiful curves of the Mojo S to the subtle curved alignment of the column of drivers, to the modular construction up to the finishing carried through the rest of the speaker line, each meticulously designed to manage resonance, and handle reflections and defractions.
Ask any speaker manufacturer about the shape and watch them come alive!  See photos of the Kodo speaker system below.
Does size matter and is bigger better?
Yes, size matters, but not bigger is not always better especially when you are a music lover steeped in city living and in more compact listening environment.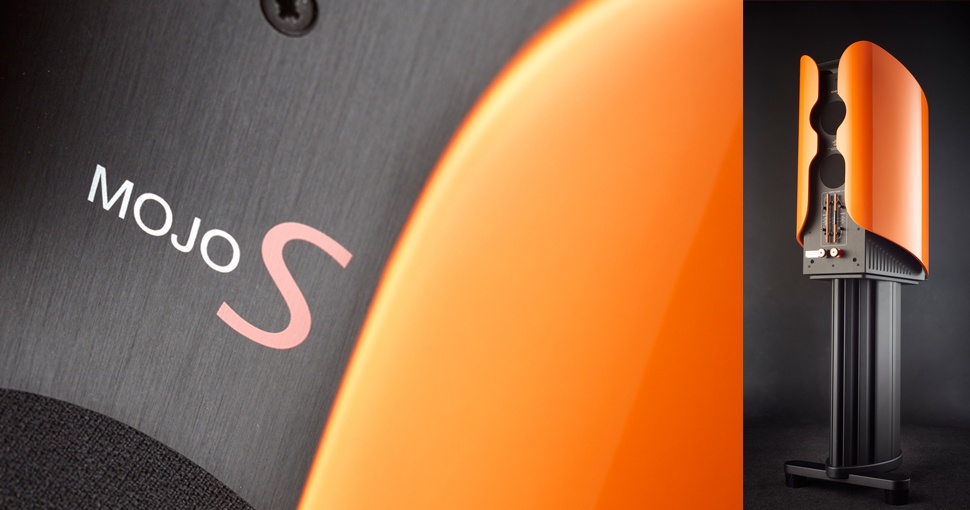 Drawing heavily from the heritage of Gryphon's flagship Kodo loudspeaker system, Mojo S is designed for seamless integration in a specific interval of room dimensions.  Hand-built with sensual new curves, perfect phase linearity, extended frequency response and fine-tuning options, it is substantially more revealing and more musical than any other loudspeaker anywhere near its size.
"Mojo S has a wonderful knack in disappearing from the soundstage, leaving a panorama of musicians playing before your ears.   A 3-driver, 2-way ported loudspeaker with a sensitivity spec of 89dB, "the Mojo S can play plenty loud with minimal amplifier power …" stated by Mr. Jeff Fritz from Soundstage! Network.
Coupled with Gryphon's Diablo 300, Mojo S can produce musical magic.  With the Antileon/Zena amplifier/preamp combo, the Mojo S massages with honest tonal texture sparing no detail.
Customers who purchase a stand-mounted loudspeaker always want to know if they'll also need a subwoofer.   When we use the Mojo S in a show / demo environment, more often than not, show goers would walk up to the system to inspect the connection, trying to locate, in vain, the subwoofer(s) that don't exist or some sonic booster that we don't use.  See Mr. Fritz's review >>> here >>>.
Back to size, since room dynamics dictate the size of our equipment, we curate different systems with that in mind.
Mr. Jay Truitt's 20/20 Evolution Systems (Potomac, MD) paired up the Mojo S and Gryphon's integrated amplifiers (Diablo 300) during Capital Audio Festival last year.  In addition, he set up a private demo system at one of his showrooms with larger open space presenting a system with a pair of Pantheons and Gryphon separates for optimal listening pleasures.
The room dynamics at Joseph Cali Systems Designs is such that he is able to showcase his set up with both (either) the Pantheons and the Mojo S loudspeaker system.  In Rocky Mountain Audio Fest 2018, with the help of Scott Warren at Supra HiFi (Dallas, TX), our setup was with a pair of Pantheons also.  However, at Axpona, as most know, Gryphon and On A Higher Note showcased the all-Gryphon system with a pair of brand new Trident II loudspeakers.
The art of finishing
Gryphon honors the art of assemblage as a form of self expression that allows our individualism to shine through our personal space.  In addition to color choices below, any automotive paint finish can be specified to match our preference.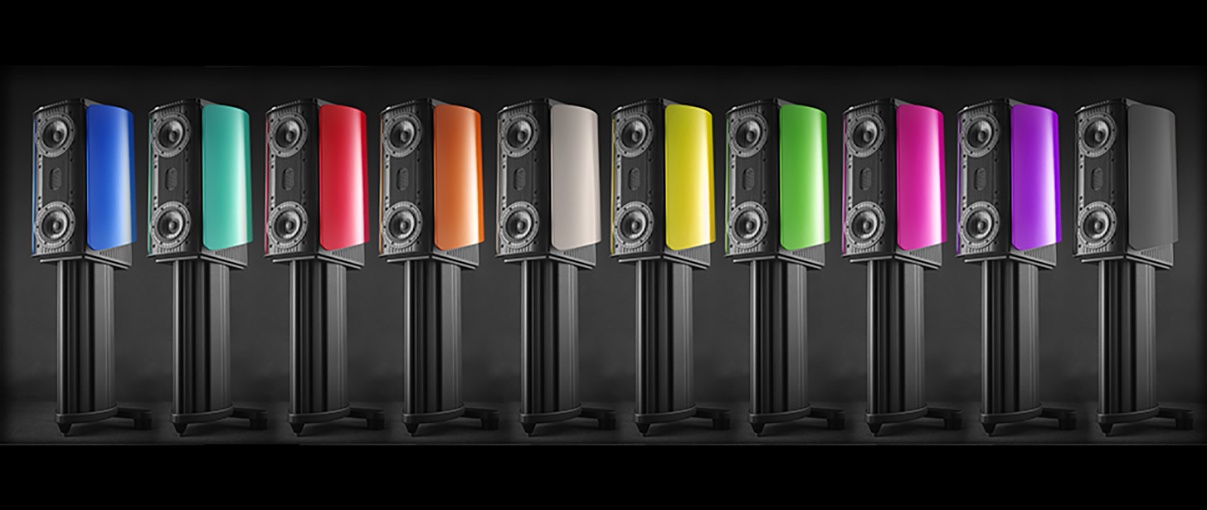 Gryphon's attention to detail can also be seen in their panel designs.  The pure modularity makes installation a "child's play" as one of the reviewers called it.  With the larger loudspeakers (Pantheon, Trident II and Kodo), panel designs extends to multiple wood finish, leather or carbon fiber.
It's not the "S" word.  It's the "E" word
The "S" word (Synergy) describes the push and pull with symptomatic controls from different equipment to force certain effects.
Gryphon Audio gets along with others.
It "stays out of the way" to allow optimization of the chain.  The result is that successful demonstration of Gryphon's handshake with other manufacturer's components can be found worldwide.
But it's not about the "S" word.
Gryphon Audio's loudspeakers are built to maximize the delivery of music with its award-winning electronic components.  Gryphon Audio realizes that our love of music can fail no litmus test.  They place their trust in our ears, our heart and our soul.  It's about the experience of music that caresses and cajoles us.  That's "E" for "Experience", or "Emotions".
As "The Gryphon Story" puts it, "The final test is the individual listening audition carried out by Gryphon personnel".
Contact us or your nearest dealer, or check out our new events, or dealer announcements for the next opportunity to experience the full-Gryphon touch for yourself with Gryphon's flagship Kodo, Trident II, Pantheons, and Mojo S loudspeakers for different room/music requirements.