Music (as in reproduced physical forms, be it LPs, CDs, tapes, or some old cassettes I dug out from years past), musical experience (as in attending live concerts/performances), and pastries, are the three things I make a point to explore regardless of where I am ever since I began my travels at the age of 20.  These days, as a bonus to my annual fishing trip with my childhood buddy in S. America (along with the freshness of meeting newcomers and the certainty of reconnecting with some regulars), it yields me opportunities each year to explore different foreign countries, venues, and cultures a few days before (or after for that matter) we escape from civilization.
Live Music
I was fortunate to be able to visit Buenos Aires a few weeks ago and was thrilled at the opportunity to see Marisa Monte from Brazil perform at Argentina's illustrious Teatro Gran Rex, an Art Deco cinema.  It was built in the 1930s, but was converted to a music concert hall, with a 3,000+ seating capacity.
Here's a clip of one of her beloved performances:
The following night, I heard one of the USA's mostly unknown (in the USA) singers/songwriter – Kevin Johansen, who sings in mainly Spanish but is equally adept in English, no surprise, it was a wonderful experience.  In that KJ concert, he concluded with twenty members of the audience being invited onstage, it was instant party time and the audience had so much fun.  Here's a clip on his "Guacamole".
Teatro Colon  is clearly as pretty a jewelry box as you will find in only a select few countries.  While I was looking for a terrific-sounding concert hall,  I appreciate that this is an Opera House;  nonetheless, I enjoyed a fantastic experience. It is considered one of the ten best opera houses in the world by National Geographic.
The present theatre, the second with that name, opened on 1908, after twenty years under construction, and was inaugurated with Aida.  Production ceased at the end of 2006 to allow a full refurbishment.  Initially, "what had been planned as an 18-month, $25-million renovation with 500 workers, scheduled for a May 2008 reopening with Aida, became a three-year $100-million extravaganza with 1,500 workers including 130 professional architects and engineers."  In addition, an exterior open-air stage was planned for an opening in 2011.  In all, 60,000 square meters (645,835 sq ft) underwent updating, both inside and out. The building occupies an entire city block.
Records
The program for my evening's entertainment was Kurt Weill's "The Seven Sins of Perdition" and after the intermission: Bartok's "Bluebeard's Castle" (photo above). Absolutely stunning.  My favorite souvenir from a trip abroad, is to buy some records.  Eureka Records should be high on every music lovers 'must visit' destinations in Buenos Aires.  I bought a copy of Johnny Hodges "Triple Play" a French pressing in NM condition.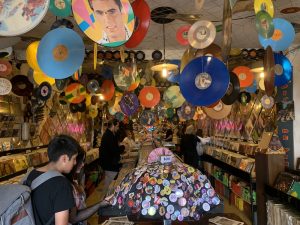 Found a delightful Perez Prado, ("King of the Mambo") Brazilian pressing from 1957, Perez Prado em Hi-Fi.  This was released in the USA as "Latin Satin" – his last monaural album for RCA Victor. This Cuban band leader was an international sensation in the 1950s.  Fun, though dated. Even the last song on the album, "Adios" is bound to bring a smile to your lips.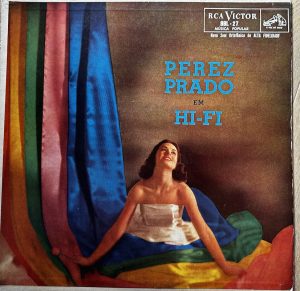 (Almost) Life Threatening Fishing Expedition
Clearly caught more than I bargained !   Almost a 6' Cayman,  for some reason, the boatman refused to bring my catch on board the boat to allow us to measure his length.  Funnily enough, the boat man hit the crocodile on the head with a club and persuaded the crocodile to release not only my hook, but also the live bait.
Conclusion
While I love my country and countrymen, I have always enjoyed travelling to explore diverse cultures.  As an "islander", I love live near beautiful beaches and will never by choice live anywhere that is landlocked. Ever since childhood, I have felt the need to travel and explore the varieties and unknown that life presents.  Doing what I love and loving what I do is a blessing, with intent, we can mix business with pleasure and pleasure with business to satisfy life goals.  This is a personal journal, and a snip bit of my joy of travels.  I hope to inspire your curiosity to explore as we move to balance life's wins and losses.  If you want to see more of my personal journeys, please let me know to share more and this is an open invitation to share yours with me. Boa Vida!